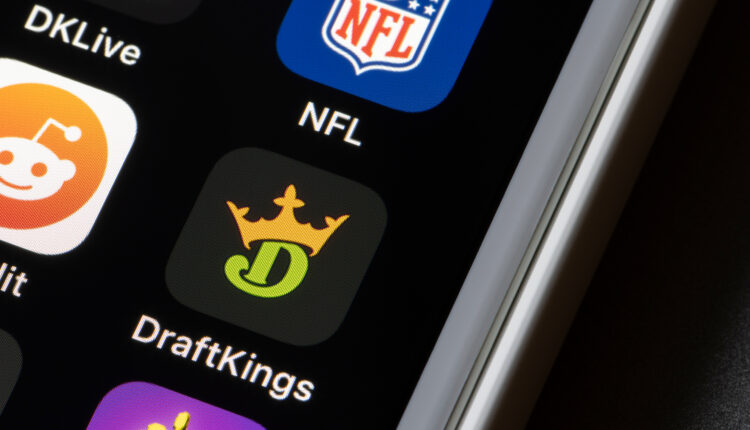 Sports Betting Stock Investors Brace For Football: Is DraftKings The Brand To Back?
Sports betting stock enthusiasts are intently monitoring DraftKings (NASDAQ: DKNG) share prices in advance of the upcoming NFL season, as the sports betting giant is hitting its stride at the ideal moment.
Currently, up 22% on the month, DraftKings stock is poised to put together another breakout run and one that could shatter their all-time high of $74. With share prices nearing the $60 mark, the sports betting stock is still widely regarded as a smart buy.
DraftKings Prepares For Football Season
Football season is without a doubt the most profitable for sportsbooks, as no other league is able to generate as much betting hype as the NFL. With the NCAAF and NFL giving football fans beatable action up to six days a week, book operators often look to pull out all the stops when it comes to making the short season as profitable as possible.
Like many sports betting stocks, DraftKings share prices struggled to gain momentum through the early summer. After trading at their record high of $74.38 for the start of March Madness, share prices tumbled to $40.99 by mid-May as the sporting calendar's offerings quickly evaporated.
DraftKings stock prices took a turn for the better following better than expected Q2 returns, and a run of positive press saw the sports betting stock's price continue to rise through much of July.
Now trading close to where share prices set before their record run, investors are hoping that the start of the NFL season will replicate the sudden jump seen in March.
To better equip themselves for the opening kickoff, DraftKings joined forces with Genius Sports to offer the full range of sportsbook data and information in addition to the NFL's official data and content.
DraftKings will leverage the technology to power personalized and immersive experiences for the millions of fans tuning in each Sunday. Genius Sports will also provide DraftKings with their proprietary live video feeds and data streams, which is particularly valuable given that Genius Sports was recently named the official distributor of live play-by-play stats, advanced analytical statistics, and sports betting data.
This partnership sees DraftKings become the first sportsbook operator to have access to this data, enhancing their ability to offer wagering options unavailable elsewhere.
DraftKings also expanded its micro-betting offering through a partnership with Simplebet. The multi-year deal will see DraftKings utilize Simplebets' micro-betting technology on its platform allowing die-hard sports bettors to wager on every single play in particular events.
The terms of the agreement will see DraftKings implement this technology across its NFL, NB> MLB, and college football products.
Sports Betting Stocks Benefit From Expansion
A number of states raced to have the framework in place for a regulated sports betting marketplace intact prior to the start of the NFL season. As a leader in the space, DraftKings is positioned to claim a large percentage of the available market share in each of these new regions.
Traditionally, sports bettors look to register for a sportsbook on the same day they intend to place their first wager. For many bettors, this action usually takes place over the first full weekend of the season.
DraftKings has already started offering pre-registration bonuses for those living in states where sports betting is set to go live later this week. Their large footprint as a DFS operator has also given them the ability to target existing users who are legally allowed to use their fantasy products, enticing them to join the sportsbook early for incentives.
The sudden surge in share prices on the eve of March Madness was no accident, and the subsequent dropoff following the event should give sports betting stock investors a hint as to how to adjust their portfolios.
DraftKings is both well-positioned and well-prepared for the imminent influx of new players eager to place their first-ever wagers later this week. While recent performance suggests that this stock is already on the upswing, do not be fooled into thinking that we are nearing the plateau.