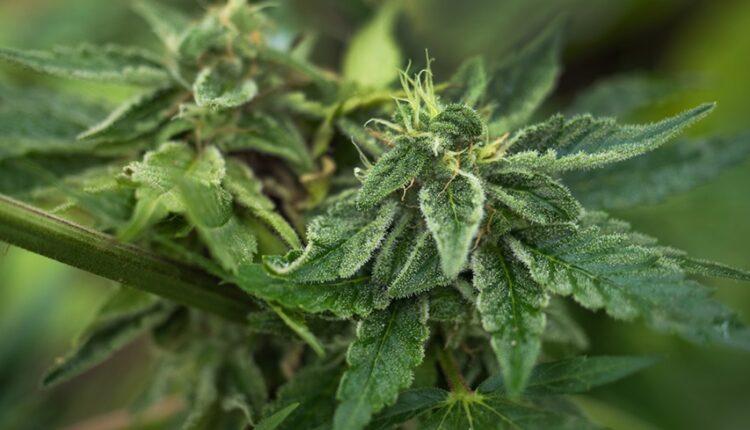 Stem Holdings Breaks Out On Record Daily Volume
It's been a long time coming for Stem Holdings Inc. (CNSX: STEM), but price action is finally coming around. Following persistent and lackluster performance since listing back in mid-2018, it appears the stock has finally found its groove, propelled by an improving financial performance and accretive acquisitions.
In retrospect, the inflection point for the turnaround could the company's acquisition of Driven Deliveries Inc. announced October 6, 2020. The all-stock purchase created what Stem believes is the first vertically-integrated cannabis company with an integrated Delivery as a Service (DaaS) platform in the markets it serves.
The acquisition of Driven Deliveries—known as Driven By Stem—formally closed on December 30, 2020.
A few weeks later, Stem Holdings reported pro forma and organic earnings that further catalyzed investor sentiment. The company reported record combined pro forma revenues of $14.9 million, with Driven and Stem contributing year-over-year growth of +394% and +162%, respectively. Included in the numbers were accelerating dispensary revenues which soared 63% to $4.1 million quarter-over-quarter.
For calendar year 2021, Driven By Stem is projected to have revenues of USD$75 million and gross profit of USD$30 million. Following the acquisition—which valued the combined entity at approximately $65 million prior to the closing date—the common stock was only trading at a ~1.25X sales run rate. Value hunters on social media began taking notice—especially with Subversive Capital shining a spotlight on the California cannabis delivery ecosystem.
With U.S. cannabis stocks performing strongly and re-rating upwards following the election of president-elect Joe Biden, it was the perfect recipe for value investors to engage. The Democrats sweep in the Georgia Senate runoff election only added additional kerosene to sector sentiment.
With strong pro forma/organic growth, favorable sales valuation comps and a major acquisition in the rear view mirror, the ingredients for upside price momentum appeared present. All that was needed was volume to get the snowball rolling.
And that came early and often in so far in 2021. Already this year, Stem Holdings has achieved five daily volume records—with Wednesday's session the highest total to date. With 799,042 shares traded, the company eclipsed the old record of 725,850 traded on January 14, and the pre-2021 record of 313,066 shares traded registered on January 17, 2019. With a surge in activity in the common, price has followed suit.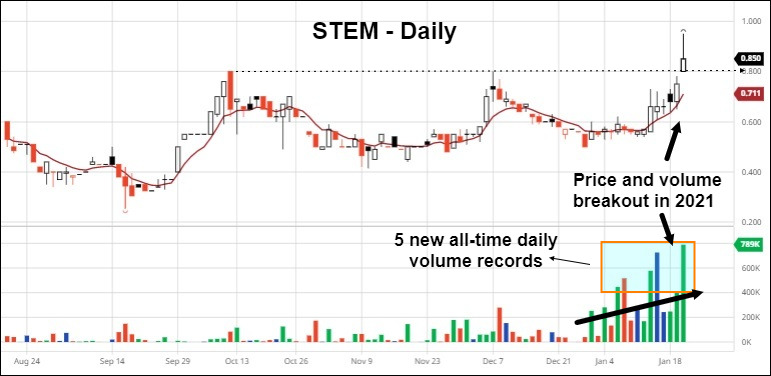 A weekly perspective gives greater context to the depth of the attempted breakout. A close above the indicated support line would be a positive indicator for continuation—confirmation that higher-low dynamics on the weekly chart are in-play. Next, use your preferred indicator as a measure of price/volume confirmation.
We now await to see how STEM trades to end the week. A close above $0.80 would signify a technical breakout from a simple price perspective—confirmed by volume. If so, the stock could have its best sustainable rally opportunity since going public.