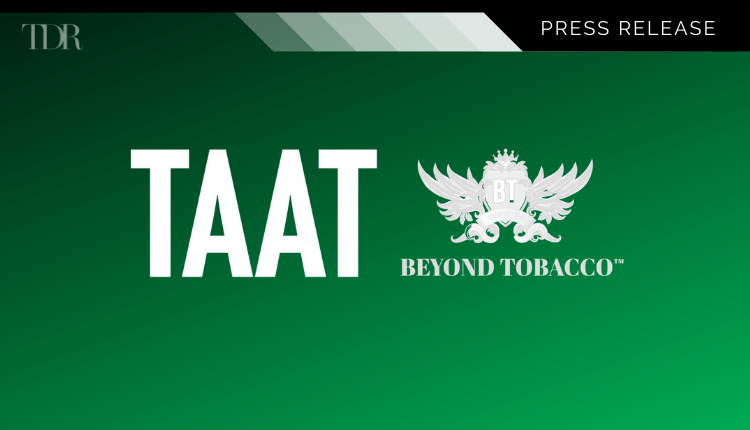 TAAT™ Prepares to Expand into Canada by Partnering with a British Columbia Life Sciences Firm to Develop and Distribute TAAT™ Products
 TAAT™ LIFESTYLE & WELLNESS LTD. (CSE: TAAT) (OTCQB: TOBAF) (FRANKFURT: 2TP2)  has entered into a memorandum of understanding ("MOU") dated February 24, 2021 with Christina Lake Cannabis Corp. ("CLC") (CSE: CLC) to develop and distribute TAAT™ for the Canadian market. The MOU grants CLC exclusive rights to develop and distribute TAAT™ in Canada for a two-year renewable term, and provides for budgets, schedules, and contributions of both parties for each stage of product development to be agreed upon by way of written agreements to set out specific stipulations for each stage. After launching TAAT™ in Ohio in Q4 2020 as well as its U.S. online store on February 17, 2021, the Company has captured the interest of numerous smokers aged 21+ in the United States who are now smoking TAAT™ as opposed to traditional tobacco cigarettes. The Company selected Ohio as its initial market for several strategic reasons, with a principal criterion being the state's ideal population size for an early-stage product launch (i.e., large enough to build meaningful market share, small enough to contain). Beginning this week, a major CPG sales agency is rolling TAAT™ out to wholesaler, distributor, and retailer accounts in an effort to expand the current footprint of TAAT™. Based on the sustained success of TAAT™ in Ohio and online, the Company has elected to pursue a potential expansion into the Canadian tobacco industry, which is valued at approximately CAD $19.1 billion1.
As a Licensed Producer under the Cannabis Act in Canada, CLC is permitted to procure hemp biomass from third-party growers, produce the Beyond Tobacco™ base material, manufacture TAAT™ as a finished product, and distribute TAAT™ through authorized wholesale and retail channels across Canada. The Canadian population has a nearly identical smoking incidence rate to the United States at approximately 15%2, which suggests that a sizeable segment of legal-aged smokers exists who could prefer TAAT™ over their regular brand of tobacco cigarettes. Additionally, the lower price point of TAAT™ could prove appealing to legal-aged Canadian smokers due to the relatively high price of tobacco cigarettes in Canada (as high as CAD $139.83 / USD $110.82 for a 200-stick carton in Manitoba3). Moreover, when the Company launched its U.S. online store earlier this month, more than 16% of users who visited were from Canada, despite no marketing of the product having been conducted outside of the United States.
The Company has partnered with CLC on an exclusive basis to develop and distribute TAAT™ in Canada (population 37.59 million), where considerable interest from smokers aged 21+ already exists for TAAT™ despite no product marketing having been conducted outside of the United States
To develop TAAT™ for the Company in Canada, CLC intends to source high quality and toxin-free biomass which is suited to the ideal composition of the Beyond Tobacco™ base material. CLC has already identified multiple local growers who can supply these raw materials for this purpose.
To view the original Press Release click here: