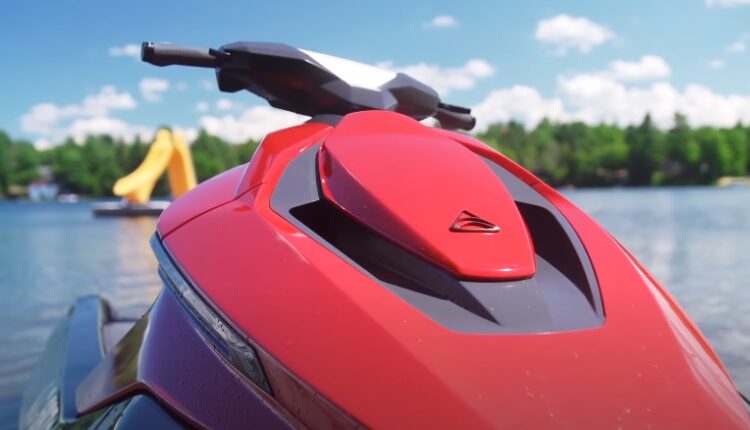 Taiga Motors Comes To Market As Outdoor Participation Rates Spike Due to COVID-19
On Friday, Taiga Motors Corporation (TSX:TAIG) will begin its public listing on the Toronto Stock Exchange. Formerly known as Canaccord Genuity Growth II Corp., the company brings its innovative electric off-road vehicles to a consumer market that's increasingly engaging in domestic outdoor activities as indoor events and international travel remain suppressed. The results bare out in the numbers.
According to The Outdoor Foundation, the philanthropic arm of the Outdoor Industry Association, participation of outdoor events by U.S. citizens is skyrocketing. These topline results, which will be available in full report to be release in the summer, demonstrate how much more Americans participated in outdoor activities during the COVID-19 pandemic in 2020. A few notable highlights include:
Camping participation grew 28%, with 7.9 million additional participants in 2020
8.1 million more Americans hiked in 2020 vs. 2019, as the participation rate grew 16.3%.
Freshwater fishing added 3.4 million participants in 2020—a gain of 8.6%.
As well, the data indicates that inactivity rates show an overall decline in most age groups and income levels, with total outdoor participation increasing to 52.9% from 50.7% in 2020.
While more people engaging in outdoor activities doesn't prove that strong vehicle sales are forthcoming, we imagine the correlations are pretty robust. And this comes as the U.S. savings rate is off the charts during the pandemic.
As the chart below illustrates, the U.S. personal savings rate has soared to historic highs and has remained elevated. Saving refers to the act of accumulating capital for future use by either not spending a part of one's income or cutting down on certain costs.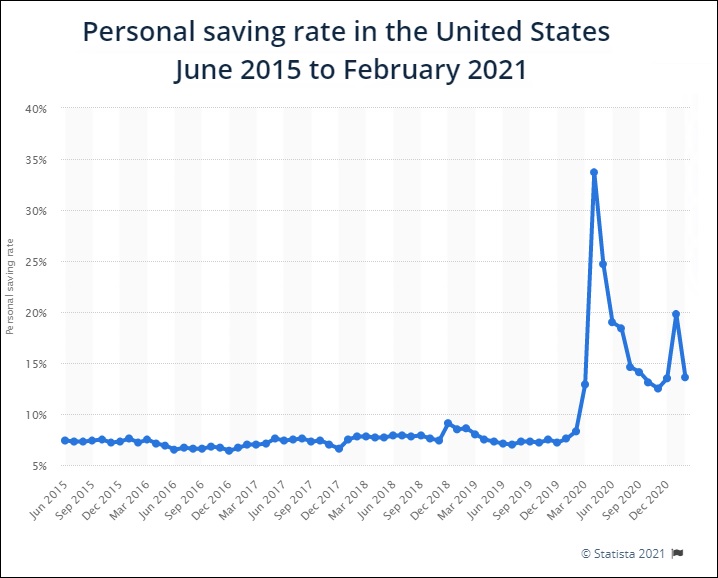 The 33.7% rate achieved in April 2020 was the highest ever recorded and has remained over 12-percent in every month during the COVID-19 pandemic. In fact, monthly readings above 10-percent are extremely rare, having only briefly spiked above that level once (2013) over the last twenty-five years. Savings rates between five and eight percent have been the norm over the last decade.
Those fortunate to have kept their jobs and standard of income are generally flush with cash. A major reason has been drastic reductions in leisure spending by consumers during the COVID pandemic—the same market that Taiga Motors seeks to exploit.
Taiga Motors Stands To Benefit From Spike In Outdoor Participation Rates
An increase in people getting outdoors is good news for Taiga Motors, which is reinventing the powersports landscape with breakthrough electric off-road vehicles.
Perhaps Taiga Motors' most popular creation is its Orca Electric PWC, which is the next-generation jet ski. The torque of the motor—which Taiga touts as having industry leading power to weight dynamics—provides quick propulsion out of the water and its sleek & lightweight design provide incredible maneuverability compared to legacy jet skis. All of this is achieved without the fossil fuel noise and emissions common to regular combustion engines. Starting at USD$15,000, price has caught up with the technology to provide a competitive price point for consumers.
Taiga Motors also offers snowmobiles that provide peak performance in all conditions. Instant torque—even at elevation—temperature allow the snowmobile to go from 0 to 100 km/hour in an amazing 2.9 seconds. The unit has zero throttle lag and enables delicate control for technical maneuvers in virtually any environmental condition. Unit range is up to 140 kilometers on a single charge.
Quite simply, Taiga's vessel design, overall engineering and powertrain is a step up from legacy offerings.
Keep in mind, Taiga Motors is just getting beginning to convert years of innovation into sales. The company is in its pre-revenue phase, having recorded no revenue on any vehicle sales thus far. However, that should change in short order: The company is currently accepting pre-orders for its Orca Electric PWC, where reservation holders will then convert their pre-order to a final purchase in summer 2021. Deliveries for its electric snowmobile are targeted to begin in fall 2021.
Taiga expects to generate significant revenue from direct sales of snowmobiles, PWCs and SSVs (all terrain vehicles) to fleet operators such as ski resorts and tour operators, commercial fleet operators in the energy, resource and transportation industries, and governmental parks, natural resource management agencies and other governmental organizations. Pre-orders from fleet operators represent approximately 15% of the over 1,500 snowmobile and PWC pre-orders received to date.
Listing Commences on the TSX April 23
In connection with the closing of the qualifying transaction, in which Taiga Motors Inc. became a wholly-owned subsidiary of Taiga Motors Corporation, the Corporation has approximately 30,803,284 Common Shares and 1,794,385 Warrants outstanding. The common shares and warrants will be listed for trading on the Toronto Stock Exchange under the symbols "TAIG" and "TAIG.WT", respectively, on Friday April 23, 2021 at market open.
As an added bonus, pre-public shareholders will be locked-up for an extended period of time. All of the common shares and securities convertible to Common Shares issued shall be subject to a 180 day contractual lockup, as well as Class B Units (and underlying Warrants and Common Shares) held by the Sponsors. All of the Class B Shares (and underlying common shares) held by the Founders will be subject to a 365 day contractual lockup.
TDR will be monitoring Taiga's genesis on the public markets and will have additional coverage as events warrant.