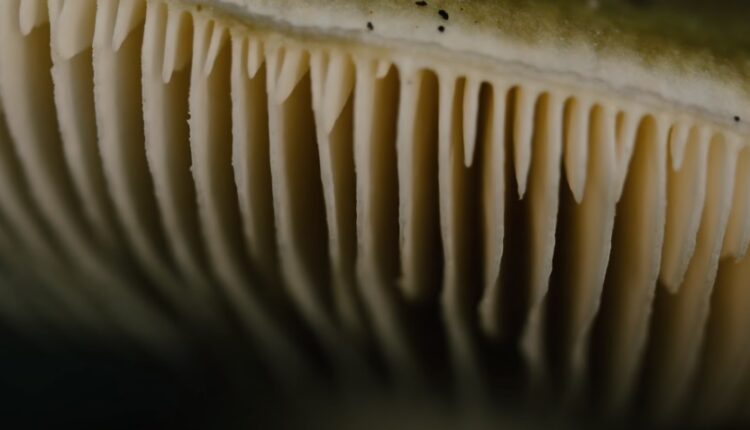 TDR's Top 5 Psychedelic Developments For the Week of February 8
Welcome to TDR's review of the Top 5 psychedelic stories of the past week. Aside from presenting a synopsis of events, we provide commentary to break down the significance of each to investors. TDR is committed to maintaining in-depth market coverage of the most newsworthy events the psychedelics space has to offer.
5. Field Trip Health Ltd. Announces Official Opening of Psychedelic Research and Cultivation Facility in Jamaica
Field Trip Health Ltd. (CNSX:FTRP) (OTCMKTS:FTRPF) announced the official opening of the Field Trip Natural Products Limited Research and Development Laboratory for Psychedelic Fungi in Mona, Jamaica. The research facility is the world's first legal research and cultivation facility dedicated exclusively to psilocybin-producing mushrooms and other plant-based psychedelics.
The work at the new facility will leverage the research and development efforts that have been conducted by Field Trip at a temporary facility at UWI since January 2020, and will be broad-ranging, from genetics, breeding and cultivation work on many of the 180+ plus recorded species of psilocybin-producing mushrooms, to developing analytical methods for quality control, identification of novel molecules, as well as extractions and formulations for drug development purposes.
4. PharmaDrug Files for FDA Orphan Drug Designation for DMT in Stroke
PharmaDrug Inc. (CNSX:BUZZ) (OTCMKTS:LMLLF) announced it has filed an application with the U.S. Food and Drug Administration (FDA) to receive Orphan Drug Designation (ODD) for N,N-Dimethyltryptamine (DMT) in the treatment of acute ischemic stroke patients presenting for emergency medical assistance within 3-hours of symptom onset.
Acute ischemic stroke is characterized by the sudden loss of blood circulation to an area of the brain, resulting in a corresponding loss of neurologic function. Around 85% of all strokes are due to a blockage cutting off the blood supply to the brain. Stroke-related costs in the United States were approximately $46 billion between 2014 and 2015.
In pre-clinical research, DMT has been shown to improve ischemic brain injury in rats, both by decreasing brain lesion volume and by improving subsequent motor function recovery.
3. Revive Therapeutics Provides Update on Cannabinoid Pharmaceuticals Program
Revive Therapeutics Ltd. (CNSX:RVV) (OTCMKTS:RVVTF) provided a corporate update on its cannabinoid pharmaceuticals program specifically as it relates to the clinical development of cannabidiol (CBD) in the treatment of rare diseases and the Company's novel drug delivery technology.
Revive has built a portfolio of U.S. Food and Drug Administration (FDA) orphan drug designations for CBD that support the long-term potential of cannabinoid prescription medicines for rare diseases and disorders—validated by the FDA approval of the GW Pharmaceuticals plc EPIDIOLEX® product.
Revive recently entered into a clinical trial agreement with The Trustees of Indiana University (TIU) to develop and manage a proposed Phase 2 clinical study. TIU and the Company are in the process of completing the protocol and study documents for submission of a pre-Investigational New Drug (IND) meeting with the FDA. Upon the receipt of permission from the FDA, the Company will proceed to evaluate a potential study with CBD for ischemia/reperfusion injury and other liver diseases.
2. Texas Would Study Psilocybin And MDMA To Treat PTSD And Depression Under New Bill
A Texas lawmaker introduced a bill on Wednesday that would require the state to study the therapeutic potential of psilocybin, MDMA and ketamine in the treatment of certain mental health conditions.
The legislation from Rep. Alex Dominguez (D) would mandate that the Department of State Health Services conduct the study in collaboration with the Texas Medical Board and report on its findings by December 1, 2022.
Researchers should "evaluate and determine whether alternative therapies are effective in treating the mental health and other medical conditions" such as depression, anxiety, post-traumatic stress disorder, bipolar disorder, chronic pain and migraines, the text of the bill, HB 1802, states.
1. Psychedelic Stocks Surge As Speculative Capital Flows Into The Sector
Big week for the biggest psychedelic stocks, as speculative capital poured into the market. After probing new issue highs through to mid-week, The Horizons Psychedelic Stock Index ETF (PSYK) blew wide open, coinciding with Thursday's massive post-jubilation selloff in the cannabis sector. It was a telltale sign that spec money had rotated into in a related cousin industry. Some traders noted that Reddit forum Wall Street Bets was talking-up the sector this week, although we're unable to pinpoint a specific catalyst.
Regardless, increasing volume in conjunction with a solid technical break of PSYK at recent all-time high dragged underlying stocks along for the ride. Broad market indexes grinded higher and supported continued risk-on sentiment.
| | | | | | |
| --- | --- | --- | --- | --- | --- |
| Company | Ticker | Price ($) | Weekly Change (%) | WoW Volume Trend | Market Cap ($) |
| Compass Pathways | CMPS | 48.75 | 7.73 | ↑ | US$1.75B |
| Mind Medicine | MMED | 5.06 | 15.26 | ↑ | C$2.11B |
| Field Trip Health | FTRP | 8.00 | 43.36 | ↑ | C$337.3M |
| Cybin Inc. | CYBN | 2.10 | 0.47 | ↑ | C$308.1M |
| Numinus Wellness | NUMI | 1.82 | 23.80 | ↑ | C$297.7M |
| Red Light Holland | TRIP | 0.60 | 15.38 | ↑ | C$154.6M |
| Champignon Brands | SHRMF | 0.75 | 23.96 | ↑ | US132.9M |
| Revive Therapeutics | RVV | 0.69 | 25.45 | ↑ | C$163.4M |
Of particular note, Field Trip Health soared to record highs, shattering the old intraday ($7.00) and closing ($6.35) benchmarks. A low shares outstanding count and high insider ownership percentage could have contributed to the outsized move by creating a price resistance vacuum. The company announced the opening of a developmental laboratory in for psychedelic fungi in Mona, Jamaica (see #3), as well as their Q3 2021 earnings release date (February 16).
Revive Therapeutics rode a busy news cycle to finish the week on a high note. After listless trade for the better part of two weeks, RVV sprang to life after providing an update on it cannabinoid pharmaceuticals program on February 11 (see #3). This was followed by the closing of the $23.0 million short form prospectus offering on Friday. Bought deal participants make out like gangbusters by procuring equity at $0.50 along with $0.70 warrants with a 36-month expiry. The common shares traded below $0.50 only briefly following the bought deal announcement—less than 10 minutes to be exact—so the placement was never really underwater.
Mind Medicine added 15.26% after announcing a new partnership with Swiss startup MindShift Compounds AG to develop and patent next-gen psychedelic compounds with psychedelic or empathogenic properties. Both companies have agreed to develop next-gen psychedelic and empathogenic substances together. MindMed plans to begin first-in-human Phase 1 clinical trials as early as Q1 2022 through its existing clinical trial platform for psychedelic and empathogenic compounds in Switzerland.
And finally, there were two significant Blue Sky Breakouts to speak of in this report.
FTRP: With a closing price of $8.00/share, Field Trip comfortably clears its all-time intraday high of $7.00/share set on December 14, 2020. Volume was strong and rising, although perhaps not the exclamation point generally seen on such decisive moves. The intraday high of $9.88 will be the next benchmark to overcome should continuation be in order; $7.00 is the next significant level we're watching on the downside.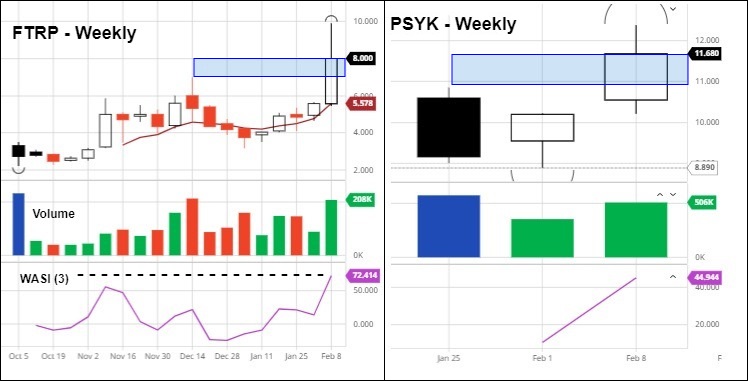 PSYK: The Horizons Psychedelic Stock Index ETF raced past its previous intraday high of $10.85 to close the week at $11.68. Due to the ETF's limited history, we're keeping enthusiasm for the breakout in context. However, the broad market, overall investor sentiment and technicals remain bullish so continuation is probably the path of least resistance, for now.
A Blue Sky Breakout refers to an issue trading at a price level never seen before in a stock's listed history. It is significant because there are no existing or defined resistance zones in place, which tends to embolden investor to push price higher until new resistance forms.