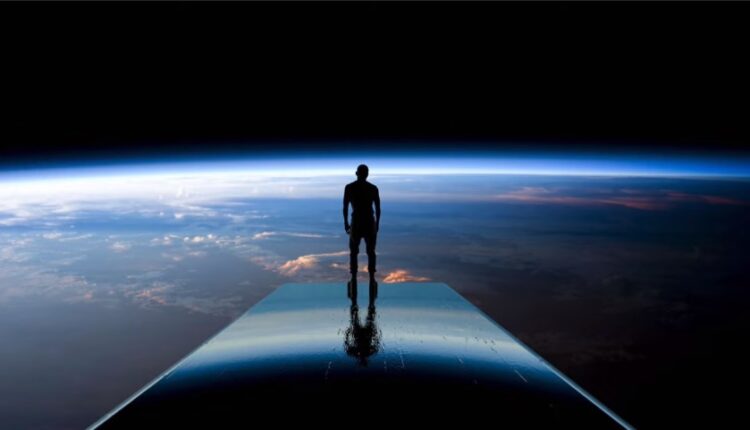 TDR's Top 5 Psychedelic Developments For The Week Of June 28
Welcome to TDR's review of the Top 5 Psychedelic developments for the week of June 28. Aside from presenting a synopsis of events, we provide market commentary to summarize the week that was for publicly-listed companies.
5. COMPASS Pathways Completes COMP360 Psilocybin Therapy Administration For 216 Patients In Large-Scale Phase IIb Psilocybin Therapy Trial
COMPASS Pathways plc (Nasdaq: CMPS) has completed psilocybin administration to the target 216 patients in its Phase IIb clinical trial of COMP360 psilocybin therapy for treatment-resistant depression. This is the world's largest psilocybin therapy trial to date.
The trial is a randomized controlled, double-blinded, dose-ranging study, investigating the safety and efficacy of psilocybin therapy and comparing a 25mg and 10mg dose of COMP360 psilocybin with a 1mg dose, administered in conjunction with psychological support from specially trained therapists. The 216th patient in the trial had their psilocybin session late last week.
__________
TDR: This news is important in that the trial will be completed on time and Phase IIb results are still tracking towards the end of 2021. As the world's largest psilocybin trial, TDR expects the results to not just move CMPS stock, but the whole sector. We anticipate the sector will again come into focus—with rising volumes and increasing volatility—as we head into the fourth quarter.
4. Maxim Group Gives Buy Rating To 10 Psychedelic Stocks—Including 5 Psychedelic Companies Which Obtained Investment Bank Coverage For The First Time
This week, investment bank Maxim Group initiated coverage of companies in the psychedelics space, giving a bullish Buy rating to all ten. Maxim Group provides an array of financial services including investment banking, global institutional sales, equity research, fixed income, derivative sales & trading and more to institutional investors and high-net-worth individuals. The firm has participated in 140 financing raising $6.8 billion as Lead, Joint, or Co-Manager in various offerings since 2020.
The list of 10 psychedelic stocks includes first time coverage in 5 companies. All were started with "Buy" ratings. The list, with 12-month price targets ($USD), includes:
In visual format: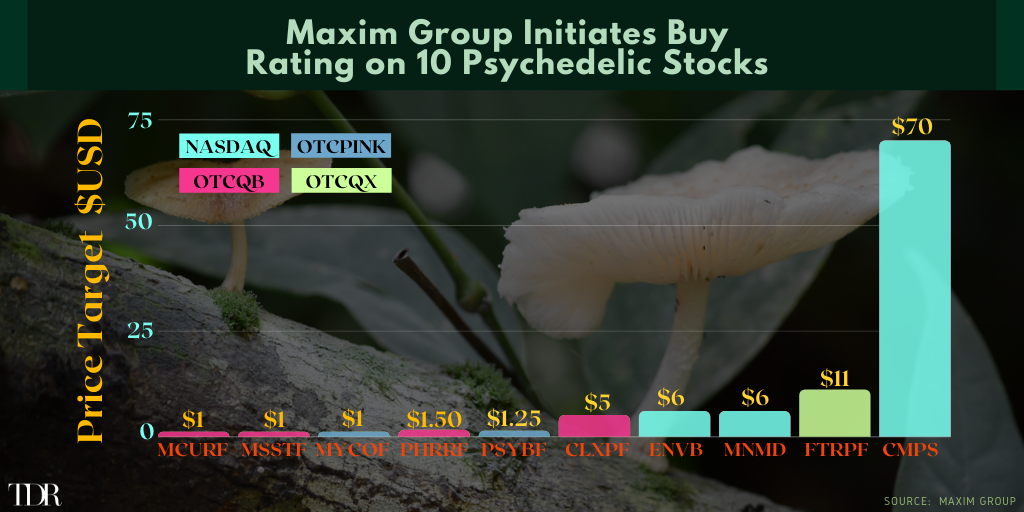 3. Psychedelic Stocks Flat As The Summer Doldrums Have Arrived
The biggest psychedelic stocks were mixed this week, as the summer doldrums have arrived. The Horizon Psychedelic Stock Index ETF (PSYK) again oscillated between +/- performance, before a 1.33% gain on Friday pushed PSYK over the line (↑0.35%). Although volume was slightly better this week, overall action was limited and sporadic. So was material news flow, with Canada Day falling on a Thursday and Independence Day coming this Sunday. The Nasdaq Junior Biotechnology Index (↑1.36%) and Nasdaq Biotechnology Ishares ETF (↑0.98%) bested PSYK for the second consecutive week.
Next week could be among the lowest volume weeks of the year, so don't expect much volatility. If you are a daytrader or thrill seeker, best to look at other sectors that are moving. For buy & hold investors, accumulating on the spread is likely the smart move until bullish volume re-enters the market. Happy investing everyone.
| | | | | | |
| --- | --- | --- | --- | --- | --- |
| Company | Ticker | Price ($) | Weekly Change (%) | WoW Volume Trend | Market Cap (s/o) |
| ATAI LIfe Sciences | ATAI | 18.03 | 6.43 | ↓ | US$2.75B |
| Mind Medicine | MNMD | 3.41 | -8.33 | ↓ | US$1.54B |
| Compass Pathways | CMPS | 37.27 | 11.28 | ↓ | US$1.53B |
| Field Trip Health | FTRP | 6.98 | -3.45 | ↓ | C$400.0M |
| Cybin Inc. | CYBN | 2.60 | -4.41 | ↑ | C$385.8M |
| Seelos Therapeutics | SEEL | 2.82 | -2.75 | ↔ | US$288.3M |
| Revive Therapeutics | RVV | 0.60 | 22.44 | ↑ | C$190.2M |
| Numinus Wellness | NUMI | 0.91 | -4.21 | ↓ | C$183.9M |
| Small Pharma | DMT | 0.44 | -2.22 | ↑ | C$139.4M |
| Mydecine Innovations | MYCO | 0.41 | -1.20 | ↓ | C97.5M |
In the news…
Cybin Inc.'s price target was increased by investment bank Stifel to C$15 from C$12 based on the company's recent announcement of choosing social anxiety disorder and generalized anxiety disorder as target indications for CYB004, a novel molecule of the psychedelic class. The firm maintained its "Speculative Buy" rating.
Entheon Biomedical announced the addition of emergency physician and addiction specialist, Dr. Dinesh Bayana as a medical advisor, providing expertise on the development of the Company's DMT clinical program as it relates to patient care in the context of addiction medicine.
Havn Life Sciences has entered into a supply agreement with Allied Health (OTCQB:ALID), an innovator in the cannabis and psychedelics space, integrating medical research, cultivation and processing, and proprietary products and natural health product distribution.
NeonMind Biosciences has launched its NeonMind branded functional mushroom coffee products as dietary supplements in the United States. The initial launch includes two ground coffee SKUs that are now available for delivery anywhere within the US. Two instant coffee SKUs are anticipated to be added within a month.
Revive Therapeutics announced that its common shares have been approved for trading on the OTCQB Market effective Monday June 28, 2021. The uplist will help Revive to broaden its awareness and shareholder base with investors in the U.S., as the market anticipates Phase 3 Bucillamine results for COVID in the next quarter.
2. Harvard University Launches First-Of-Its-Kind Psychedelics Policy Center
Harvard Law School on Wednesday announced the launch of a first-of-its-kind psychedelics policy center that it hopes will inform legislation and help clinicians navigate this burgeoning medical space as reform continues to advance. The Project on Psychedelics Law and Regulation (POPLAR) will be a three-year effort designed to "promote safety, innovation and equity in psychedelics research, commerce and therapeutics," according to a press release.
Right now, there are a handful of psychedelics research centers at universities around the country. However, they are focused on clinical research. There is no systematic research being done on psychedelics law, and POPLAR will fill this gap.

Mason Marks, Senior Fellow at the Petrie Flom Center and director of POPLAR
The Project on Psychedelics Law and Regulation (POPLAR) will be a three-year effort designed to "promote safety, innovation and equity in psychedelics research, commerce and therapeutics". In the announcement, Harvard's Petrie-Flom Center for Health Law Policy, Biotechnology and Bioethics recognized that state and local psychedelics developments necessitate an evaluation of the policy impacts as well as the potential influence of private companies that seek to enter the market.
1. California Lawmakers Approve Bill To Legalize Psychedelics Possession In Committee
On June 29, A California Assembly committee approved a Senate-passed bill to legalize possession of psychedelics, clearing its first major hurdle in the chamber. The Assembly Public Safety Committee advanced the legislation, sponsored by Sen. Scott Wiener (D), in a 5-3 vote.
SB 519 would remove criminal penalties for possessing or sharing numerous psychedelics—including psilocybin mushrooms, DMT, ibogaine, LSD and MDMA—for adults 21 and older. The sponsor supported a committee amendment that removed ketamine from the list of psychedelics included in the reform. That's in addition to a series of technical revisions that were made to the legislation.
Under the measure, the state Department of Public Health would be required to establish a working group "to study and make recommendations regarding possible regulatory systems that California could adopt to promote safe and equitable access to certain substances in permitted legal contexts." Those recommendations would be due by January 1, 2024.