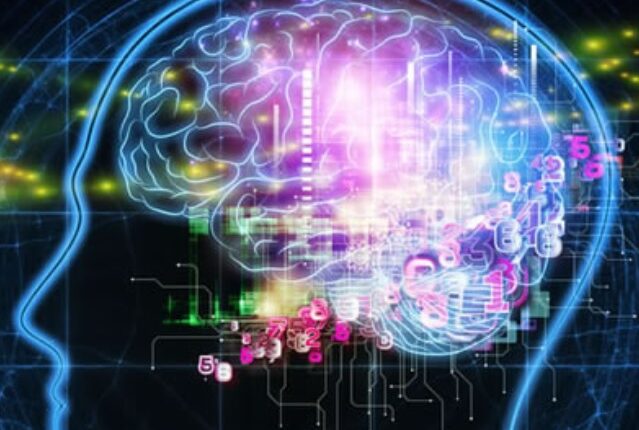 TDR's Top 5 Psychedelic Developments For The Week of October 5
Welcome to TDR's review of the Top 5 psychedelic stories of the past week. Aside from presenting a synopsis of events, we provide commentary to break down the significance of each to investors. TDR is committed to maintaining in-depth market coverage of the most newsworthy events the psychedelics space has to offer.
Mydecine Innovations Group Inc (CSE:MYCO) (FSE:0NF) announce that its wholly-owned subsidiary, NeuroPharm Inc. has filed a provisional patent application with the United States Patent and Trademark Office (USPTO) covering composition of matter claims regarding a psychedelic therapy enhancer for the treatment of certain psychiatric disorders, including enhancements to treatments for PTSD.
The provisional patent application covers, among other things, an enhancer that reduces the enzymatic breakdown of psilocin, the active ingredient in psilocybin that causes psychedelic effects.
Field Trip Health Ltd. Common shares of Field Trip Health began trading on the CSE Tuesday morning under the symbol FTRP.
The psychedelics company, which has operations in the U.S. and Jamaica, went public through a reverse take-over with Canadian oil and gas explorer Newton Energy Corp.
The stock had a positive opening session, finishing significantly above it $2 private placement price at $2.70 per share on 370,000 shares traded.
Mind Medicine Inc (NEO:MMED)(OTC:MMEDF) today announced that it has entered into an agreement with Canaccord Genuity Corp. pursuant to which the Lead Underwriter has agreed, on behalf of a syndicate of underwriters to purchase, on a bought deal basis pursuant to the filing of a short form prospectus, an aggregate of 23,810,000 units of the Company at a price of C$1.05 per Unit for aggregate gross proceeds to the Company of C$25,000,500.
Each Unit shall consist of one subordinate voting share and one-half of one Subordinate Voting Share purchase warrant of the Company. Each Warrant shall be exercisable to acquire one Subordinate Voting Share at an exercise price of C$1.40 per Subordinate Voting Share for a period of 36 months from closing of the Offering.
2. Mind Medicine Exits Friday In 'Blue Sky Breakout' Territory Despite Pricing Bought Deal At $1.05
Not even a bought deal priced at $1.05/share could knock Mind Medicine down much to close the week. With a late-session surge to $1.22, the company will begin trading Tuesday in blue sky breakout territory on the weekly, which is a technically bullish place to be.
The Blue Sky refers to the new price level never seen before in a company's listed history. It is significant because there are no existing or defined resistance zones in place, which tends to embolden investor to push price higher until new resistance forms.
Usually, a stock would trade around the bought deal level until it closes (October 30); and that's still likely to occur. With the weekly 7-period exponential moving average at $0.79, the stock has moved way ahead of itself—almost entirely on momentum. However, we wouldn't rule out additional gains beyond the all-time intraday high of $1.33 given the exceptional volume and FOMO-type sentiment surrounding the stock. A lot can happen with 14 sessions remaining in October.
Today marks the start of Mental Illness Awareness Week introduced by US Congress in 1990 in an effort to increase awareness of mental health issues. Never in the past 30 years has this been more important than NOW as depression levels have soared as much as over 3x during the pandemic.
With that as a backdrop, we introduce what we believe to be the most compelling IPO of the year whose significance to humanity has the potential to be a generational stock – Compass Pathways (CMPS).
TDR: Citron Research issues the lofty price target on Monday morning and the CMPS responded in-kind. Not only did the stock rise as much as 28.43% during the session, closing volume smashed IPO day volume by 49.18%. Essentially, the report created a temporary mania which pushed Compass Pathways to new all-time trading highs—albeit temporarily.
Unfortunately, the exuberance was short lived. Monday morning's run was met with a wave of profit taking which lasted all week. By Friday's close, Compass Pathways had its second consecutive losing week (↓6.87%) even though NASDAQ gained over four percent.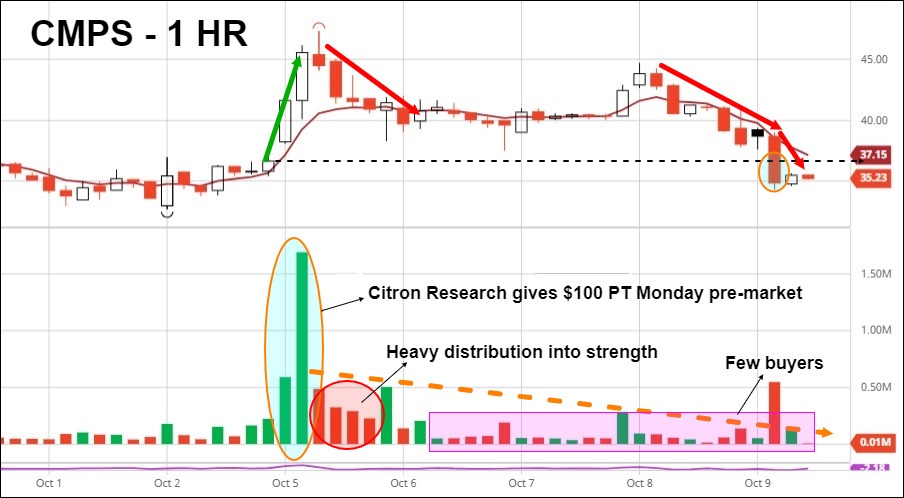 While we agree Compass has the potential to become a" generational stock", we didn't see anything compelling in the report beyond what we already know. The report was heavy on Total Addressable Market (TAM) and information generally found in an investor deck, but light on other important drivers: catalysts-to-endpoint, potential drug acquisition, comp analysis etc.
When Compass Pathways receives coverage from an actual investment bank, the report will likely have more lasting impact. CMPS closed the week at $34.61.