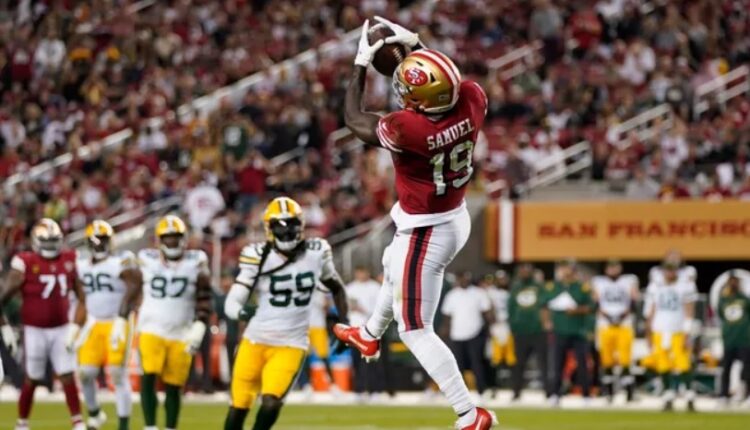 TDR's Top NFL Championship Sport Betting Pick: Deebo Samuel Prop Bet Delivers
With the AFC and NFC Championship games just days away, TDR has been scouring the betting lines for opportunities to obtain value. While the oddsmakers tend to sharpen their pencils this time of year, we found something we just couldn't pass up: a deep-value Deebo Samuel prop bet. Here's why.
Although there are a few ways bettors can play the Deebo Samuel prop bet on the line, the "total receiving yards" option particularly caught our eye. Currently, the over/under stands at 50.5 on Bet365.com, and 51.5 at other major books. Either way, we think there's compelling value on the OVER for a variety of reasons.
Let's start with the basic stat of average yards per game (YPG). Looking at the biggest sample size which is the regular season, Deebo averaged 87.8 YPG in 16 contests, which is 37 yards over the current NFC Championship game line. Breaking it down further, of the 16 regular season games Deebo played, he failed to achieve at least 50.5 yards in just 3 of them. This spanned three consecutive games between November 21-December 12, a period in which Deebo was dealing with injury issues—including a DNP on December 5 (groin) versus division archrival Seattle Seahawks. Deebo originally tweaked his groin in Week 12 (November 28) against the Minnesota Vikings.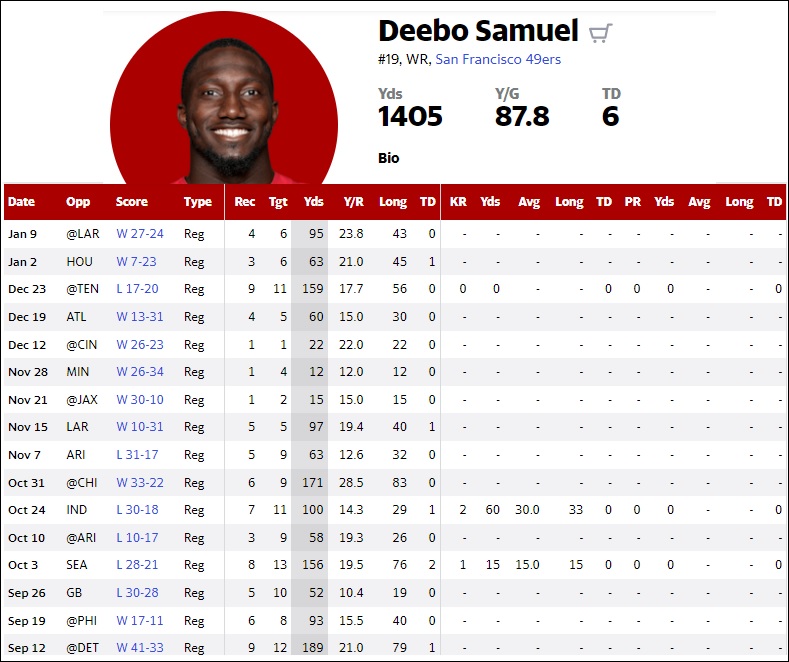 Next, we look at total receptions relative to yards caught. Every time that Deebo Samuel has registered at least 4 receptions in the 2021-2022 season, he covered the 50.5 number. He's also cleared 50.5 receiving yards in 2 of the 4 games he caught 3 passes if we include the playoffs. The current over/under for receptions in Sunday's game against the Los Angeles Rams stands at 4.5 (under -130), meaning that oddmakers view 4 catches as Samuel's most likely catch output. The math stacks up well here.
Next, Deebo Samuel's performance against the Los Angeles Rams has outpaced 50.5 total receiving yards on both occasions this year. On November 15, Deebo caught all 5 targets for 97 yards (19.4 YPC), while in the 49ers pivotal do-or-die Week 18 matchup to qualify for the playoffs, Deebo delivered with 4 receptions for 95 yards (23.8 YPC). If recent history is any guide, Deebo has no issues navigating against the Rams secondary.
Speaking of the Rams secondary, it is by no means the strong point of an otherwise formidable defense. This unit ranks 22nd in the NFL giving up 241.7 yards per game, although they rank a stout 6th rated defensive pass DVOA. The Rams have Pro Bowl cornerback Jalen Ramsey blanketing one side of the field, but he will only be covering Deebo intermittently due to Deebo's ability to line up in various spots along the formation. Hence, the assignment to contain him will be a shared responsibility as opposed to a single CB1. Not that Deebo can be stopped from getting his regardless of who is covering him.
We also note that Deebo has the penchant for the big play. He led all qualifying NFL wide receivers with 18.2 yards per catch, and had a 40 yard+ catch in 8 of the 16 regular season games he played.
If he gets another such big play this weekend, the over 50.5 will be all but consummated.
Deebo Samuel Prop Bet Can Fail If…
He spends more time in the backfield than at wideout. So far in the playoffs, he has achieved 38 and 44 yards, respectively, on 3 catches in both Dallas and Green Bay. During this time, Deebo has carried the ball 10 times in each game, thereby limiting his opportunities at wideout. As the season has progressed, Deebo has seen his number of carries steadily increase inline with Kyle Shanahan's penchant for balance and ball control on offense. Should Deebo be continuously subjugated in the backfield, he might underperform his receiving yard averages and miss the 50.5 number again on Sunday.
Final Word
While the oddmakers generally get it right with exacting precision, we think the number is too low here. In the end, for the 49ers to advance they will have to make plays. With the Rams most vulnerable in secondary coverage and displaying a robust run defense, we think Deebo Samuel will do his most damage at wideout. Yes, he'll run the ball some. But to keep up with the red hot Matthew Stafford passing attack, Jimmy Garropolo will have to make plays in the air. This will be particularly true if they play from behind, such as the 17 point deficit San Francisco dug themselves into on January 9. Deebo will have plenty of opportunities to pick up chunk yardage.
While it's becoming more of a shared responsibility at wideout of late, look for Deebo to be targeted with quick throws on screens and slants to negate the Rams monstrous pass rush. Combined with the requisite intermediate target or two downfield, this should be a winning combination to get above the 50.5 total receiving yards threshold. Ultimately, we're betting on the law of averages catching up here. That means Jimmy Garropolo rebounding from subpar playoff performances to throw for over 200 yards and Deebo catching 4+ balls for somewhere north of 60 yards.
Finally, we reference the words of the great Jerry Rice, who weighed-in on Deebo Samuel ahead of Sunday's contest. Commenting on the punishment inherent to the running back position, Rice had this to say:
I didn't have the body for it. And I think you look at Deebo, that last ball game, even though he's got that real thick body, the physicality of it and stuff like that, he was pretty exhausted. He looked like he had taken a lot of punishment, so I don't see them continuing to do that.

San Francisco 49ers Hall Of Fame wide receiver, Jerry Rice
With double-digit carries over the last two games—limping off the field due to carry punishment in Green Bay—we agree. With the element of surprise diminished, yards per rush will inevitably decline to a point where it makes little sense to risk injury. Although it's been a productive run, we may have seen Peak Deebo in terms of carry volume.
PICK: Over 50.5 total receiving yards (3 units)