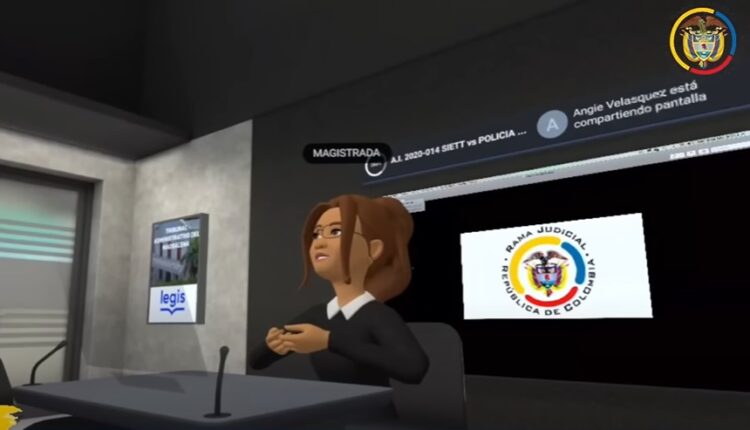 The Metaverse Holds Live And Legal Court Hearings In Colombia
A South American country held a court hearing inside the metaverse, which could show a use case for the virtual world.
In 2021, cities and countries expanded their presence in the metaverse with embassies and virtual worlds.
Fast forward to 2023 and the metaverse lost some of its appeal and buzz with the adoption of metaverse virtual worlds outside of leading video games such as Roblox Inc RBLX seeing limited usage.
Meta Platforms Inc META was among the companies that have invested heavily in growth through the metaverse and could have a new use case on full display.
A court hearing in Colombia in mid-February was held inside the metaverse, utilizing Meta Platforms-owned Horizon Workrooms, as reported by Decrypt. 
The two-hour hearing saw lawyers put on virtual headsets and take part in the court case. Those involved in the case were represented with virtual avatars. The hearing was streamed live on YouTube. The court case centered on a case against the police.
This was the first virtual hearing done in the metaverse by Colombia lawmakers. Reports said Horizon Workrooms has been used for court cases elsewhere, including in China.
During the COVID-19 pandemic, many court hearings were done virtually, but they took place over Zoom or other video platforms without the use of virtual headsets or virtual avatars.
Proceedings Draw Mixed Reaction From Observers
The court case in the metaverse drew mixed reactions from those who participated and witnessed the potential historic first.
"The use of information technology in the development of judicial proceedings has the essential purpose of facilitating and expediting these processes (of executing justice)," Magistrate Maria Victoria Quinones said.
Viewers questioned if the usage of cartoon-like characters in the metaverse is appropriate for a court-style setting.
"I feel it takes away from the seriousness. If I want to see myself in a dinosaur character, is that also acceptable," a viewer asked.
Web3 lawyer Eliana said the court "using technologies such as the metaverse does not entail a violation of the due process." The court argued using the metaverse could allow people physically in another place to take part in court hearings without having to travel or disrupt their routine, and still see "digital justice." 
The use case for court hearings in the metaverse, while small at the moment, could become a rallying cry for Meta Platforms, which was heavily invested in the technology. The company's Reality Labs division lost $4.28 billion in the fourth quarter of 2022.
__________
This article was originally published on Benzinga and appears here with permission.