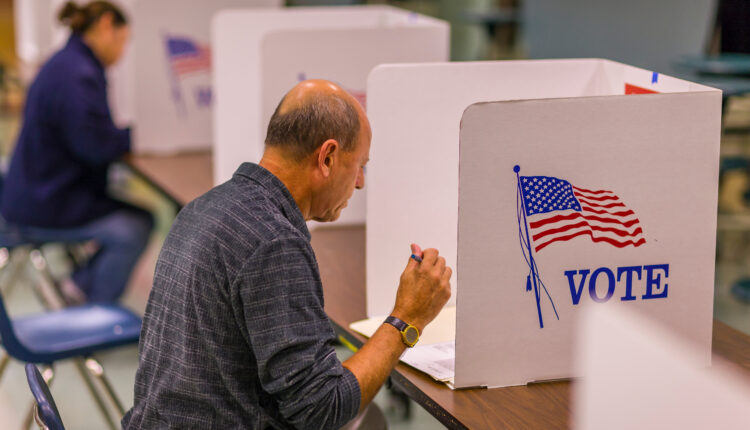 The Psychedelic Vote: Here's What Happened In Washington, D.C. And Oregon During Last Night's Election
Yesterday, voters in the state of Oregon and in Washington, D.C. were given an historic opportunity to change laws affecting the use and possession of psychedelics.
The Nation's Capital Decriminalizes Plant Medicines And Fungi
Preliminary results indicated just after 10 p.m. EST that Initiative 81 in Washington, D.C. had passed, decriminalizing a wide range of psychedelic substances including species of plants and fungi that contain ibogaine, dimethyltryptamine (DMT), mescaline, psilocybin or psilocin. By Wednesday morning, results indicated that 76.5 percent voted 'yes'.
The ballot initiative was proposed by Melissa Lavasani, a woman who used entheogenic plants and fungi to overcome severe postpartum depression.
"Initiative 81's success was driven by grassroots support from D.C. voters," she said in a press release on behalf of the Decriminalize Nature campaign. "We are thrilled that D.C. residents voted to support common sense drug policy reforms that help end part of the war on drugs while ensuring that D.C. residents benefiting from plant and fungi medicines are not police targets."
The results means that police will be expected to treat the non-commercial cultivation, distribution, possession and use of psychedelic substances derived from plants and fungi as a low-level law enforcement priority, while the D.C. attorney general and U.S. attorney for D.C. will be expected to stop prosecuting residents who use them.
Polls ahead of election day showed that approximately 60 percent of voters in D.C. supported the initiative. Although voters in Denver approved an initiative by ballot in 2019 specific to psilocybin, Washington, D.C. is the first jurisdiction in the United States to decriminalize multiple psychedelic plants in this way. (Oakland, Santa Cruz, and Ann Arbor have already decriminalized psychedelic plants and fungi but at the municipal level.)
Congress has 30 days to block the change.
Oregon Becomes The First State To Legalize Psilocybin Therapy
Early results rolled in around 11 p.m. EST last night showing that the majority of Oregonians supported Measure 109 to legalize psilocybin therapy. In Oregon, Measure 109 asked voters if they would support the creation of a program that would allow for the administration of psilocybin products to adults over the age of 21.
As of Tuesday morning, results showed 55.8 percent of voters in Oregon had favorably participated in the psychedelic vote for the initiative, making it the first state to decriminalize magic mushrooms. (A total of 11 states had legalized cannabis at the state level before yesterday's election, with voters in New Jersey, Arizona, South Dakota and Montana adding their states to the list last night. In addition, medical cannabis proposals received 'yes' votes in South Dakota and Mississippi.)
The initiative in Oregon does not legalize psilocybin, however it does mean the local health authority must now create regulations around the Psilocybin Mushrooms Services program proposed by the initiative. This means that eventually centres will be established throughout the state where people will be permitted to buy, possess, and consume psilocybin under the supervision of a facilitator or therapist.
The well-publicized initiative garnered an endorsement from the Democratic Party of Oregon, support from several veterans' groups, and even a $2-million donation from Dr. Bronner's. Yes on Psilocybin Therapy, a committee that backed the initiative, also raised nearly $1.6 million in support of the psychedelic vote.