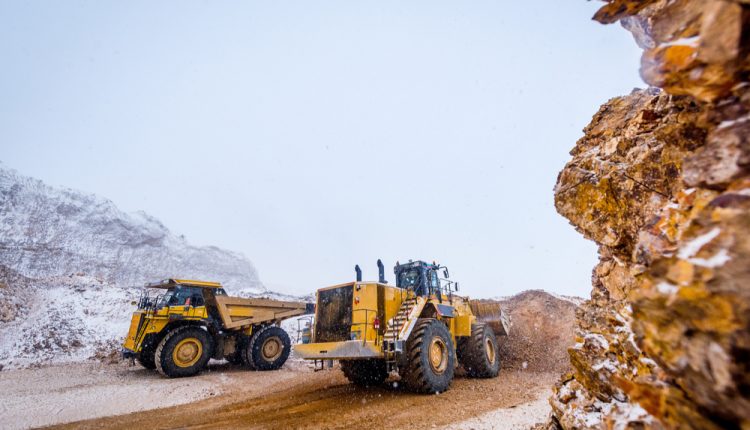 The Quebec Gold Rush of 2020 – Companies to Discover at PDAC
Gold exploration and drilling in Quebec is turning out to be some of the most anticipated programs of 2020. Most notably this year, Azimut Exploration Inc. (CVE: AZM), the largest portfolio holder of mineral exploration in Quebec, announced major drilling results on January 14, 2020 which skyrocketed the stock price up an impressive $1 from $0.50 to $1.50 reiterating to investors the massive upside potential of gold exploration in Quebec.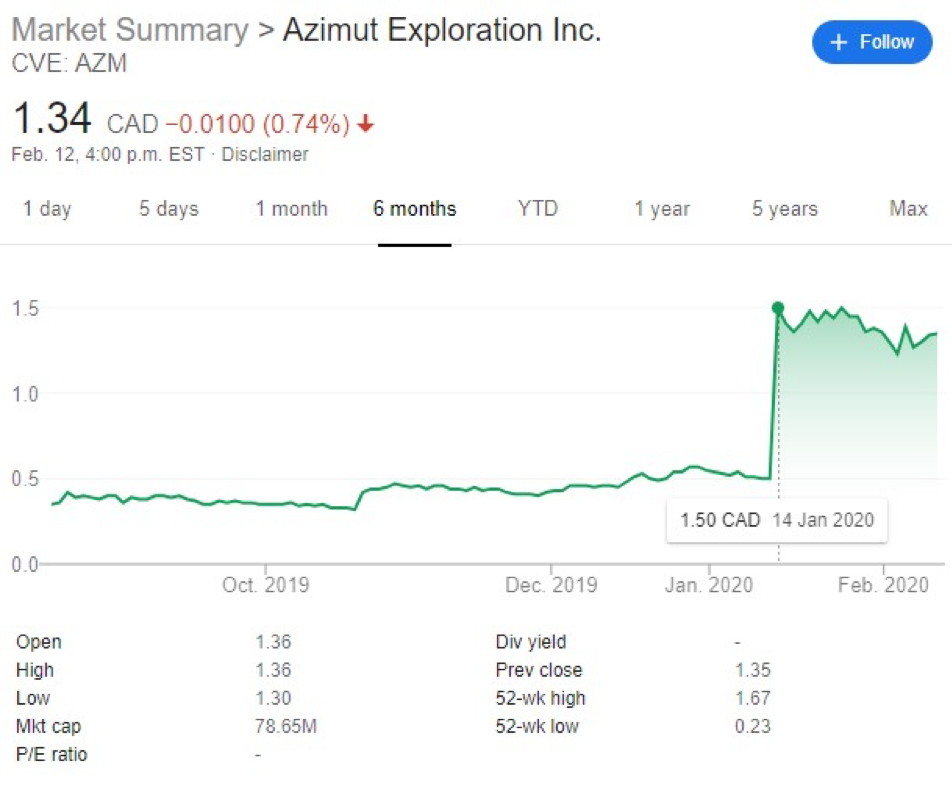 Drill results like this combined with the increasing spot price of gold are grabbing investors attention as they look for the next big gold play in Quebec.
While most mining companies came under pressure in 2019, a spike in the gold price to highs of $1,550 an ounce already provides hints of what could be a breakout year for the sector. According to analysts and professionals, a bull market is looming in the mining industry. That said, it would be wise to attend the PDAC event to get insights into how junior mining companies are positioning themselves.
Big names in mining such as Frank Guistra, Rick Rule, and Eric Sprott are all saying we are likely about to begin a gold bull run. In September 2019 Frank Guistra stated: "This is going to be an explosive gold market", heading towards US$1,900/oz. If that happens gold would set an all-time record high breaking the past high of ~$1,890 an ounce in 2011.
PDAC 2020: Junior Mining Companies To Watch
Amex Exploration Inc (CVE: AMX) (PDAC Booth Number: 2716), which currently owns a 100% interest in the Perron gold project that consists of 116 mining claims recently reported on Feb. 06, 2020 'Near Surface and High-Grade Gold at Grey Cat and Gratien Gold Zones.' Mr. Victor Cantore, President and CEO of Amex Exploration said, "Roughly one year following the discovery of the Eastern Gold Zone, we have transformed this property from one very high grade gold target to three separate gold zones spread over 3.2 km. Based on our exploration to date we believe each of these zones has the potential to be robust gold deposits as they are open to depth and along strike…"
Osisko Metals Inc. (CVE: OM) (PDAC Booth Number: 2624A) flagship project is the Windfall Lake project consisting of 285 mining claims in Quebec. The Windfall Lake deposit occurs within the Urban-Barry greenstone belt in the Northern Volcanic Zone of the Abitibi geological subprovince. Osisko Mining is currently the largest stakeholder in the Urban Barry greenstone belt with over 40% of the land staked. Recent news on January 29, 2020 'Osisko Completes Discovery 1 Deep Drill Hole' the CEO states, 'the results of the Discovery 1 hole show that the Windfall system is extensive with substantial room for potential growth.'
Wallbridge Mining Company Ltd (TSE: WM) (PDAC Booth Number: 2442) continues to intersect high-grade gold over significant widths on its flagship 100%-owned Fenelon Gold Property. On January 27, 2020, the company announced the first hole to test a target 800 m along strike to the northwest of the known footprint of the Area 51 gold system, intersected 83.18 g/t over 0.51 metres, highlighting the excellent potential for Area-51-style gold mineralization along the approximately four kilometre strike length of the Jeremie Pluton. In addition to the Fenlon project, the mining and exploration company continues to work on a pipeline of projects as it seeks to support sustainable 100,000 ounce-plus annual gold production.
Azimut Exploration Inc. (CVE: AZM) (PDAC Booth Number: 2433) as mentioned earlier is a mining and exploration Company worth paying a visit to at the PDAC 2020 event. Their January 14th, 2020 announcement is considered to be among the most significant gold exploration results in the James Bay region since the 2004 discovery of the Éléonore deposit by Virginia Gold Mines.Vanstar Mining Resources Inc (CVE: VSR) has Joint Venture with IAMGOLD ("IMG") for the Nelligan project located in Northwest Quebec which has been capturing investors attention. The initial NI 43-101 Mineral Resource estimate, on a 100% basis, shows a pit constrained Inferred Resource totalling 96,990,000 tonnes averaging 1.02 grams of gold per tonne for 3,193,900 ounces of contained gold. At Nelligan, there are 4 major gold zones identified with highlights including a hole of 3,31 gt/Au over 82.60m. The company has already developed a geological model based on Nelligan gold deposits and has also acquired several multiple mining properties containing several gold showings