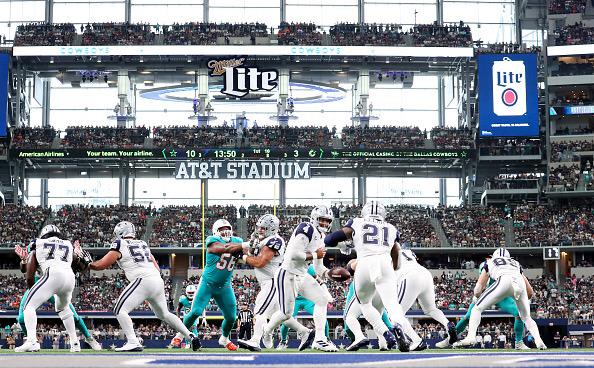 What Sports-Betting Stocks Will Take Off During Football Season?
The start of football season is less than six weeks away, with the first few college games kicking off on September 5. Since the Supreme Court paved the way for the state legalization of sports betting in 2018, it's become the law of the land in 11 states.
More states are on the way. Macquarie predicts sports betting will be legal in 96% of America by 2025 (Utah being the only likely holdout). Statista predicts the sports-betting market will close in on $100 million by 2023.
Several factors make sports-betting stocks attractive in the coming months. Buoyed by high-volume action during the March Madness college basketball tournament, micro-betting companies are looking forward to the first full NCAA football slate in two years and the addition of a 17th game to NFL teams' schedules.
Legal sports betting is still in its infancy, of course. But a few stocks look to have strong third quarters as football gets underway. Here are a few that stand to gain the most:
Draftkings (DKNG)
Draftkings' stock fortunes haven't necessarily reflected its dominance in recent months. Shares closed at $49.33 on July 23, down from its 52-week (and all-time) high of $74.38. But the low share price could represent a good opportunity for investors to get in, at least for short-selling possibilities.
Draftkings earned $312 million in Q1 revenue. It also emerged from a similar slump just as football was getting underway last year, reaching new highs in October. In April, Draftkings purchased BlueRibbon Software to boost its customer experience, which may produce enhancements that return its stock to profitability.
Penn National Gaming (PENN)
The casino operators made a splash when they took out a 36% stake in Barstool Sports, the somewhat obstreperous online media platform run by David Portnoy. The brand will serve as the vessel for its micro-betting app, predictably named Barstool Sportsbook, and Penn executives are aiming to have it up and running in eight states before football season.
Since brick-and-mortar casinos are still part of Penn's business, its share price wasn't very explosive last football season as those casinos lacked foot traffic. Given that the COVID Delta strain doesn't shut casinos down again, Penn may be a great buy right now.
MGM Resorts International (MGM)
Casinos are likewise tied to MGM Resorts' business strategy. Their sports-book operations will also gain from the return of customers to their resorts in the fall. But the real news with MGM is its advance into online betting.
According to management, the BetMGM gambling app stands to earn $1 billion in net revenue by the end of 2021. It boasts 160 million customer profiles, and MGM expects it to be in 20 markets before the end of the year. Its affordable share price also positions it as a favorable buy-in right now.