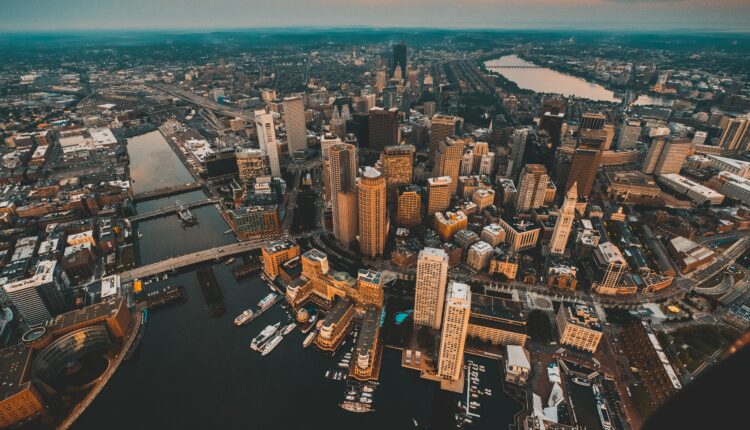 Ayr Strategies Receives Three Host Community Agreement Approvals in Greater Boston
TORONTO, Nov. 18, 2020 — Ayr Strategies Inc (CNSX: AYR.A) (OTCMKTS: AYRSF) a leading vertically integrated cannabis multi-state operator, today announced its local partner Sira Naturals ("Sira") has received three host community approvals to meaningfully expand its existing medical footprint, as well as begin the final preparations for adult-use sales in Boston, Somerville and Watertown, Massachusetts. The approvals for Host Community Agreements ("HCAs") mark a significant first step toward the Company's entry into the adult-use market in the Greater Boston area, with a population of 4.9 million.
"We are thrilled to have received these key approvals toward entering the adult-use retail market in Massachusetts, especially in the underserved Greater Boston area where we have prime store locations. We believe these locations will be the best footprint of adult-use dispensaries in Massachusetts, and we have been highly selective in seeking these locations given we are limited by regulation to a maximum of three adult-use dispensaries in the state. The Massachusetts adult-use market has grown to an estimated US$900 million annualized run rate¹. But given that the Greater Boston area, where over 60% of the state's population lives, has only three adult-use dispensaries currently open, we believe there is material unmet demand. With existing medical sales at our Somerville and Needham stores, the addition of co-located medical and adult-use stores in Somerville and Watertown, and the approval of our landmark adult-use Boylston Street store in the heart of Boston's Back Bay, we hope to address Greater Boston's unmet demand for quality, tested and safe cannabis," said Ayr Strategies CEO Jon Sandelman.
"Our business is already ranked #1 in Massachusetts according to BDS Analytics due to the exceptional quality of our products and the strength of our wholesale distribution channel. Now, upon the opening of our new locations, adult-use consumers in the Boston area will have access to these products directly through our retail channel. Our team has diligently worked with the regulators and the Somerville, Watertown and Boston communities to get to this point, and we intend to continue these collaborations to seek to ensure a safe and timely transition into the adult-use market in 2021," Mr. Sandelman concluded.
Boston, MA
On November 16, 2020, Sira fully executed an HCA with the City of Boston's Cannabis Board to operate an adult-use dispensary at 829 Boylston Street in Boston. The planned 4,500 ft² store is located next to the Apple Store and across from the Prudential Center in the heart of Boston's Back Bay, a popular residential community as well as New England's preeminent destination for shopping and dining, and home to many financial and tourist businesses. The Sira Boylston Street location is well positioned for pedestrian traffic and easy access to public transit.
Somerville, MA
On October 9, 2020, the City of Somerville Marijuana Advisory Committee recommended Sira be offered an HCA to co-locate an adult-use dispensary with Sira's existing medical-use dispensary in Davis Square, a popular neighborhood in the city of Somerville, one of the most densely populated neighborhoods in New England. The Somerville location reaches a nearby population of nearly 900,000³. Sira has been operating as a medical-only dispensary since September 2017 and expects only minimal changes to the existing 5,000 ft², 9 point-of-sale lay-out ahead of adult use sales.
Watertown, MA
Following unanimous approval of the Town Council, on October 20, 2020, Sira executed an HCA with the Town of Watertown approving the Company to operate co-located medical- and adult-use sales. Watertown, which borders the City of Boston, Cambridge, Waltham, Brookline and Newton in Greater Boston, serves a nearby population of 680,000³. Sira's Watertown dispensary is centrally located in the heart of Watertown's burgeoning downtown at 48 North Beacon Street, directly off major arteries into downtown Boston, along Soldiers Field Road (Route 20) and the Massachusetts Turnpike (Route 90). When renovations at the facility are complete, the 3740 ft² store is expected to provide for 10 points-of-sale and ample parking at 23 spaces.
To read the press release in its entirety, please click here.
__________
TDR Commentary:
By securing the HCAs, Ayr Strategies achieved a critical milestone towards expanding its operations in the Greater Boston Area. Today's announcement has positive ramifications for both the expansion of Ayr's medical footprint and upcoming adult-use ambitions.
According to the State's Cannabis Control Commission, a Marijuana Establishment must execute a Host Community Agreement with the municipality in order to be licensed there. However, many municipalities have been slow to issue them for various reasons, leading to a protracted adult-use rollout in Massachusetts. This includes Boston, which opened its first adult-use store in March 2020—fifteen months after recreational cannabis went legal in the state.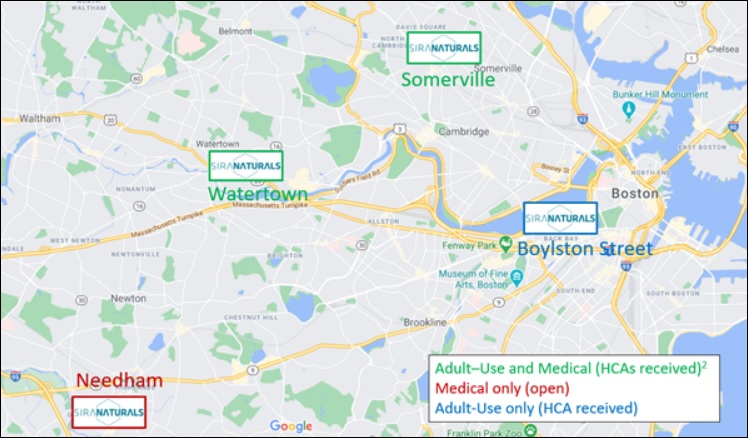 With three host community approvals secured, a potentially inhibiting overhang has been discarded. With approximately 4.8 million people living in the GBA, Ayr's Total Addressable Market (TAM) of potential customers will soon expand markedly on the adult-use side of the ledger. TDR looks forward to covering the launch the months ahead.
__________
Disclaimer: The principal(s) of The Dales Report have an existing agency agreement with Ayr Strategies. The article is neither a solicitation nor endorsement to purchase securities in the profiled security. The information provided has been published for informational purposes only. The principal(s) may divest or make additional purchases of securities without further notice (N/A). Please contact a licensed investment advisor if you are considering investing in Ayr Strategies