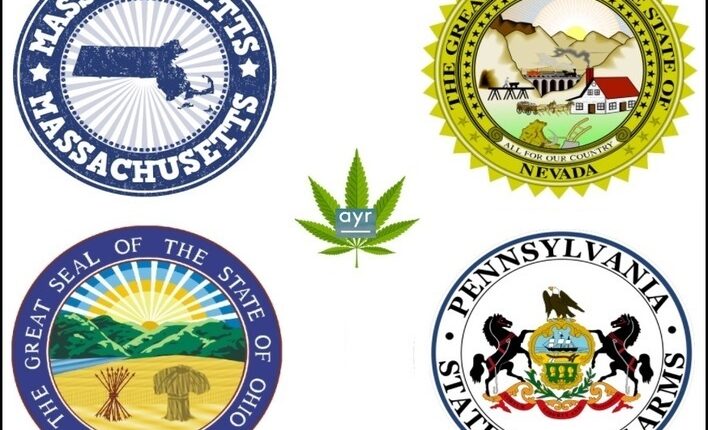 Ayr Strategies Measured Growth Approach Is Winning Over Investors
There was time not long ago when the rush to obtain the biggest national footprint—otherwise known as Total Addressable Market (TAM)—made smart companies do silly things. Over the past year, we've seen numerous multi-state operators (MSOs) either get bent over the barrel with indebtedness or relinquish large breakup fees as consequence to acquisitions they could not close.
Ayr Strategies is not that MSO—and that's exactly the way they prefer it. By focusing on refining their operating model in conjunction with measured expansion ideology, the company is reaping the rewards of scaled growth. TDR takes a closer look under the hood.
For those unfamiliar with Ayr Strategies, you are not alone. Previously assembled as a special purpose acquisition corporation (SPAC), this vertically-integrated operator has come of age. With existing sales in two states (Nevada, Massachusetts), and a pending deal to acquire vertical operations—including six retail dispensaries—in Pennsylvania, Ayr is already a Top 7 U.S. cannabis operator by market capitalization.
Top 7 U.S. MSOs By Market Cap (CAD), Fully Diluted ITM (October 11, 2020)
| | | |
| --- | --- | --- |
| Company | FD ITM Market Cap ($million) | FD ITM Shares (million) |
| Curaleaf Holdings | 7,698 | 687.3 |
| Green Thumb Industries | 4,423 | 219.7 |
| Trulieve Cannabis | 3,641 | 129.8 |
| Cresco Labs | 3,466 | 383.4 |
| TerrAscend Corp. | 1,735 | 264.0 |
| Columbia Care | 1,377 | 288.1 |
| Ayr Strategies | 814 | 43.1 |
Not resting on its laurels, Ayr Strategies recently entered a fourth state, Ohio, by signing a purchase agreement for an operational processing facility and non-binding term sheet granting exclusive rights over a Level 1 cultivation license. These are the first steps toward establishing vertically integrated operations. Ohio is currently a medical-only cannabis state.
Furthermore, the company recently picked up the assets (and liabilities) of Ohio Medical Solutions (OMS), which holds a processing permit for medical cannabis in Ohio. Based in Akron, OMS manufactures cannabis-based products in a 11,300 square foot processing facility.
Once the Pennsylvania agreement closes and Ohio operations get underway, Ayr will have access to 35 million consumers. To put this into perspective, this is roughly equivalent to the entire population of Canada, and does not include spillover customers from states that are underserved or not currently legal.
Ayr Strategies Focused On Operating Cash Flow, Not TAM
While the consummation of its Pennsylvania acquisition draws closer, Ayr is meanwhile achieving some of the best cash flow metrics in the industry. The company's operating cash flow margin (pre-working capital) was 13% in the latest reporting quarter, and generated $7.4 million in free cash flow—up 154 per cent sequentially.
TDR believes the strong performance is a direct byproduct of focused operational performance aided, in part, by its limited footprint. After all, it's much easier to optimize internal supply & distribution chains in two states as opposed to fifteen.
Despite COVID-related disruptions in Massachusetts and Nevada which dented quarterly revenue by 16% sequentially, Adjusted EBITDA continued to trend upward. As per the company's latest financial results, this highly-followed metric increased eight percent sequentially, which translated into increased cash flow.
In fact, even with only 2 states in operation, AYR Strategies is already a Top 5 EBITDA cannabis company and has the second highest gross margins of all major U.S. MSOs in our universe of coverage.
Fortunately, the COVID-related drop in revenues appears transient, as monthly records for revenue, adjusted EBITDA and operating income were achieved in July. This heightens the odds that robust top line numbers will be reported this quarter, as customers continue purchasing cannabis in droves countrywide.
Ayr Strategies has not yet announced its Q3 2020 reporting date, but TDR plans on additional coverage once financials are released.
The Next Growth Drivers
Although hitting on all cylinders, Ayr generally trades at a steep discount to MSO peers on major valuation metrics such as EV/Revenue, EV/EBITDA and forward 2021 EBITDA price multiple. For example, Beacon Securities analyst Russell Stanley noted on August 28 that Ayr Strategies was trading at just 3.4x his estimated 2021 EBITDA forecast, placing it at a 72% discount to the 12.3x average of its US operator peers.
While focusing on core operations may be throttling revenue growth near term—thus limiting valuation expansion—outsized growth may be arriving in 2021. We're referring specifically for the potential for Pennsylvania to become a fully recreational state, where Ayr reached an agreement in August to acquire six retail dispensaries and production facility.
On Tuesday, Pennsylvania governor Tom Wolf called for the legalization of recreational cannabis, which he said could help shore up the state's economy. Wolf urged the state's General Assembly to get legislation to his desk for an immediate signature. With New Jersey Public Question 1 to legalize adult-use cannabis appearing on the November 3 ballot, Pennsylvania could lose significant revenue to neighboring states if recreational cannabis remains prohibited. This was Tom Wolf's third public call for action in successive months. Watch:
While it's unclear if legalization will happen with Republicans controlling both General Assembly chambers, pressure to enact legislation will remain. The next Pennsylvania gubernatorial election won't take place until November 8, 2022, meaning Tom Wolf has two years of runway to carry out his agenda.
There's also the fact that a strong majority of Pennsylvanians want legalization to happen. Recent polls suggest that 62% of likely voters are in favor of legalization for individuals 21 years and older (including 54% of Republicans). In fact, only 9% of Republicans polled said they would vote their legislator out of office due to a vote in support of adult-use cannabis. Political cover isn't even required.
With a $5 billion budget deficit overhang and probable New Jersey legalization upcoming, there's optimism that Tom Wolf and the legislature can strike a deal, eventually.
Other company drivers include the expansion of operations into the Greater Boston Area (GBA)—home to 4,875,390 people as of the 2018 US Census estimate. Nationally, the region ranks sixth among combined statistical areas, with a population of 8,285,407 people.
Ayr is in the process of opening two additional recreational dispensaries in the GBA and converting another into a duo medical/recreational outlet. This will bring it up to the maximum allowable limit.
Massachusetts regulations dictate that no individual organization can control more than three recreational and/or three medical dispensaries in the state.
TDR will have additional coverage on Ayr Strategies as events warrant.
__________
Disclaimer: The principal(s) of The Dales Report have an existing agency agreement with Ayr Strategies. The article is neither a solicitation nor endorsement to purchase securities in the profiled security. The information provided has been published for informational purposes only. The principal(s) may divest or make additional purchases of securities without further notice (N/A). Please contact a licensed investment advisor if you are considering investing in Ayr Strategies.
RELATED: AdvisorShares ETF Dedicated to Cannabis Multi-State Operators Debuts September 2