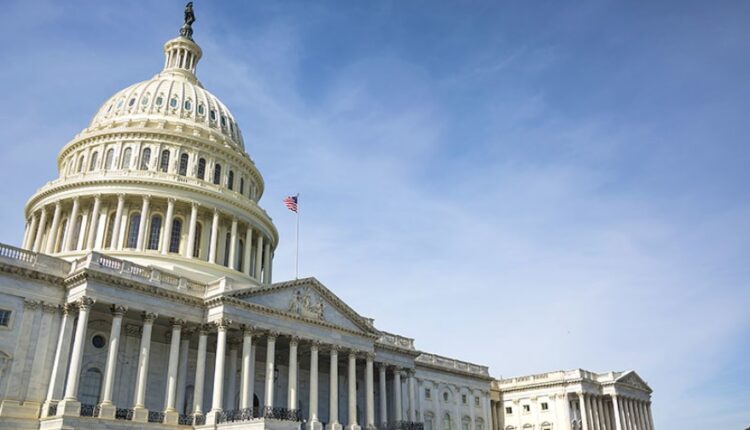 Bipartisan Lawmakers Introduce Cannabis SAFE Banking Act In Congress
A group of bipartisan lawmakers introduced a marijuana cannabis SAFE Banking bill in Congress on Wednesday. 
US Senators Jeff Merkley (D) and Steve Daines (R) along with US Representatives David Joyce (R) and Earl Blumenauer (D) introduced the bipartisan, bicameral Secure and Fair Enforcement (SAFE) Banking Act of 2023. Under the proposed bill, financial institutions would be allowed to provide banking and financial services to legal cannabis businesses. 
"This legislation will save lives and livelihoods. It is past time that Congress addresses the irrational, unfair, and unsafe prohibition of basic banking services to state-legal cannabis businesses," stated Blumenauer, founder, and co-chair of the Congressional Cannabis Caucus. "The House has passed the SAFE Banking Act on a bipartisan basis seven times. I am delighted that the Senate is joining us in making it a priority."
One of the biggest challenges in the cannabis industry has been the lack of standard financial services. Because marijuana remains illegal on the federal level and is still classified as a Schedule I drug with no accepted medical value and high abuse potential, financial institutions cannot provide services, even to licensed businesses in states with legal medical or recreational programs. 
Another financial burden, the IRS tax code, known as 280E does not allow for deductions or credits to companies "running a business that consists of trafficking a controlled substance." Hence the urgency to remove marijuana from Schedule I.
Without access to financial services, cannabis businesses are forced to rely on cash, which increases the potential for criminal activity.
"Forcing legal businesses to operate in all-cash is dangerous for our communities; it's an open invitation to robbery, money laundering, and organized crime—and it's way past time to fix it," stated Merkley. "For the first time, we have a path for SAFE Banking to move through the Senate Banking Committee and get a vote on the floor of the Senate. Let's make 2023 the year that we get this bill signed into law so we can ensure that all legal cannabis businesses have access to the financial services they need to help keep their employees, their businesses, and their communities safe."
SAFE Banking Act Of 2023 Highlights
To address the safety concerns resulting from these businesses being shut out of banking services, the bill would prevent federal banking regulators from:
Prohibiting, penalizing or discouraging a bank from providing financial services to a legitimate state-sanctioned and regulated cannabis business, or an associated business (such as a lawyer or landlord providing services to a legal cannabis business);
Terminating or limiting a bank's federal deposit insurance primarily because the bank is providing services to a state-sanctioned cannabis business or associated business;
Recommending or incentivizing a bank to halt or downgrade providing any kind of banking services to these businesses; or
Taking any action on a loan to an owner or operator of a cannabis-related business.
This legislation, for the first time, explicitly extends the safe harbor to Community Development Financial Institutions (CDFI) and Minority Depository Institutions (MDI) to ensure they can also serve cannabis businesses. CDFI and MDI serve underserved communities that face challenges in accessing capital and providing affordable access to financial services.
The SAFE Banking Act has passed the House seven times with broad bipartisan support.
Industry Welcomes The Action
The US Cannabis Council stressed the importance of banking reform for small businesses and minority cannabis operators, which tend to be in a more challenging position than larger businesses. "The bill provides vital protections for regulated cannabis businesses–including small businesses and entrepreneurs–to access financial services on a more level playing field with other industries," Cannabis Council chair Jessica Billingsley stated. 
Morgan Paxhia, co-founder and managing partner of Poseidon Investment Management and AdvisorShares Poseidon Dynamic Cannabis ETF 
PSDN commented on the news. "Senators Brown and Daines are not historically bullish on the legalization of cannabis. We respect alternative points of view as that is a benefit of democracy. Along with that benefit of democracy is that elected officials are to respond to the will of the people. Regardless of their personal views, they are recognizing change is needed and they are taking an historic step forward with the introduction of SAFE in the Senate. This is the first time a hearing in the Senate will have happened around cannabis banking reform," Paxhia said.  "This is a historic step for the Senate and notably coming from the Senate Banking Committee Chairman recognizing that change is needed regardless of his personal views."
Broad Bipartisan Support
This legislation is cosponsored by U.S. Senators Jacky Rosen (D), Bill Cassidy (R), Kirsten Gillibrand (D), Cynthia Lummis (R), Brian Schatz (D), Lisa Murkowski (R), Edward J. Markey (D), Kevin Cramer (R), Ben Ray Luján (D), Dan Sullivan (R), Catherine Cortez Masto (D), Rand Paul (R), Angus King (I), Tammy Duckworth (D), John Fetterman (D), Ron Wyden (D), Kyrsten Sinema (I), Alex Padilla (D), Dick Durbin (D), Peter Welch (D), Mark Kelly (D), Michael Bennet (D), Patty Murray (D), Tina Smith (D), Amy Klobuchar (D), Elizabeth Warren (D), Tim Kaine (D), Debbie Stabenow (D), Bernie Sanders (I), Bob Menendez (D), Chris Coons (D), John Tester (D), Mark Warner (D), Martin Heinrich (D), John Hickenlooper (D), Mazie Hirono (D), Gary Peters (D) and Chris Murphy (D).
House cosponsors include Warren Davidson (R-OH-08), Jim Himes (D), Brian Mast (R), Barbara Lee (D), Guy Reschenthaler (R), Nydia Velázquez (D), Lori Chavez-DeRemer (R), and Lou Correa (D).
__________
This article was originally published on Benzinga and appears here with permission.