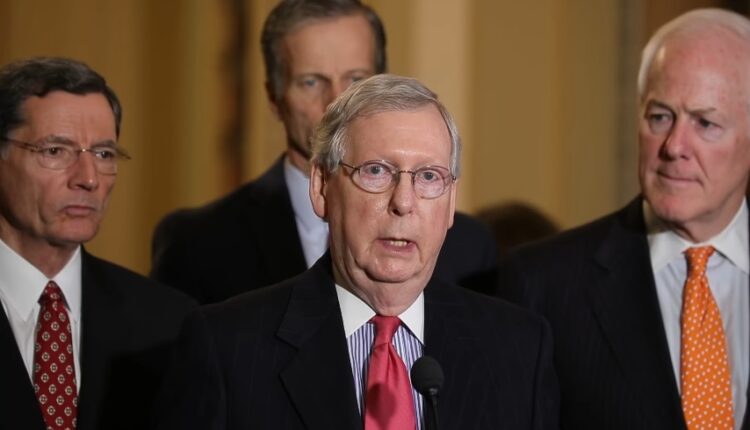 U.S. Cannabis Stocks Swoon As Mitch McConnell Throws Cold Water On SAFE Banking Amendment
U.S. cannabis stocks, as reflected in AdvisorShares Pure US Cannabis ETF (NYSE: MSOS), sank on Tuesday as hoped-for regulatory reform hit a snafu in Congress. Specifically, the inclusion of a cannabis-focused amendment in the National Defense Authorization Act (NDAA) appears unlikely, as an old nemesis is once again raising objections.
Over the past week, investors had been bidding up cannabis stocks on hopes that the SAFE Banking Act, which sponsor Rep. Ed Perlmutter attached to the NDAA in July, would make the final cut for the must-pass annual defense appropriation bill. As it were, Senate Minority Leader Mitch McConnell is fighting against its inclusion, arguing that passing SAFE Banking would "mak(e) our financial system more sympathetic to illegal drugs." Full quote in context below:
House and Senate Democrats are still obstructing efforts to close out the NDAA by trying to jam in unrelated items with no relationship whatsoever to defense," McConnell said on the floor on Tuesday. We're talking about a grab bag of miscellaneous pet priorities—making our financial system more sympathetic to illegal drugs or the phony, partisan permitting reform and name-only language that's already failed to pass the Senate earlier this year.

Republican Senate Minority Leader, Mitch McConnell
The Kentucky Republican's criticism isn't a good sign for SAFE Banking's prospects for passage in the NDAA, as support from Congressional leadership is critical for SAFE's inclusion into the final bill. Although, ten GOP senators could still break ranks and vote in favor of the package, this is not the path of least resistance.
The opposition on SAFE Banking is nothing new for Mitch McConnell, who has consistently blocked any attempt for federal reform as Senate Majority Leader under the Trump administration.
More recently, McConnell called out Democrats earlier this year when SAFE Banking was attached to the House version of the America COMPETES Act, saying that Democrats, "goes out of its way to include provisions on, listen to this, marijuana banking."
Undaunted, President Biden signed the CHIPS and Science Act later that summer, comprised largely of provisions extracted from the US Innovation and Competition Act and its House alternative, the aforementioned America COMPETES Act.
Should SAFE Banking fail to make it in as an amendment to the NDAA, it could be pushed into fiscal 2023 omnibus negotiations. After weeks of inaction, top appropriators and congressional leaders began making headway on a bipartisan deal that would pave the way for an overdue omnibus spending package, although formidable sticking points remain.
On the day, U.S. cannabis stocks as reflected through MSOS ETF fell 12.84%, falling just shy of the 11.44 million shares traded on the Monday session. Canadian licensed producers declined with equivalent force, with Canopy Growth (CGC) and Tilray Brands (TLRY) falling 16.44% and 13.25%, respectively.
TDR will have further coverage as events warrant.