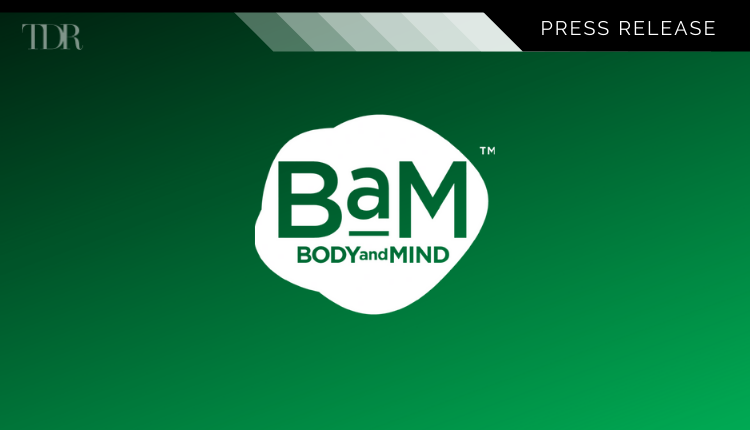 Body and Mind has Management Agreements and Option to Acquire Two Illinois Entities That Each Win a Chicago Conditional License in Illinois Dispensary Lottery
Body and Mind Inc.(CNSX: BAMM) (OTCMKTS: BMMJ), a multi-state operator, is pleased to announce that it has management agreements with each of NMG IL 1, LLC ("NMG IL 1") and NMG IL 4, LLC ("NMG IL 4") and the option to indirectly acquire all of the membership interests in each of NMG IL 1 and NMG IL 4 pursuant to a convertible credit facility between BaM's subsidiary, DEP Nevada, Inc. ("DEP") and each of NMG IL 1 and NMG IL 4, and membership interest purchase agreements between DEP and the members of NMG IL 1 and NMG IL 4, subject to obtaining all required local and state regulatory authorization.  Each of NMG IL 1 and NMG IL 4 have been identified in the Illinois Department of Financial and Professional Regulation (IDFPR) results of the Social Equity Justice Involved Lottery for 55 Conditional Adult-Use Cannabis Dispensary Licenses (Conditional Licenses) across the state.  The certified results are from a lottery with a pool of applicants who scored 85 % or greater in their applications.  NMG IL 1 and NMG IL 4 were drawn in BLS Region #5 (Chicago-Naperville-Elgin) where 36 conditional licenses are available. The applications are not tied to specified locations.
The Illinois market has shown incredible growth as the state has successfully transitioned to adult-use cannabis and we commend the accomplishment of the Illinois Department of Financial and Professional Regulation for advancing this important social equity and justice program. This success is an extension of our ongoing strategy to apply for licenses and operate in limited license states and jurisdictions. We are looking forward to working with our social equity partner to share our industry experience and expand the Body and Mind brand to the Chicago area.

Michael Mills, CEO or Body and Mind
"We have a number of locations identified in the Chicago area that we believe will represent significant opportunity and our recent US$11.1 million debt financing is expected to allow us to move quickly," said Trip Hoffman, COO of Body and Mind. "On behalf of the Company I'd like to thank our license application team and partners for all their work for successfully advancing this significant opportunity."
About Body and Mind Inc.
BaM is an operations focused multi-state operator investing in high quality medical and recreational cannabis cultivation, production and retail. Our wholly owned Nevada subsidiary was awarded one of the first medical marijuana cultivation licenses and holds cultivation and production licenses. BaM products include dried flower, edibles, oils and extracts as well as GPEN Gio cartridges. BaM cannabis strains have won numerous awards including the 2019 Las Vegas Weekly Bud Bracket, Las Vegas Hempfest Cup 2016, High Times Top Ten, the NorCal Secret Cup and the Emerald Cup.
BaM continues to expand operations in Nevada, California, Arkansas and Ohio and is dedicated to increasing shareholder value by focusing time and resources on improving operational efficiencies, facility expansions, state licensing opportunities as well as mergers and acquisitions.
To view the original press release in its entirety click here