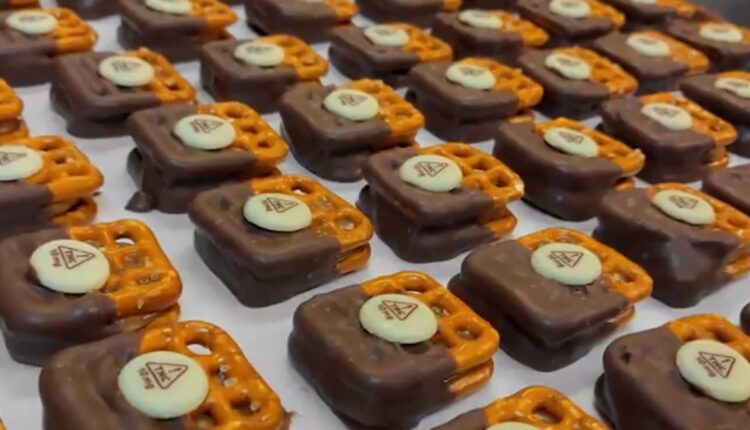 Body and Mind – An Opportunity for Cannabis Investors with Spec Capital
It's challenging being a smaller fish in a deep ocean. Although often justified, most sectors seem to have those 2 or 3 companies whose stock market performance belies the underlying fundamentals. We believe Body and Mind Inc. (CNSX:BAMM) is a prime example of this phenomenon, providing an intriguing opportunity for investors with spec capital and a little patience to spare.
Who Is Body and Mind (BaM)?
BaM is a multi-state cannabis operator with retail, distribution, cultivation, and processing operations in Arkansas, California, Nevada and Ohio. The company's platform approach to expansion focuses on limited license states and jurisdictions, entering new markets through lower cost license applications and opportunistic acquisitions. TDR notes that three of the four states where BaM operates are both limited license and immature markets, giving it plenty of runway for growth.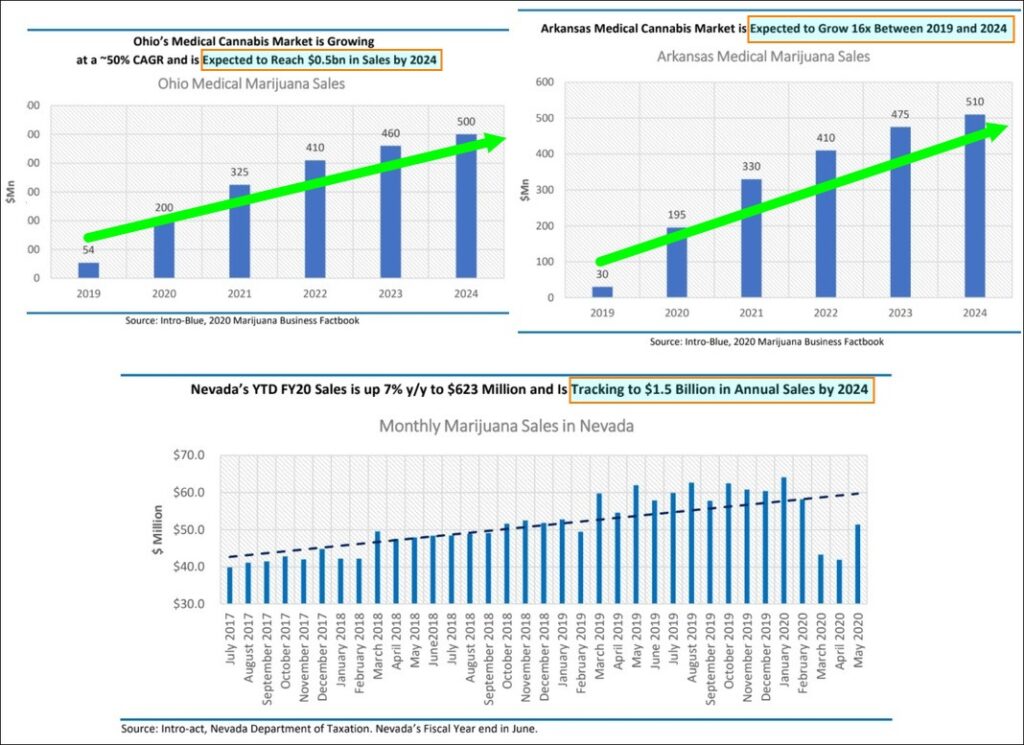 A granular look into operations by jurisdiction looks like this:
Arkansas: BaM operates a dispensary with licensee Comprehensive Care Group LLC and has an agreement for 66% of revenues from the dispensary and future cultivation operations. In addition, it has completed construction of an in-state cultivation facility with planning for up to 50 plants within the facility.
Operations began at the end of Q3 2020 and investors should expect meaningful contribution to the income statement once FY/Q4 2020 earnings are reported.
California: BaM through its wholly owned subsidiary NMG Cathedral City LLC, NMG San Diego LLC and NMG Long Beach LLC sells high-quality marijuana, edibles, concentrates and topicals to customers at reasonable prices. In April 2020, BaM expanded its retail footprint by opening a 3,700 square foot ShowGrow dispensary in San Diego, which will be contributing to BaM's Q4/FY 2020 income statement for the first time.
Furthermore, growth is being augmented by white label agreements and the introduction of premium edible creations. Recently, BaM introduced Pretzel Bites into the California market—each containing 10mg of THC distillate in butter caramel squeezed between salted pretzels and dipped in milk chocolate. Additional premium edible brands are on the way.
Nevada: Through its wholly owned subsidiary Nevada Medical Group LLC (NMG), BaM is engaged in the cultivation and production of medical and adult-use recreational marijuana products in Nevada. It produces full-spectrum cannabis products for its dispensaries—totaling approximately 70 SKUs—with white label distribution throughout the state.
The company operates a 20,000 sq. ft. cultivation facility and recently expanded its capacity by completing the build-out of a new 7,500 sq. ft. production facility, aimed at significantly increasing production of edibles, oils, and concentrates.
NMG is an experienced operator and was awarded one of the first medical marijuana cultivation licenses in Nevada.
Ohio: BaM operates the Clubhouse Dispensary outside Cleveland and is planning to construct a production facility in-state. A definitive agreement for 100% of the dispensary and production licenses took place in September 2020 and operations began contributing to BaM's income statement in the present quarter.
The Clubhouse Dispensary is one of the most popular ones in Ohio and generated $3.4 million in sales in the nine months ending April 2020 with a 43% gross margin and 30% net profit margin.
Body and Mind—A Deep Value Proposition?
If we take a look at book value—perhaps the most widely applied basic asset valuation metric—Body and Mind has a strong case based on its deep peer outlier status. Sometimes referred to as the net asset value of a stock, it is often used to estimate what a company would be worth if all its assets were sold and debt resolved. The value is derived by calculating the value of a company's assets, minus its liabilities.
As we can see from BaM's latest financials, book value is well below "1"—valuing the company at much less than the intrinsic value of its assets. At publishing time, BaM had a market capitalization of approximately US$26.24 million vs. last reported total equity of over US$34.34 million. Even if we strip out intangible assets such as goodwill, book value is still deeply decimalized.
It's one thing if Body and Mind was EBITDA negative and hemorrhaging large amounts of cash from operations, but that isn't the case. According to analyst coverage provided by Intro-Act, BaM's EBITDA run rate is estimated to be approximately $2 million exiting calendar 2020 and is anticipated to grow in fiscal year 2021.
As a reminder, the majority of BaM's immediate peer group and many larger nine-digit market cap MSOs are currently EBITDA negative. Even more significantly, the company has no long term debt or convertibles tying a noose around its neck. Inside ownership sits at a healthy 30%.
According to Investopedia's definition on "How to spot value stocks", they describe it as:
A value stock will have a bargain-price as investors see the company as unfavorable in the marketplace. Typically, a value stock has an equity price lower than the stock prices of companies in the same industry. Value stocks may also sit within a sector that trades at a discount to the broader market.
Substitute the adjective "unfavorable" with "unheralded" and we would agree. Although nobody will deny that BaM remains a highly speculative security, we think the stock price isn't reflecting the current value of assets and track record of execution.
Ultimately, we think BaM's lagging price action is more of a recognition issue than anything else. Whether it ultimately arrives is a byproduct of increased investor awareness.
Below are three catalysts we believe could positively alter investor consciousnesses over the next couple of quarters.
The Next Growth Drivers
i) Managed revenues are shifting over to consolidated revenues
Body and Mind faces an unorthodox position in that the majority of its reported revenues are booked as "managed" instead of "consolidated". BaM's reported topline—and market cap by extension—may be constrained by the partial ownership of some of its California and Ohio assets which does not allow for revenue recognition on the P&L, resulting in perceived issues with revenue quality and transparency.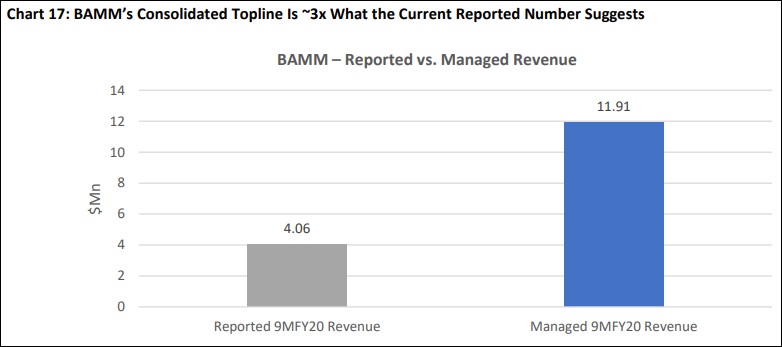 But this dynamic is changing. With BaM's majority-owned San Diego coming online in the fourth quarter and both the Long Beach and Ohio dispensary licenses transfer occurring in early September, we expect the above graph to flip significantly in early fiscal year 2021 (current quarter).
ii) Growth will continue despite limited growth capital
According to Intro-Act, Body and Mind will experience significant growth in fiscal year 2021 despite being somewhat capital restrained.
The firm estimates that on the retail side, across all locations, sales growth will be sustainable at ~30% Y/Y—15% from increasing transaction volume, 5% from increased average transaction size—and 10% from inorganic expansion. They believe BaM will exit calendar 2020 at a run-rate of approximate US$22 million in sales, giving it a current price/sales of just 1.19.
Solid sales growth in conjunction with oncoming consolidated revenues is a good way to attract attention.
iii) Cost/ease of capital are coming down
Whether federal banking reform (SAFE, MORE, HERO etc.) ultimately passes in the current session is doubtful. But regardless of current probabilities, the trend towards improving cost/ease of capital is growing.
Consider that Acreage Holdings—a MSO hemorrhaging cash at a fast rate—was recently able to secure a three year $33 million term loan with an institutional lender. BaM direct competitor in Nevada, C21 Investments, is currently advancing through the process of "finalizing" what is believed to be a favorable non-equity debt facility. And of course, a Democrat blue wave in November would likely lead to federal cannabis legalization and/or descheduling, further opening up financing spigots.
Whether federal legislation loosens restrictions placed on lenders or whether cost/ease of capital happens organically in a status quo, smaller operators are an outsized beneficiary of such action. We're optimistic that BaM, as well as its non debt-addled peers, will have more palatable options to fortify their balance sheets in 2021.
TDR will have additional coverage on Body and Mind as events warrant.
__________
Disclosure: The principal(s) of The Dales Report have an existing agency agreement with Body and Mind Inc. The article is neither a solicitation nor endorsement to purchase securities in the profiled company. The information is provided for informational purposes only. The principal(s) may divest or make additional purchases of securities without further notice (N/A). Please contact a licensed investment advisor if you are considering investing in Body and Mind Inc.