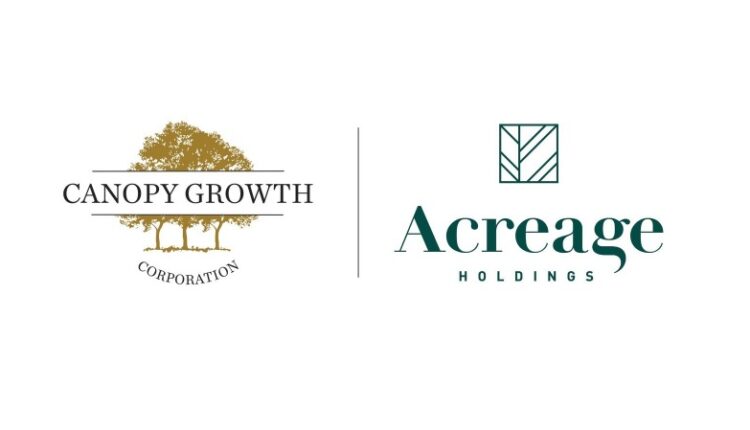 Canopy Growth Up Significantly On Floating Share Arrangement To Acquire Acreage Holdings
Canopy Growth Corporation CGC+28.4% is creating a new U.S.-domiciled holding company, Canopy USA, LLC. Canopy USA will hold the company's U.S. cannabis investments, which will enable it to exercise rights to acquire Acreage, Wana and Jetty.
Canopy USA will have interests in the following assets, among others:
Acreage – The shares to be acquired upon the exercise of the option to acquire approximately 70% of the total shares of Acreage Holdings, Inc. ACRHF ACRDF ACRG ACRG, at a fixed share exchange ratio of 0.3048 of a common share of the company, as well as an option to purchase the remaining approximately 30% on a floating basis in order to own 100% of Acreage.
Wana – The option to acquire 100% of the membership interests of Mountain High Products, LLC, Wana Wellness, LLC and The Cima Group, LLC (collectively, "Wana")
Jetty – The option to acquire 100% of the shares of Lemurian, Inc. ("Jetty")
In addition, Canopy USA controls a conditional ownership position, assuming conversion of its exchangeable shares and the exercise of its option but excluding the exercise of its warrants, of approximately 13.7% in TerrAscend Corp.
The shares and interests in Acreage, Wana, Jetty, and TerrAscend will be held, directly or indirectly, by Canopy USA, and Canopy will not hold a direct interest in any shares or interests in Acreage, Wana, Jetty, or TerrAscend. Canopy holds non-voting and non-participating shares in the capital of Canopy USA.
Balance Sheet Actions
The company has entered into agreements with certain of its lenders under its term loan credit agreement dated March 18, 2021 pursuant to which Canopy will tender $187.5 million of the principal amount outstanding thereunder at a discounted price of $930 per $1,000 or $174,38 million in the aggregate. The paydown will be made in two equal payments: the first payment on or about November 10, 2022, and the second payment on or about April 17, 2023.
In connection with the paydown, Canopy Growth has agreed with its lenders to amend certain terms of the credit agreement. The amendments include, among other things, reductions to the minimum liquidity covenant to $100 million, which is to be reduced as payments are made in accordance with the paydown, certain changes to the application of net proceeds from asset sales and the establishment of a new committed delayed draw term credit facility in an aggregate principal amount of $100 million. In addition, the amendments include the elimination of the additional $500 million incremental term loan facility.
The paydown is expected to reduce cash interest costs and enable the company to continue to pursue growth investments, acquisitions and other strategic initiatives.
In addition, the company also intends, following the creation of the exchangeable shares, to negotiate an exchange agreement with Greenstar to purchase for cancellation up to CAD$100 million principal amount of senior notes of the company due July 2023 in exchange for exchangeable shares, subject to the rules and policies of the Nasdaq and the Toronto Stock Exchange.
Relationship with Constellation
In connection with these proposed transactions, assuming approval and adoption of the amendment proposal, Constellation Brands, Inc. STZ+3.83% has expressed its current intention to convert all of its Canopy shares into exchangeable shares. However, any decision to convert will be made by Constellation, and Constellation is not obligated to effect any such conversion.
In the event that Constellation does not convert its Canopy Growth shares into exchangeable shares, Canopy USA will not be permitted to exercise the rights to acquire Acreage, Wana or Jetty and the floating share arrangement agreement will be terminated. In such circumstances, Canopy will retain its option to acquire the fixed shares under the existing Acreage arrangement agreement and Canopy USA will continue to hold an option to acquire Wana and Jetty as well as exchangeable shares and other securities in the capital of TerrAscend. In addition, Canopy USA will exercise its repurchase rights to acquire the interests in Canopy USA held by the third party investors.
Canopy Growth shares were trading 27.60% higher at $2.92 (3:00pm EST) with an hour left in Tuesday's market session.
__________
This article was originally published on Benzinga and appears here with permission.