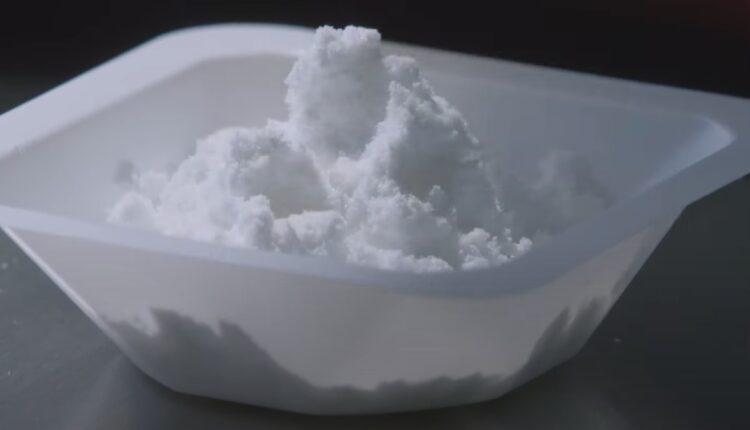 With the recent closing of its BayMedica Inc. acquisition, InMed Pharmaceuticals (Nasdaq: INM) has entered a transformative stage. The company has moved away from being a pure-play clinical trial drug company to one entering the lucrative bulk cannabinoid market, while maintaining select clinical trial programs. This fact was recognized by the market today, where InMed smashed its previous record daily volume while maintaining a good portion of its price gains.
At first glance, the trigger to today's move was perhaps not readily apparent. Edison—a leading research and investor relations consultancy which covers InMed Pharmaceuticals—modestly described InMed as having "a substantially different profile than just a few months ago" upon the closing of the BayMedica acquisition. Here is the full quote which catalyzed the market: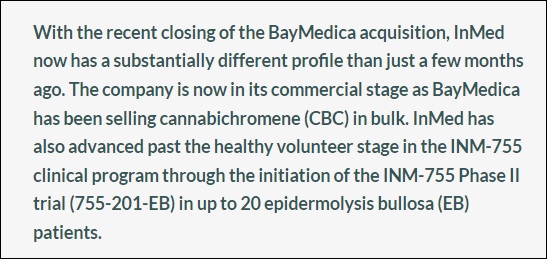 While it's true that the BayMedica acquisition marks an exciting shift in Inmed's model towards commercial sales of bulk cannabinoids in an expected high-growth market, investors really took Edison's research to heart. With a total of 141.01 million shares traded, Inmed surpassed its previous all-time high trading volume by a factor of 25.7 times. It was also a top performer on the NASDAQ Composite Wednesday, rising 39.29% to 1.95 per share.
Edison is particularly bullish on the prospects of worldwide bulk cannabinoid sales potential. The firm projects global cannabis sales jumping from $21.3 billion in 2020—a jump of nearly 50% year-over-year compared to 2019—to approximately $55.9 billion by 2026.
InMed CEO Eric Adams echoed this hyper-growth sentiment in a recent interview with TDR. He expects the rare cannabinoid supply sales market could experience triple-digit compound annual growth rate (CAGR) within a "four or five years" timeframe. Furthermore, he believes BayMedica has the ability to produce cannabinoids at fractional market cost and at scale—well beyond what any competitor can produce on the market today.
If so, InMed will have the inside track on bulk cannabinoids sales as costs finally decrease to a level where cannabinoids can be used in everyday health products. Up to this point, cannabinoids have been too costly to include in most health products, or in efficacious amounts. Leading investment banks such as Raymond James and Edison believe a sea change is coming in price with technological advances either present, or just around the corner, change this dynamic.
Curiously, animal spirits were triggered despite Edison's decreasing their per share price target to US$20.53 from US$24.24 per basic share. The change was a reflection of the higher outstanding share count following the share issuance as a result of the BayMedica acquisition. Even so, the implied price target suggested 1,466% upside in InMed's common shares before the open of Wednesday's session.
As well, Edison reiterated progress in InMed's Phase 2 clinical trial of INM-755 (cannabinol) cream in the treatment of Epidermolysis Bullosa, as revealed in the company's September 30, 2021 press release. InMed has initiated the 755-201-EB trial, which will test up to 20 patients with a treatment protocol lasting 28 days. The study is currently expected to take place across 11 sites in seven countries, with patient screening underway at the first site. It has been billed as "the first time cannabinol has advanced to a Phase 2 Clinical trial to be studied as a therapeutic option to treat a disease."
Final Word
While InMed Pharmaceuticals has experienced a protracted downdraft in share price dating back almost two years, the tide may be turning. Its BayMedica acquisition has closed, signaling a new direction for the company, and today's bullish volume deluge has the potential as a momentum changing event. Certainly, substantial volume/price shifts in combination often prelude macro trend shifts.
TDR will have further coverage as events warrant.