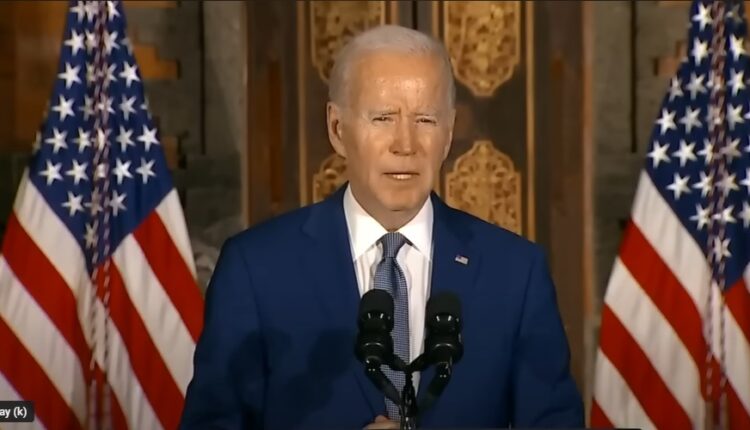 Joe Biden Expected To Sign The Medical Marijuana and Cannabidiol Research Expansion Act
U.S. Senator Tim Kaine (D-VA) praised the last week's Senate passage of a bipartisan cannabis research bill he cosponsored called the Medical Marijuana and Cannabidiol Research Expansion Act.
"This bipartisan bill is going to remove unnecessary barriers that hinder researchers' ability to study the potential benefits of marijuana-derived medications," Senator Kaine said as reported by ABC 13 news. "I'm glad it unanimously passed the Senate and is heading to the President to be signed into law."
On Wednesday, the Senate passed the Medical Marijuana and Cannabidiol Research Expansion Act, marking the first time that a standalone piece of cannabis reform legislation will reach President Joe Biden's desk.
Industry experts praised the move as well.
"This is the first standalone cannabis reform bill to pass both chambers of congress, which is a major win in itself. This will hopefully coincide with removing cannabis from its senseless Schedule 1 designation," said Bryan Buckley, US Marine Corps veteran and president and CEO of Helmand Valley Growers Company, a cannabis manufacturer that donates 100% of its profits to help veterans. "Cannabis research has been occurring globally for decades, so I'm happy we are finally participating in discovering the potential of this plant. This is just one step in the right direction and there is much more that needs to be done. Will President Biden live up to his campaign promises? The ball is in his court."
U.S. Cannabis Council CEO, Khadijah Tribble, said that the move represented an important change "in posture towards much needed and meaningful cannabis reform. The Senate should capitalize on this momentum and pass the bipartisan SAFE Banking Act before the end of the lame-duck session. USCC will continue to engage with Congress and the administration toward ending the federal prohibition on cannabis."
The legislation, sponsored by Sens. Dianne Feinstein (D-Calif.) and Chuck Grassley (R-Iowa), and Reps. Earl Blumenauer (D-Ore.) and Andy Harris (R-Md.) in their respective chambers passed the House of Representatives in July by a comfortable bipartisan vote of 325-95. It aims to facilitate research on marijuana and its potential health benefits. The bill will accomplish this by streamlining the application process for scientific marijuana studies and removing existing barriers for researchers that have stalled the research process for decades.
According to Kaine, the Medical Marijuana and Cannabidiol Research Expansion Act will:
Make sure that research on CBD and other potentially beneficial cannabis-derived substances is founded on science while also lowering regulatory barriers associated with researching cannabis.
Require the Department of Health and Human Services and the National Institutes of Health to submit a report to Congress on the potential harms and benefits of marijuana use.
Furthermore, Kaine highlighted that with just a few cannabis-derived products being FDA-approved, there's a lack of data about their interactions with other medications, dosing, or delivery mechanisms.
White House Confirms Biden Will Sign It
A White House spokesperson confirmed on Friday that Biden plans to sign the bill.
"President Biden will sign a bill that would make it easier for researchers and manufacturers to study marijuana, his spokesman said by email. Bill passed the Senate on Wednesday and is headed to Biden's desk," Bloomberg first reported.
When the legislation officially reaches President's desk, he has 10 days to sign or veto it, or the bill takes effect without his signature.
Many industry experts also believe that this, in addition to Biden's recent pardons for all prior federal offenses of simple marijuana possession, could signal the possibility of greater federal marijuana reform. Though federal cannabis legalization is not expected any time soon, many are hopeful that the SAFE Banking Plus bill pass in the lame-duck session.
__________
This article was originally published on Benzinga and appears here with permission.