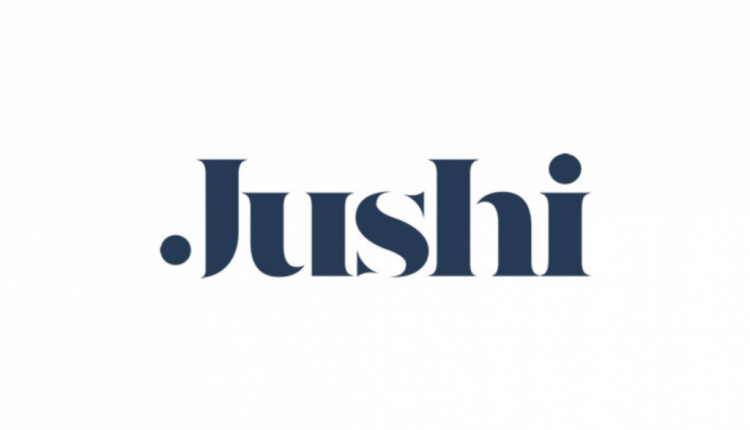 Jushi Holdings Turning Heads After Strong Second Quarter 2020 Results
Jushi Holdings Inc (CNSX:JUSH) (OTCMKTS:JUSHF) announced Q2 2020 earnings on Thursday, adding to the generally impressive earnings reports disseminated this reporting season. The report indicates why the company is vying to enter the wider consciousness among multi-state operator investors in America and worldwide. TDR takes a look under the hood.
For its second quarter ended June 30, 2020, Jushi substantially increased revenue growth along with strengthening other key headline metrics. Total revenue increased ↑73% sequentially (versus ↑43% in Q1 2020) to $14.9 million—virtually meeting its previously-issued guidance of $15.0 million. Adjusted EBITDA (loss) came in at $1.2 million—a vast improvement over the $4.8 million (loss) registered last quarter. Net loss was pared 41.51% quarter-over-quarter, from $15.9 million to $9.3 million, while cash and securities on the balance sheet actually increased during the quarter to $50.8 million—signifying ample operating liquidity.
On the operational side, there were plenty of notable highlights. Jushi Holdings closed the acquisition of 80% of the economic and voting interests in Agape Total Health Care Inc., giving its subsidiaries the right to operate up to 15 dispensaries in Pennsylvania—the current maximum number of permitted retail locations in-state outside of the Clinical Registrant Program. Jushi opened its ninth and tenth BEYOND/HELLO retail locations in Pennsylvania, while extending its Midwest footprint by launching adult-use sales in Norman, Illinois.
Just this week, Pennsylvania DemocraticGovernor Tom Wolf called for recreational cannabis legalization in an effort to promote COVID-19 economic recovery. Wolf's proposed plan would use tax revenues generated from legal sales to aid existing small businesses. Pennsylvania is Jushi's largest market by dispensary count.
For good measure, the company announced a US$15.25 million debt financing, of which Jushi Chairman & CEO Jim Cacioppo subscribed for $1.5 million of the Notes and other insiders participating for $3.35 million. In all, insiders took down 31.80% of the offering—an uncommonly high amount which signifies management's underlying confidence in the company.
Subsequently, Jushi further upsized its debt financing to US$33.3 in fiscal Q3 2020, with Jim Cacioppo and insiders subscribing for an additional $5.1 million of the Notes. Jushi intends to use the proceeds from the Offering to fund the cash portion of the previously announced Pennsylvania grower-processor permit holder transaction.
Although the market reaction was relatively benign following its earnings report, investors had already been pricing-in favorable results. Since the Biden-Sanders Unity Task Forcemanifesto recommending that cannabis be decriminalized and rescheduled through "executive action on the Federal level" blew multi state operator (MSO) stocks wide open, Jushi has climbed steadily.
Jushi common stock has increased ↑62.05% since July 8th—performance which is comparable or better than leading "Big 4" behemoths Cresco Labs (64.66%), Curaleaf Holdings (40.54%), Green Thumb Industries (38.22%) and Trulieve Cannabis (60.16%). As the chart below exemplifies, price has closed above its 7-period exponential moving average on the daily in all but one session, indicating strong trending momentum. TDR notes the pronounced and confirmatory volume breakout as JUSH penetrated its all-time high on July 24.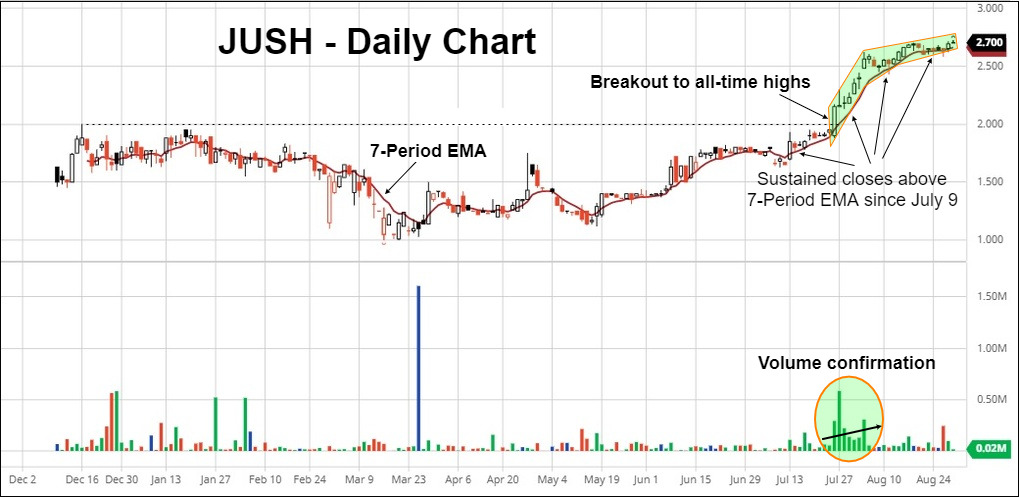 Although the company remains staunchly under-the-radar with many cannabis investors—similar to how TerrAscend used to be in our view—it likely won't remain this way with another quarter or two of strong underlying performance.
TDR will have further coverage as events warrant.