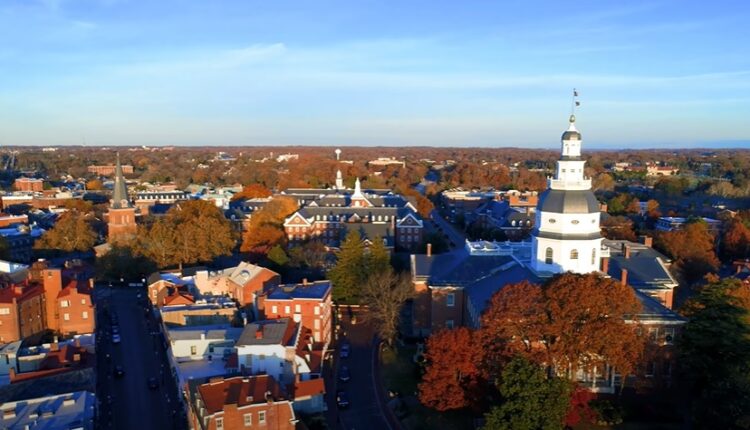 MariMed Inline To Benefit From Positive Maryland Question 4 Outcome
On November 8, Maryland voters will decide whether to legalize recreational cannabis on the ballot, otherwise known as Maryland Question 4. If passed, the law would amend the Maryland constitution by adding a separate article allowing Marylanders to possess up to 1.5 ounces of cannabis. Public multi-state operators such as MariMed, Inc. (CNSX: MRMD) (OTCMKTS: MRMD) would be among the biggest beneficiaries of a positive outcome.
What Is Maryland Question 4?
Maryland Question 4 is the cannabis ballot initiative posed to constituents on November 8. Question 4 would amend the Maryland Constitution to add a new article, Article XX, which would authorize individuals 21 years of age or older to use and possess marijuana. The added section also authorizes the Maryland General Assembly to "provide for the use, distribution, possession, regulation, and taxation of cannabis within the state."
Polling Indicates Strong Support For Maryland Question 4
So how do Maryland voters feel about legalizing marijuana in their state? If state polling numbers are any indication, we expect the measure to pass by a fairly healthy margin.
An average of recent poll shows Marylanders will vote to legalize pot by nearly 2-1 margin. In September, A Washington Post University of Maryland poll found that 73% of Maryland voters in favor of legalizing recreational cannabis for adults over the age of 21. The poll spanned a wide cross-section of support across age, partisan preference region race and education levels.

And according to the Baltimore Sun, approximately 63% of likely voters confirmed they support recreational cannabis legalization, while only 25% opposed it and 12% remaining undecided.
So if polling it to be trusted, Maryland Question 4 should pass by a commanding margin on November 8.
Last In The D.C. Metro Region To Legalize Cannabis Possession
Should Maryland voters provide a favorable outcome to Question 4, they'll actually be the last in District of Columbia metro region to legalized cannabis possession.
In 2015, Initiative 71, which took effect on February 26, 2015, permitted adults 21 years of age or older to possess up to two ounces of cannabis in one's primary residence without penalty. It also allowed transfer without payment of up to one ounce of cannabis to another person 21 years of age or older is also permitted.
Sale, Distribution, Intent to Distribute, and Cultivation
6 plants or less*
None
None
$0
1/2 lb or less(first offense)
Not Classified
6 months
$1,000
Subsequent offense
Not Classified
2 years
$5,000
Any amount
Not Classified
5 years
$50,000
Provided that all persons residing within a single house or single rental unit may not grow more than twelve cannabis plants, with six or fewer being mature, flowering plants.
Public Multi-State Operators Such As MariMed Inc. To Benefit From Maryland Legalization
Positive adult-use ballot measures are always a benefit to the companies that have operations within a particular state. Should voters enact Maryland Question 4, MariMed, Inc. (CNSX: MRMD) (OTCMKTS: MRMD) will be no exception.
The public multi-state operator with operations in Delaware, Illinois, Massachusetts, Nevada and Ohio recently announced the opening of its first dispensary in Maryland. Operated by the company's wholly-owned subsidiary, Kind Therapeutics USA. Kind, MariMed holds cannabis licenses for cultivation and production, as well as a provisional license for a dispensary. Operations are backed by a 180,000 square foot cultivation and processing facility in Hagerstown.
In addition to its flagship Panacea Wellness dispensary in Annapolis, under state regulations, MariMed can own up to three additional dispensaries.
Of course, the dispensary is designated for medical-use only at present. However, all that could change next year should Maryland vote in the affirmative on Question 4 next Tuesday.
__________
* In accordance with an executed agreement between The Dales Report and MariMed, The Dales Report is engaged with the aforementioned on a 12-month contract for $7,500 per month, with the purpose of publicly disseminating information pertaining to MariMed via The Dales Report's media assets, encompassing its website, diverse social media platforms, and YouTube channel. Compensation for The Dales Report services involves the receipt of a predefined monetary consideration, which may, on certain occasions, encompass ordinary shares in instances where monetary compensation was not obtained. In such instances where share compensation was received, The Dales Report hereby asserts the right to engage in the acquisition or disposition of such shares subsequent to the conclusion of the aforementioned contractual period, in compliance with provincial, state, and federal securities regulations. Please refer to the "Disclosures" section below, which is to be interpreted in conjunction with this disclaimer.