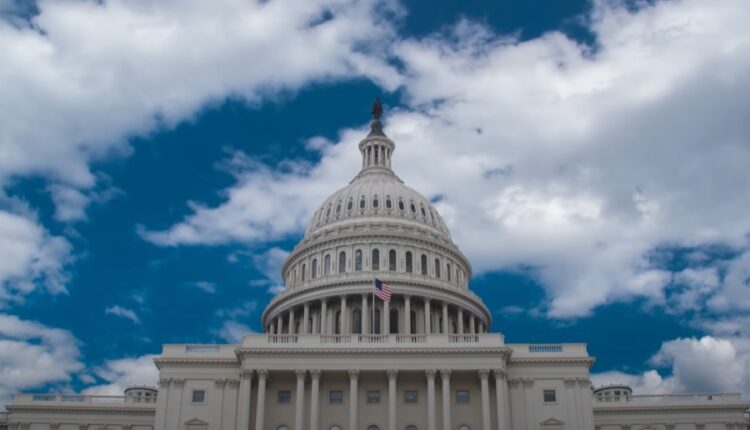 Midterm Election Results Could Impact SAFE Banking Passage Probabilities, According to Cowen
With voters headed to the ballot box for U.S. midterm elections on November 8, the ramifications to the U.S. cannabis industry are immense. The U.S. House of Representatives is strongly expected to tilt Republican, and the U.S. Senate is favored to also, although to a lesser degree. While outright legalization is not on the horizon regardless of which party wins, the odds of SAFE Banking Act passage in the lame duck session of Congress and beyond, will be affected. Thus, we take a look at what to expect from Cowen's perspective on SAFE Banking pending midterm results.
The SAFE Banking Act seeks to harmonize federal and state law by prohibiting federal regulators from taking punitive measures against depository institutions that provide banking services to legitimate cannabis-related businesses and ancillary businesses that serve them. The bill establishes a safe harbor for any depository institution that chooses to provide banking services to a cannabis-related legitimate businesses which holds and maintains a license from a state or local government to engage in manufacturing, growing, or producing, as well as any business who handles, sells, transports, displays or distributes cannabis or cannabis products.
Perhaps most importantly, proceeds from a transaction involving activities of a legitimate cannabis-related business would not be considered proceeds from unlawful activity. This would shield them from onerous anti-money laundering laws and asset forfeiture—currently enormous risks that keep depository institutions on the sidelines.
The SAFE Banking Act has a couple of iterations of note. There is narrow version of the bill would offer federal protection for banks and service providers serving the cannabis industry. While there is a separate broader form of the bill (SAFE +) that differs from the original SAFE Banking Act in that it includes measures for Small Business Administration loans, increased access for veterans to medical marijuana, and marijuana conviction expungements.
In a recent analysis, Wall St. provided their opinion on how the midterm election results shape the likelihood of passage on both bills, which we present without comment.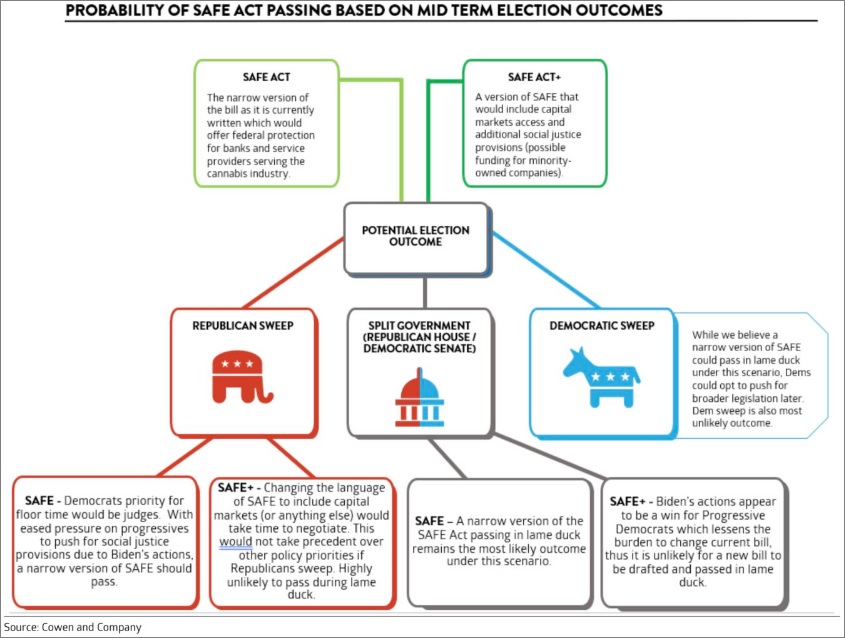 Red House, Red Senate
SAFE: "Democrats priority for floor time would be judges With eased pressure on progressives to push for social justice provisions due to Biden's actions, a narrow version of SAFE should pass.
SAFE+: "Changing the language of SAFE to include capital markets (or anything else) would take time to negotiate. This would not take precedent over other policy priorities if Republicans sweep. Highly unlikely to pass during lame duck. "
Split Congress 🟦🟥
SAFE: "A narrow version of the SAFE Act passing in lame duck remains the most likely outcome under this scenario."
SAFE+: "Biden's actions appear to be a win for Progressive Democrats which lessens the burden to change current bill, thus it is unlikely for a new bill to be drafted and passed in lame duck."
Democrat House, Democrat Senate
"While we believe a narrow version of SAFE could pass in lame duck under this scenario, Dems could opt to push for broader legislation later. Dem sweep is also most unlike outcome."