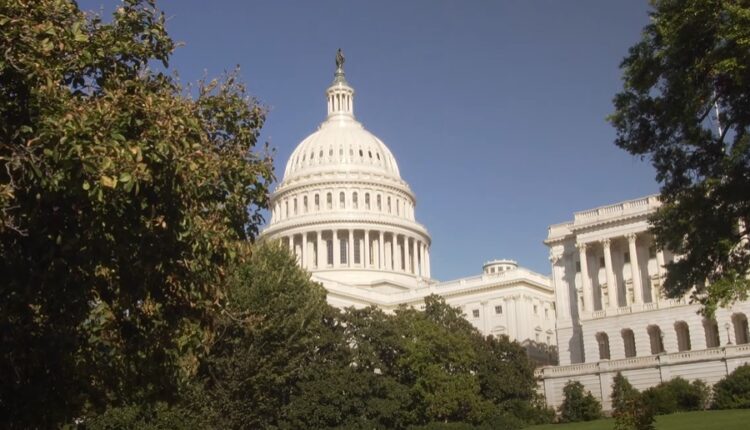 From a regulatory standpoint, It's been an uncertain year for the U.S. cannabis industry. This has been reflected in the price action of most U.S. based public companies—which have generally seen their stock prices plummet throughout 2021—as illustrated by AdvisorShares Pure US Cannabis ETF (NYSE:MSOS; ↓21.45% YTD and ↓47.92% peak to trough). Although U.S. cannabis has been a deep underperformer in a year where broad indexes soared, investor could experience a happy ending if a key backdoor amendment receives support in the U.S. Senate. A SAFE Banking NDAA union could be within reach.
The SAFE Banking Act, which sponsors have attached to a mainline bill called the National Defense Authorization Act (NDAA), is expected to be considered next week. The NDAA's purpose is authorize appropriations for military activities of the Department of Defense and for military construction, as well as to prescribe military personnel strengths and for various purposes. Annual ratification of the NDAA is a slam dunk in political terms, having passed each year for the past fifty. With passage virtually assured, the inclusion of a SAFE Banking amendment within the NDAA was a brilliant political maneuver.
Even more so since a SAFE Banking NDAA union has solid ideological reasoning behind it—unlike unrelated amendments or pork that always get introduced into major bills. The illegal cultivation and sales of cannabis is a bona fide national security threat through its association with cross-border trafficking. Significant amounts pour through the U.S.-Mexico border—unfettered by state testing standards—posing a risk to consumers. Billions of dollars annually of black market cannabis sales are laundered, making its way into the hands of foreign criminal cartels. Money forced outside the banking system has a tendency to fall into nefarious hands.
The passage of SAFE Banking and the normalization of cannabis business activities would go a long way to alleviating this menacing situation.
SAFE Banking generally prohibits a federal banking regulator from penalizing a depository institution for providing banking services to a legitimate cannabis-related business. The language restricts the termination or limiting of deposit insurance or share insurance of a depository institution solely because the institution provides financial services to a legitimate cannabis-related business.
Perhaps most importantly, proceeds from a transaction involving activities of a legitimate cannabis-related business would not be considered proceeds from unlawful activity. This would shield them from onerous anti-money laundering laws and asset forfeiture—currently enormous risks that keep depository institutions on the sidelines.
It is also expected, although far from confirmed, that SAFE Banking inclusion into the NDAA will have positive effects on business activities such as the allowance of credit for cannabis-related purchases. Furthermore, it is anticipated that passage could allow U.S. based public companies listed on the lower-tier Canadian Securities Exchange to uplist onto a major exchange, which would promote further institutional ownership and liquidity.
So clearly, a lot is at stake for both cannabis business owners and public market investors. It is not an overstatement to call this event a defining regulatory moment in industry's history—one which could potentially normalize cannabis-related businesses while fostering broader federal legalization reform.
Decision On SAFE Banking Amendment Close At Hand
According to reports, the catalyzing decision on whether SAFE Banking will be included in 2022 National Defense Authorization Act is coming to a head.
MeriTalk recently reported that a Senate source has confirmed the Senate will reconvene to consider the NDAA on November 29. More specifically for the fate of SAFE Banking: "Consideration of the NDAA will resume at 3 p.m. Nov. 29, with the deadline for filing first-degree amendments coming at 3:30 p.m. and the deadline for filing second-degree amendments coming an hour before the cloture vote."
A vote to invoke cloture on an amendment is scheduled to take place at 5:30pm. If invoked, a 30-hour countdown would ensue on the post-cloture debate.
Cloture is a procedure that allows the Senate to vote to limit debate and end a filibuster—a political delaying tactic. To invoke cloture, three-fifths of all senators—60 senators when all are present—must vote in favor of the motion. During this time, senators can only offer amendments that are relevant to the Bill under consideration and were submitted in writing before the cloture vote.
Should the SAFE Banking amendment gain acceptance during the filing process, final terms between the Senate and House Bills could be settled in what is known as the conference process. This is where a committee of both Senate and House members meets to reconcile differences between each respective Bill.
Encouragingly, the SAFE Banking Act is seeing increasing public displays of support in recent times. Aside from having support of a majority of state attorneys generals, banking industry trade groups and two dozen U.S. governors, it has gained key support from five senators serving on the Senate Armed Services Committee (SASC). The senators urged the SASC to throw their support behind SAFE during the NDAA legislative process.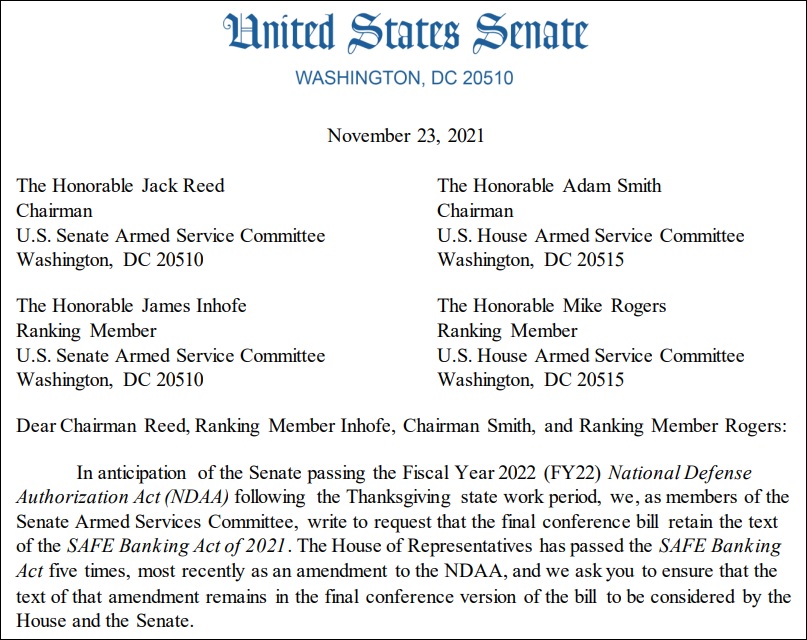 While momentum seems to be building for SAFE's inclusion in the NDAA, it's unclear whether Senate Majority Leader Chuck Schumer will attempt to block such action. In July, Schumer introduced draft legislation called The Cannabis Administration & Opportunity Act (CAOA)—a comprehensive bill designed to end the federal prohibition of cannabis and expunge the records of certain cannabis offenses. CAOA provisions went well beyond what SAFE could bring the industry right away, but faced stiff resistance among Republicans who believe the legislation is too encompassing.
The Senate Majority leader is the most authoritative member of the U.S. Senate, with the power to decide which bills get considered on the Senate floor, or even which amendments are permitted to be offered to certain bills.
The fiscal year NDAA passed the House of Representatives on September 23 with a bipartisan 316-113 vote.
What Investors Can Expect In A Positive Or Negative Outcome
Obviously, the decision on whether the SAFE Banking amendment gets attached or stripped from the NDAA will likely determine directional sector price action to end the year.
In a negative outcome scenario, expect near-term sentiment to sour as the seemingly unending political deadlock grinds on. With a prime catalysts lost, we expect tax loss selling to gain traction as investors pare losing positions to offset gains elsewhere in their portfolios. There will also be questions on the trigger and duration of the next legislative catalyst (uncertainty is never a market ally). Despite attractive valuations relative to growth profiles in the U.S. cannabis sector, focus will be elsewhere to close out 2021. Expect YTD lows in AdvisorShares Pure US Cannabis ETF (MSOS) to be revisited and exceeded.
In a positive outcome scenario, the market has ample room to run. As stated earlier, MSOS is ↓47.92% from its peak-to-trough highs despite improving fundamental. The sector would receive direct economic benefits by way of greater vendor credit access and lower cost of debt, The industry would take a giant leap towards normalization and foster de-scheduling and federal legalization attempts in 2022. Investor sentiment would be bolstered substantially.
It's a strong bet that SAFE Banking inclusion will at least partially unwind the market growth/value dislocations persistent in the market. The average EV/EBITDA—a popular measure by analysts to determine relative valuation comparisons—was hovering below 8 in late October while slower-growing Big Board retail stocks was hovering at 14.70.
Whatever happens, a prospective SAFE Banking NDAA union is most significant regulatory moment in U.S. cannabis history. Investor eyes will be fixated on the legislative action beginning next week.
TDR will have additional coverage as events warrant.