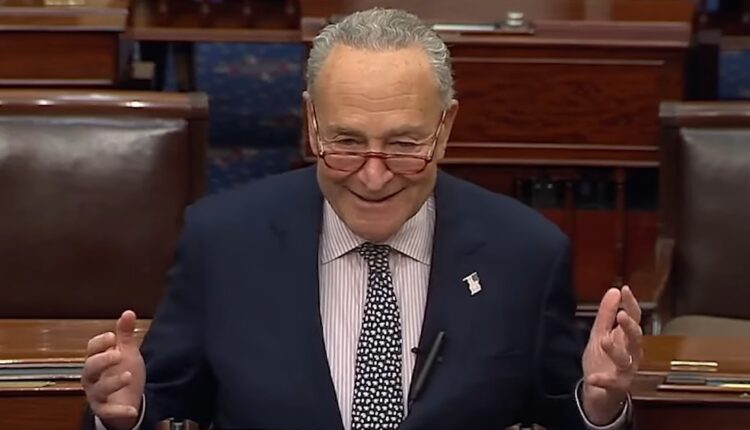 Schumer Pledges Criminal Justice Provisions In Bipartisan Cannabis Banking Legislation
A group of bipartisan lawmakers including Senators Jeff Merkley (D) and Steve Daines (R) along with Representatives David Joyce (R) and Earl Blumenauer (D) reintroduced a marijuana banking bill last week. Under the Secure and Fair Enforcement (SAFE) Banking Act of 2023, financial institutions would be allowed to provide financial services to legal cannabis businesses.
Just one day following the reintroduction of the bill, Senate Majority Leader Chuck Schumer (D) restated his pledge to push for the cannabis banking measure with criminal justice provisions, reported Marijuana Moment.
"The SAFE Banking Act would ensure cannabis businesses that operate in states with legal cannabis have equal access to critical banking infrastructure. Clearly, this bill has provisions particularly aimed at helping minority business owners who are at a critical disadvantage in the cannabis industry," Schumer said.
"Right now, the norm for the cannabis businesses is to operate on all cash, and that is simply not fair: it exposes them to too many risks and stifles their opportunities to grow," he continued "Congress should be in the business of promoting entrepreneurs, promoting job growth, not holding these things back.
"We have a moral responsibility in Congress to undo the terrible damage caused by the War on Drugs, and almost always has affected people of color. So I am going to work very hard with my colleagues to make sure criminal justice provisions are part of SAFE Banking when it reaches the floor."
SAFE Banking Act Of 2023 Summary
The bill would prevent federal banking regulators from:
Prohibiting, penalizing or discouraging a bank from providing financial services to a legitimate state-sanctioned and regulated cannabis business, or an associated business (such as a lawyer or landlord providing services to a legal cannabis business);
Terminating or limiting a bank's federal deposit insurance primarily because the bank is providing services to a state-sanctioned cannabis business or associated business;
Recommending or incentivizing a bank to halt or downgrade providing any kind of banking services to these businesses; or
Taking any action on a loan to an owner or operator of a cannabis-related business.
This legislation, for the first time, explicitly extends the safe harbor to Community Development Financial Institutions (CDFI) and Minority Depository Institutions (MDI) to ensure they can also serve cannabis businesses. CDFI and MDI serve underserved communities that face challenges in accessing capital and providing affordable access to financial services.
The SAFE Banking Act has passed the House seven times with broad bipartisan support.