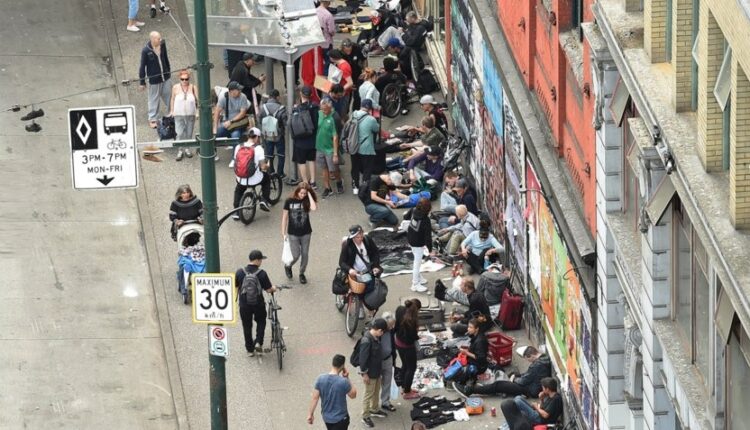 Section 56 (1) Exemption Takes Effect Today In British Columbia
Acting to curb an unprecedented and deadly overdose crisis in the province, the government of British Columbia passed an exemption—Section 56 (1)—intended to curb the toxic illegal supply of drugs. On Tuesday, Jan. 31, 2023, the measure officially goes into effect.
Health Canada granted the province of B.C. a subsection 56 (1) exemption under the Controlled Drugs and Substances Act (CDSA) to decriminalize people who use drugs. Beginning Jan. 31, 2023, adults 18 and older in B.C. will not be subject to criminal charges upon possession of a small amount of defined illegal drugs—including but not limited to certain opioids, cocaine, methamphetamine, and MDMA for personal use.
Section 56 (1) was originally granted by current Minister of Mental Health and Addictions, Carolyn Bennett, P.C., M.P. on May 31, 2022. However, it is structured as a one-time limited exemption under the CDSA for adults in B.C. with a sunset date attached—January 31, 2026.
The new law won't be a carte blanche for everyone, or for certain settings. Although most persons in possession of illegal substances, or any combination of such illegal substances, can possess up to a maximum cumulative quantity of 2.5 grams, certain restrictions apply as follows:
on K-12 School premises;
on child care facility premises;
in airports;
on Canadian Coast Guard vessels or in Canadian Coast Guard helicopters;
to a Canadian Armed Forces member who is subject to the Code of Service Discipline;
in a motor vehicle that is driven or operated by a minor, whether or not the vehicle is in motion;
in a watercraft that is operated by a minor, whether or not the watercraft is in motion.
It is important to note that while Section 56 (1) will allow the possession of small amounts of Scheduled narcotics, it does not legalize these drugs. It simply means that according to the new rules, adults found in possession of such narcotics will no longer be arrested, charged or have their drugs seized—assuming they are abiding by the scope and conditions of the exemptions.
The decriminalization of people who are in possession of drugs for personal use is one additional important step to save lives as we continue to tackle the toxic drug crisis in B.C. This exemption will help reduce the stigma around substance use that leads people to use alone and will help connect people to the health and social supports they need.

Dr. Bonnie Henry, B.C. provincial health officer
Furthermore, the exemptions do not apply in situations where there is an intent to traffic, to export or to use in the production of a controlled substance in a manner that is not authorized under the CDSA.
In situations where illegal drugs defined as personal use are found, police will offer information on available health and social supports, as well as local treatment and recovery options in lieu of arrest and forfeiture.
British Columbia Looking To Replicate Portugal's Past Success
In 2001, Portugal decriminalized the personal possession of all drugs as part of a wider re-orientation of
policy towards a health-led approach. Possessing drugs for personal use is instead treated as an administrative offence, meaning it is no longer punishable by imprisonment or result in a criminal record. In hindsight, the program was widely acclaimed to be a success according to the subsequent data published by the EDMCCA.
The Transform Drug Policy Foundation reports that while rates fell in Portugal following reform, they increased across the rest of Europe in the same timeframe. From 2011 onwards, both Portugal and the rest of the E.U. have trended similarly, rising until 2015/6—however, the gap between the two remains considerably wider than it was pre-reform. And on aggregate, Portugal remains some of the lowest in the E.U. in terms of drug overdose mortality: 6 deaths per million among people aged 15-64, compared to the E.U. average of 23.7 per million (2019).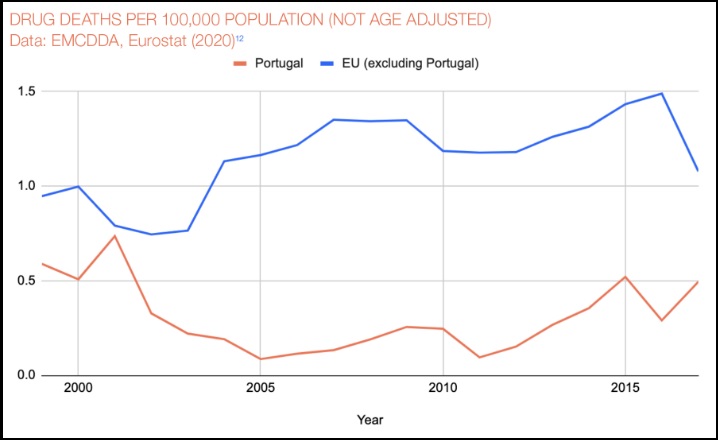 The move away from criminalizing and imprisoning people who personal drug use has led to a dramatic change in the profile of the prison population.
In 2001, over 40% of the sentenced Portuguese prison population were held for drug offences. In 2019, that number fell at least 60% to 15.7% of the prison population, resulting in an enormous savings in incarceration costs to the government and untold benefits for people whose records were not blemished. A win-win for society at-large.
Whether or not British Columbia's Section 56 (1) exemption can reap similar benefits remains an open question. However, the government is intending to collect three years of hard data to find out. Through this current measure backed by real-world data, it is hoped that Vancouver's notorious downtown eastside, and beyond, can become a safer place.