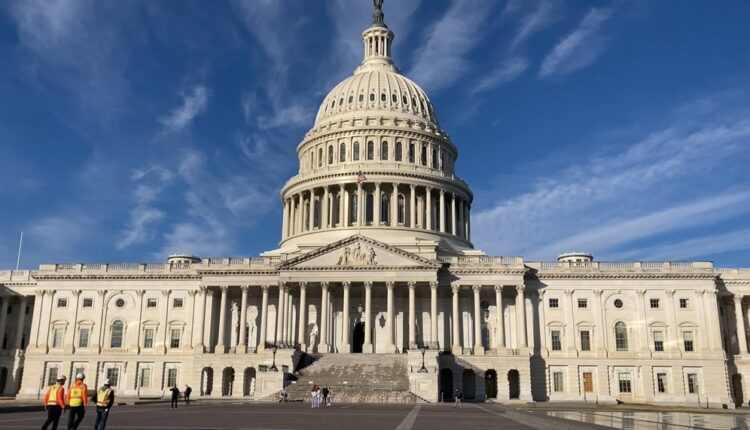 TDR's Top 7 Cannabis Developments For The Week Of September 18
Welcome to TDR's review of the Top 7 Cannabis Developments for the week of September 18. Aside from presenting a synopsis of news events, interviews and closing market prices for publicly-listed companies.
7. Zuanic & Associates: SAFE Banking Likely Has The 60 Votes Needed In The Senate To Avoid A Filibuster
Zuanic & Associates' latest report outlines a roadmap for the SAFE Banking Act in the US cannabis industry, emphasizing the significance of rescheduling, US exchange uplisting, and a potential "Cole Memo II" (Garland Memo) as more critical catalysts than the bill itself.
According to Zuanic, delays in the mark-up vote could, potentially, signify positive developments. The SAFE Act filed jointly in both the House and Senate in 2023, has gained bipartisan support, and the delays may be aimed at securing more votes.
6. Congressional Committee Approves Bill To Remove Marijuana As Barrier To Federal Employment Or Security Clearances
A key House committee has approved a bipartisan bill on Wednesday that would prevent the denial of federal employment or security clearances based on a candidate's past marijuana use.
The House Oversight and Accountability Committee passed the Cannabis Users' Restoration of Eligibility (CURE) Act—sponsored by Reps. Jamie Raskin (D-MD), Nancy Mace (R-SC) and Earl Blumenauer (D-OR)—in a 30-14 vote. All Democrats backed the measure, along with ten Republicans.
However, prior to passage, members first adopted an amendment from Chairman James Comer (R-KY) to scale back certain provisions.
5. GOP Committee Chairman Seeks To Scale Back Bill On Removing Federal Marijuana Employment Barriers Ahead Of This Week's Vote
The chairman of a key House committee is proposing to significantly scale back a bipartisan bill on marijuana-related protections for federal workers that's scheduled for a vote in his panel this week.
The House Oversight and Accountability Committee is scheduled to hold a markup of the Cannabis Users' Restoration of Eligibility (CURE) Act—sponsored by Reps. Jamie Raskin (D-MD), Nancy Mace (R-SC) and Earl Blumenauer (D-OR)—on Wednesday. But ahead of that meeting, Chairman James Comer (R-KY) filed an amendment in the nature of a substitute (ANS) that would eliminate some of the bill's central provisions.
__________
Chart Of The Week:Tier-2/3 Price Increase In Recent Rally Since Aug 29/23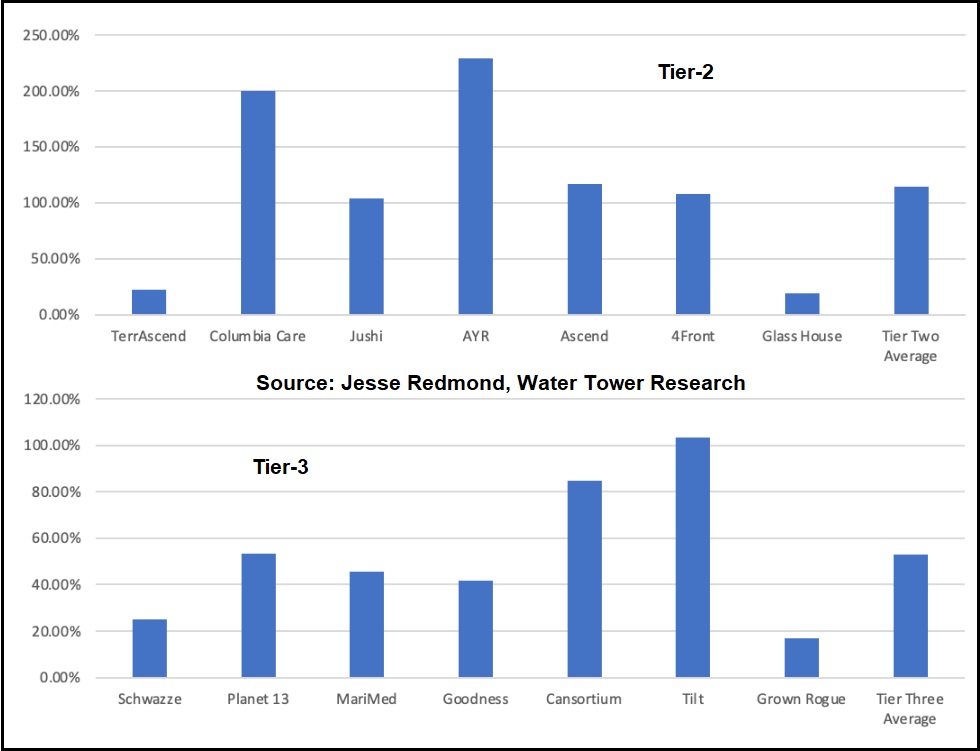 .
Interview Of The Week
.
What HHS Schedule III Recommendation Could Mean and What Comes Next
.
Cannabis Lobbyist Don Murphy Discusses Legislative Progress With TDR
.
Widely Held MSOs & LP Weekly Performance
| | | | | |
| --- | --- | --- | --- | --- |
| Company | Symbol | Previous Week Close | End Of Week Close | % Change On Week |
| AdvisorShares Pure Cannabis ETF | MSOS | 9.07 | 8.04 | -11.35 |
| Aurora Cannabis | ACB | 0.9828 | 0.7511 | -23.57 |
| Ayr Wellness | AYRWF | 3.03 | 2.85 | -5.94 |
| Canopy Growth | CGC | 1.35 | 0.84 | -37.77 |
| Cresco Labs | CRLBF | 2.46 | 2.09 | -15.04 |
| Curaleaf Holdings | CURLF | 5.37 | 4.30 | -19.92 |
| Green Thumb Industries | GTBIF | 11.90 | 10.72 | -9.91 |
| High Tide Inc. | HITI | 1.69 | 1.98 | 17.15 |
| Marimed Inc. | MRMD | 0.51 | 0.46 | -9.80 |
| TerrAscend Corp. | TSNDF | 2.13 | 2.11 | –0.93 |
| Tilray Brands | TLRY | 2.93 | 2.40 | -18.08 |
| Trulieve Cannabis | TCNNF | 7.45 | 6.19 | -16.91 |
| Verano Holdings | VRNOF | 5.15 | 4.70 | -8.73 |
__________
4. Bipartisan Senators Officially File Revised Marijuana Banking Bill Ahead Of Key Committee Vote
A revised bipartisan marijuana banking bill has officially been filed in the Senate, one week before a key committee is scheduled to vote on the legislation. But its prospects in the GOP-controlled House remain uncertain, with a key committee chairman declining to say whether he'd take up the legislation if it crosses over to his chamber.
The renamed Secure and Fair Enforcement Regulation (SAFER) Banking Act, sponsored by Sens. Jeff Merkley (D-OR) and Steve Daines (R-MT), was introduced on Wednesday—one day after Marijuana Moment first reported on the finalized language.
In the news…
Aurora Cannabis has received approval to transfer the listing of its common shares from the Nasdaq Global Select Market to the Nasdaq Capital Market . The transfer became effective at the opening of business on September 19, 2023, and is expected to allow the company to seek an additional 180 days to regain compliance with the Nasdaq Listing Rule 5450(a)(1).
Banking Chair Sherrod Brown on SAFER Banking Act: "we'll pass it decisively."
Biosteel creditors list shows pro teams, leagues and athletes owe millions.
British Columbia court tosses suit over cannabis store enforcement on reserves.
Cannabis Attorney Jonathan Havens provides insights into the SAFER Banking Act's revised text, the scheduled markup in the Senate, what will follow, and the bill's implications for cannabis businesses' potential to list on U.S. stock exchanges.
Canada is approaching 4,000 regulated cannabis stores spread unevenly across the enormous country, according to data compiled by MJBizDaily.
Canopy Growth announced that it has entered into subscription agreements to raise up to $50 million through the issuance of units via private placement…
Columbia Care selling 22.2 million shares at C$1.52 (US $1.12) to raise US$25 million, with the possibility of another $25 million within 45 days of the closing of the placement tranche…
Columbia Care Inc. announced its change in legal name to The Cannabist Company Holdings Inc. and will rebrand to The Cannabist Company.
Cresco Labs announced the expansion of its brand portfolio in Florida to include the FloraCal and Cresco brands.
Federal agency has released new data showing that a record-high number of banks and credit unions are now working with the cannabis industry.
Georgia Access to Medical Cannabis Commission has issued notice of intent to amend its rules…
GOP senators, including the lead Republican sponsor of a marijuana banking bill, have officially filed new legislation to prevent federal agencies from rescheduling cannabis without tacit approval from Congress.
High Tide: Echelon analyst Andrew Semple remains more than bullish on the name after financial results.
High Tide CEO Raj Grover "itching" to get into the U.S. market
Kent State University: Eighty-five percent of participants using cannabis reported participating in aerobic training. In addition, 85% of participants also reported regular participation in resistance exercise.
Leafly has taken legal action against New York's cannabis regulators due to the state's ban on third-party marketing. The ban has been in place since the inception of New York's cannabis industry but has become a contentious issue as the industry evolves.
Massachusetts: The Cannabis Control Commission has a new acting chair, for now, after their regular Chairwoman was unceremoniously suspended from her position.
Minnesota's new cannabis regulator sold products illegal under state law at her hemp shop.
Missouri colleges expand cannabis programs to prepare students for 'green jobs'.
NCAA committee recommends legislation to remove cannabis from banned substances list in all three divisions…
New federal data shows record number of banks working with marijuana businesses as Senate schedules vote on reform bill.
NewLake Capital Partners Maintains Dividend, Updates On Share Repurchase Program
New Jersey marijuana regulators are accepting public comments on a proposal that would create a new permit to allow "clinically focused" dispensaries to enter into partnerships with research institutions to carry out cannabis studies using products that they grow or sell to patients.
Pennsylvania Senate has overwhelmingly approved a bill to allow all licensed medical marijuana grower-processors in the state to sell their cannabis products directly to patients—and there's talk of potentially expanding the legislation in the House to allow for personal home cultivation as well.
Pot stock rally burns short sellers for $105 million in losses…
SAFE Banking Act text.
Senate Majority Leader Chuck Schumer (D-NY) works to advance a bipartisan marijuana banking bill, he's also calling on supporters to join him in demanding that the federal government legalize marijuana.
Senator Cory Booker, a familiar foe SAFE legislation previously, has come on board to support the next iteration of regulated cannabis banking—the SAFER Banking Act.
Square announced a partnership with Jane Technologies, the premier online ordering platform service for cannabis dispensaries, solidifying plans to cater to cannabis sellers in Canada.
Subversive Capital Advisor is launching its sixth exchange-traded fund – Subversive Cannabis ETF (Ticker: LGLZ) on Cboe BZX Exchange. LGLZ is an actively managed ETF that is expected to begin trading on September 19th, 2023.
Thailand prime minister has said that he is against the recreational use of cannabis. PM Srettha Thavisin has said that within six months his government will "rectify" its cannabis policy and limit its use to medical purposes.
Tilray Brands announced that the Company will release financial results for its first quarter ended August 31, 2023 on October 4, 2023.
Trulieve announces purchase of 8% Senior Secured Notes due 2026.
Wisconsin: Senate Democratic Leader Melissa Agard (D-Madison) and Representative Darrin B. Madison (D-Milwaukee) introduced legislation to legalize cannabis for responsible, adult use in Wisconsin on Friday.
YTD returns of prominent Tier-1/Tier-2 MSOS to start the week…
Verano Holdings announced the launch of the company's Round Up for Cannabis Reform dispensary donation program benefitting The Weldon Project's Mission Green and the non-profit organization's advocacy for cannabis-related criminal justice reform.
3. House Democrats File Marijuana Legalization And Expungements Bill
A top House Democrat has reintroduced a bill to federally legalize, tax and regulate marijuana, with provisions to expunge prior cannabis convictions. Rep. Jerrold Nadler (D-NY), ranking member of the House Judiciary Committee, refiled the Marijuana Opportunity, Reinvestment and Expungement (MORE) Act on Wednesday. There are 33 initial cosponsors—all Democrats.
The comprehensive legalization legislation has passed the House twice in recent sessions—but this marks the first time it's being introduced with Republicans in control of the chamber, raising serious questions about whether it will move. The Judiciary Committee, which is the primary panel of jurisdiction, is chaired by anti-cannabis Rep. Jim Jordan (R-OH).
2. Senators Scrutinize Changes To Crucial Section Of Cannabis Bill Ahead Of Markup
Senators are circulating revised cannabis banking legislation that includes new protections for bank regulators in a controversial provision that would restrict them from closing certain customer accounts.
A section by section summary of the SAFE Banking Act — renamed the Secure and Fair Enforcement Regulation (SAFER) Banking Act — obtained by POLITICO indicates that new language in Section 10 has four additional provisions.
The future of the SAFE Banking Act could hinge on the section — it's this text that Sen. Jack Reed (D-R.I.) raised concerns about during a hearing in May. That pushed back a markup on the bill, which is now scheduled for Sept. 27.
1. Schumer Aims To Bring Newly Revised Marijuana Banking Bill To The Floor 'With All Due Speed' After Next Week's Committee Vote
A marijuana banking bill that's set for a Senate committee markup next week has an updated title and several new provisions related to federal financial regulations, guidance and reporting requirements, according to a summary that is circulating. And Senate Majority Leader Chuck Schumer (D-NY) said on Tuesday he intends to "bring this legislation to the floor with all due speed."
Importantly, the summary, first reported by Politico, offers a first look at the types of compromises senators appear to have made in order to bolster bipartisan buy-in. Several new provisions are described under Section 10—a component of the reform that Republicans have strongly favored and certain Democrats opposed over concerns it could undermine broader banking regulations.