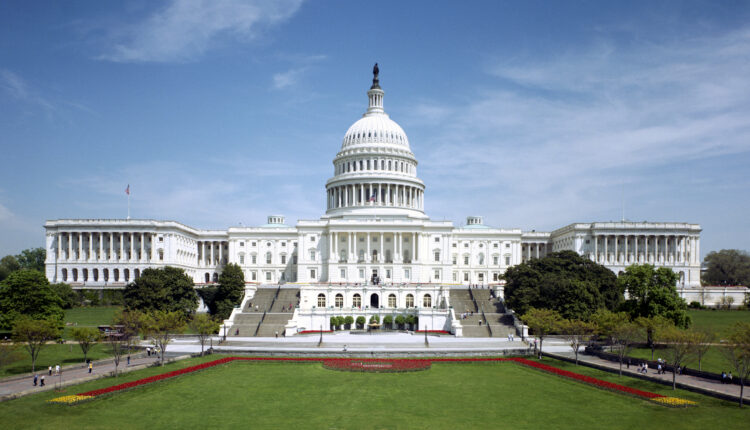 TDR's Top 7 Cannabis Developments For The Week Of September 25
Welcome to TDR's review of the Top 7 Cannabis Developments for the week of September 25. Aside from presenting a synopsis of news events, interviews and closing market prices for publicly-listed companies.
7. Curaleaf Announces C$16 Million Underwritten Offering of Subordinate Voting Shares
Curaleaf Holdings announced the pricing of its previously announced marketed offering of subordinate voting shares of the company at a price of C$6.00 per Offered Security. Canaccord Genuity, who is acting as the sole underwriter and bookrunner for the Offering, has agreed to purchase 2,700,000 Offered Securities from the company for total gross proceeds to the company of C$16,200,000.
The closing date of the Offering is expected to be October 3, 2023, and will be subject to market and other customary conditions, including requirements of the Canadian Securities Exchange.
6. American Nurses Association Officially Recognizes Cannabis As A Formal Specialty Practice Area
A professional organization representing more than 5 million nurses in the U.S. has announced its formal recognition of cannabis as a nursing specialty practice area. The American Nurses Association (ANA) said in a press release about the change on Wednesday that cannabis nurses play an important role in providing patients with education and guidance on incorporating marijuana into treatment.
"This recognition highlights the essential role and special contribution of cannabis nurses to the health care system and promotes enhanced integration of cannabis therapies for health care consumers across diverse health care settings," ANA President Jennifer Mensik Kennedy said.
5. Schumer Touts Bipartisan 'Momentum' Behind Marijuana Banking Bill That He Plans To Bring To The Floor 'Soon' With More 'Criminal Justice Provisions'
Senate Majority Leader Chuck Schumer (D-NY) says the bipartisan committee vote to advance a marijuana banking bill on Wednesday "underscores how much momentum we have right now" as he plans to bring the legislation to the floor "soon" and attach "very significant criminal justice provisions."
"The next step is to bring SAFER Banking to the floor for a vote, which I will do soon," he said. "I worked long and hard for years to get us to this point, and now the Senate is one step—one crucial step—closer to helping cannabis businesses operate more efficiently, more safely and more transparently in the states that allow cannabis to be sold."
__________
Chart Of The Week — MSOS Multiples Still Deeply Depressed Despite Recent Rally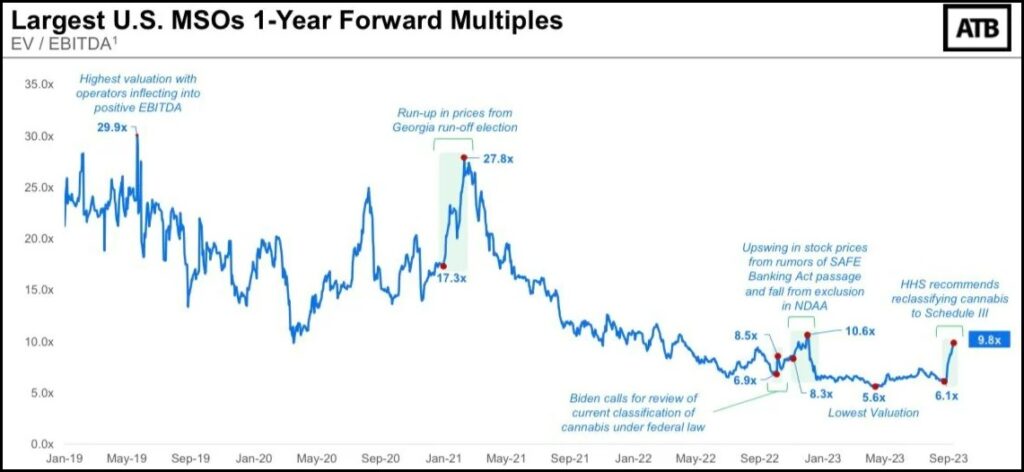 .
Interview Of The Week — Jesse Redmond On Investment Landscape Post Markup
.
Widely Held MSOs & LP Weekly Performance
| | | | | |
| --- | --- | --- | --- | --- |
| Company | Symbol | Previous Week Close | End Of Week Close | % Change On Week |
| AdvisorShares Pure Cannabis ETF | MSOS | 8.04 | 7.94 | -1.24 |
| Aurora Cannabis | ACB | 0.7511 | 0.5850 | -22.11 |
| Ayr Wellness | AYRWF | 2.85 | 2.29 | -19.64 |
| Canopy Growth | CGC | 0.84 | 0.7828 | -6.80 |
| Cresco Labs | CRLBF | 2.09 | 2.03 | -2.87 |
| Curaleaf Holdings | CURLF | 4.30 | 4.52 | 5.11 |
| Green Thumb Industries | GTBIF | 10.72 | 11.12 | 3.73 |
| High Tide Inc. | HITI | 1.98 | 1.85 | -6.56 |
| Marimed Inc. | MRMD | 0.46 | 0.4356 | -5.30 |
| TerrAscend Corp. | TSNDF | 2.11 | 2.05 | -2.84 |
| Tilray Brands | TLRY | 2.40 | 2.39 | -0.41 |
| Trulieve Cannabis | TCNNF | 6.19 | 6.09 | -1.61 |
| Verano Holdings | VRNOF | 4.70 | 4.55 | -3.19 |
__________
4. New York To Issue 1,500 More Marijuana Business Licenses
New York regulators plan to issue as many as 1,500 new marijuana business licenses as unsold cannabis continues to build up among growers in a market where only a couple of dozen retailers have opened their doors. The state's Office of Cannabis Management (OCM) on Tuesday said it will begin accepting applications Oct. 4 for cultivation, retail, processing and microbusiness licenses. The application window will open for 60 days.
The state has issued about 700 conditional licenses, including:
463 for social equity retailers and 10 for nonprofit retailers under its conditional adult-use retail dispensary (CAURD) program.
273 for cultivation.
40 for processing.
The vast majority of CAURD holders and applicants are in a holding pattern after an August ruling by a New York judge that halted all business applications and approvals to open adult-use stores in the state.
In the news…
4Front Ventures has partnered with The Weldon Project, a non-profit dedicated to driving social change and furthering federal cannabis reform for those incarcerated for non-violent cannabis-related offenses.
Aurora Cannabis has entered into an agreement pursuant to which Canaccord Genuity has agreed to buy, on a bought deal basis, 46,250,000 common shares of the Company (the "Offered Securities") at a price of C$0.73 per Offered Security, for aggregate gross proceeds to Aurora of approximately C$33,762,500.
BDSA released its latest five-year global legal cannabis market forecast. The forecast reveals that the cannabis industry is poised to experience substantial growth driven primarily by adult-use sales, with global legal sales reaching $55 billion in 2027.
Canadian licensed producers cheer as Senate committee advances cannabis finance reforms.
Cannabis banking outlook bright in Senate, but federal shutdown looms. Following the markup, prospects for the bipartisan and heavily negotiated SAFER Banking Act are much less certain.
Canopy Growth Corporation announced the voting results from its annual general and special meeting of shareholders held on September 25, 2023.
CNBC's Jane Wells joins 'The Exchange' to discuss the proposed safe banking bill allowing legal cannabis sales to utilize bank services.
Germany: bill to legalize marijuana in Germany advances after state representatives fail to block it…
Goodness Growth Holdings announced that the company's Chief Financial Officer, John Heller, will depart the Company effective September 30 to accept a new external opportunity. Interim Chief Executive Officer Josh Rosen will assume the additional role of Interim Chief Financial Officer.
Green Thumb Industries CEO Benjamin Kovler, in accordance with the terms of a marital settlement agreement, gifted 20,000 Super Voting Shares and 1,500,000 Subordinate Voting Shares of the Issuer to his former spouse.
Grown Rogue International reported its fiscal third quarter 2023 results for the three months ended July 31, 2023.
Heritage Cannabis Holdings announced its financial results as at and for the three- and nine-month periods ended July 31, 2023.
HOPE Act to be added to SAFE Banking…
Hungry sheep have found themselves enjoying a slightly different diet this week after they devoured more than 600 pounds of cannabis.
iAnthus Capital Holdings announced the opening of medical sales at MPX-NJ in Pennsauken, NJ and the grand opening celebration at MPX-NJ's Gloucester Township, NJ for adult use sales.
Illinois Governor Pritzker delivers remarks at rhe Benzinga Cannabis Capital Conference in Chicago.
Leafly announced the launch of a new order application programming interface (API). This solution allows any cannabis point of sale (POS) system to take control of the integration process and seamlessly integrate with its platform.
Marijuana industry in the United States writes a new chapter of its history with the vote of the Senate Committee on the bill that would secure access for businesses to financial institutions.
Marijuana Moment obtained text of the chairman's amendment, which has not yet been publicly posted by the committee…
Massachusetts Treasurer Deborah Goldberg on Thursday broke her silence on her recent decision to suspend Cannabis Control Commission Chair Shannon O'Brien, citing "several serious allegations" about her behavior.
National Conference of State Legislatures CEO Tim Storey expressed the organization's support for the revised Secure and Fair Enforcement Regulation (SAFER) Banking Act that was formally introduced last week and is scheduled for a Senate Banking Committee markup on Wednesday.
Nebraska medical marijuana campaign makes 'final' push for the ballot, as activist blasts governor's opposition as a 'cop out'.
New Jersey officials have announced the availability of $5.5 million in marijuana revenue to support a hospital-based violence intervention grants program.
Oklahoma is apparently continuing its crackdown on the industry, with marijuana authorities issuing fines to 161 dispensaries – ranging from the thousands to tens of thousands of dollars – for allegedly violating limits on patient purchases. Regulators also are seeking to revoke the permits of 39 of the shops.
Organigram Holdings has filed a preliminary short form base shelf prospectus with the securities commissions in each of the provinces and territories of Canada.
Plaintiff now seeks a court order ordering HHS to produce the requested record via FOIA request…
Rep. Blumenauer on cannabis: "When we started, it was controversial… now it determines national elections."
Republican senators stepped up efforts to stall marijuana banking legislation, with one member writing a letter to Senate Majority Leader Chuck Schumer (D-NY) criticizing his legislative priorities and another making misleading claims about planned amendments to the bill.
SNDL Inc. and Nova Cannabis announced that while all other provincial approvals have been received, the continued review by one provincial regulator has necessitated a further extension of the outside date for the closing of the previously-announced strategic partnership
South Dakota's medical marijuana law contains error and must be thrown out, opponents say.
StateHouse Holdings announced the appointment of Zed Schlott to the role of Vice President of Retail.
TILT Holdings announced a fundraising partnership with the PA Breast Cancer Coalition during Breast Cancer Awareness Month. During the month of October, Standard Farms will donate $5 to PBCC for every Jupiter Pink Ceramic Mouth Tip vape cartridge sold in medical dispensaries statewide.
The Cannabist Company Holdings announced that its common shares, previously trading on the OTC Market under the ticker symbol "CCHWF", will begin trading on the OTC Market under the ticker symbol "CBSTF" effective Tuesday, September 26, 2023.
Trulieve Cannabis CEO Kim Rivers on the latest in U.S. cannabis regulation.
Washington state could ok use of fingerprint scans and facial recognition to buy marijuana and alcohol…
Verano Holdings plans to release financial results for the third quarter ending September 30, 2023, before the market opens on Wednesday, November 8, 2023.
3. 'God Almighty,' No One Should Be In Prison Over Marijuana Possession, Biden Says At Congressional Black Caucus Event
President Joe Biden is again touting his mass marijuana pardon from last year, referencing the act of clemency at a Congressional Black Caucus Foundation awards ceremony.
"I'm keeping my promise that no one—no one—should be in jail merely for the use or possession of marijuana. God Almighty. And those who are in jail, they're going to be released and the records are going to be expunged."

U.S. President, Joe Biden
The speech at the event with Black lawmakers is just the latest example of Biden proudly promoting the cannabis clemency move as part of his criminal justice reform achievements. Although, he again overstated its impact, as the pardon only impacted about 6,500 people who've committed federal marijuana offenses, and none of them were released from prison.
2. Over Eight Hundred Banks File to Allow Cannabis Businesses, FinCEN Reports
Banking institutions are in a race to allow cannabis businesses ahead of imminent changes in the way cannabis is classified at the federal level, according to federal data. Cannabis remains prohibited at the federal level, but the U.S. Health & Human Services Department (HHS) recommendation to reclassify cannabis from a Schedule I to a Schedule III changes everything.
NORML reports that there's a spike in the number of banking institutions that are filing to work with cannabis businesses as the fear of repercussions subsides.
According to quarterly data provided by The Financial Crimes Enforcement Network (FinCEN), a bureau of the United States Department of the Treasury, over 800 banks and credit unions have filed paperwork with the U.S. government acknowledging their relationships with licensed cannabis businesses.
1. SAFER Banking Receives Markup By Senate Banking Committee In Decisive Vote Of Support
In a decisive win for the prospects of U.S. cannabis banking regulations, the Senate Banking Committee has voted to markup SAFER Banking Act legislation. A Senate committee markup vote is a crucial step in the legislative process in the United States Senate, and part of the process by which a bill or piece of legislation is considered and amended before it advances to the full Senate.
Despite a pre-vote attempt to block the vote, markup passed by a 14-9 margin in the committee. Previous to the vote taking place, the committee dismissed a proposal from Senator Raphael Warnock (D-GA) who had expressed concerns regarding racial equity in connection with the war on drugs. Warnock's amendment sought to include a provision in the SAFER Banking Act that would have caused the legislation to expire after a period of five years unless concrete evidence demonstrated its effectiveness in reducing the racial wealth gap.
Additional covergae: Landmark marijuana financing bill clears big hurdle in the Senate