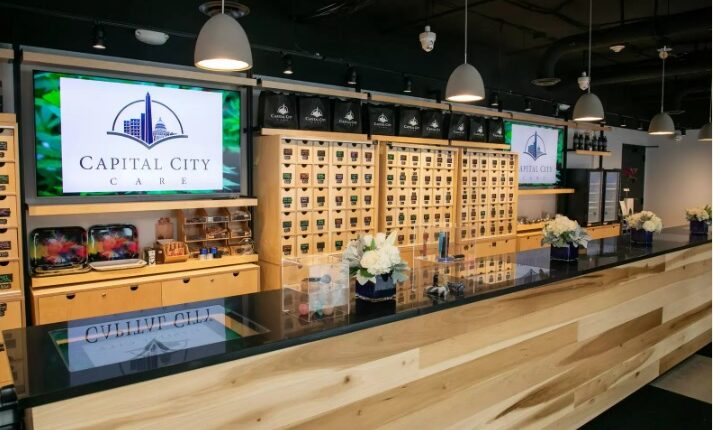 The Cannabist Company: From Humble D.C. Beginnings To Vertically-Integrated Powerhouse
In Washington, D.C., where the pillars of power and politics cast their long shadows, an unassuming cannabis operator quietly marked its territory. With strict industry regulations and limited scale, it was a risky endeavor, but its founders, fueled by their unwavering belief in the healing potential of cannabis, dared to dream big. With headlines from Capitol Hill dominating the cannabis industry headlines in recent times, The Cannabist Company's (CBOE:CBST) (OTC:CBSTF) humble beginnings are a story worth telling.
The Tier-1 operator's history can be traced back to its inaugural dispensary in The District of Columbia. An investment banker by trade, The Cannabis Company CEO Nicolas Vita forged his own path by taking a chance on a risky and immature industry back in 2012. As a native of Bethesda, Maryland—approximately 7 miles north of Washington D.C.—cutting his teeth in the regulatory capital of the United States made sense, however daunting the experience would become.
It was here that Columbia Care Inc., since renamed The Cannabis Company this past September, opened its first dispensary and cultivation centers D.C. and recorded its first legal sale in 2013.
Unlike the massive consumer demand which is commonplace today, only nine patients had obtained a city-issued marijuana card when Columbia Care's first Capital City Care dispensary opened its doors a decade ago. And only about 20 doctors requested the necessary forms to dispense it from the outset. Operational survival was far from assured.
But as Mr. Vita explained in a recent interview with TDR, the decision to plant a flag in DC was not just about familiarity, but the result of "following a regulatory calendar". With limited capital resources and foray into an industry widely viewed as illegitimate at the time, his focused determination ultimately payed dividends. Through the experience of operating in a buttoned-up regulatory environment, and gradual success operating its flagship dispensary, expansion soon followed.
From Washington, The Cannabis Company soon ventured into the desert landscapes of Arizona, where the cannabis market blossomed quickly following the passage of the Arizona Medical Marijuana Act (AMMA) in 2010. The Act served to legalize the use of medical cannabis for qualifying patients, which lead to a growing number of registered medical cannabis patients and licensed dispensaries. Additional success followed.
As the business proceeded to expand to Massachusetts, Illinois and beyond, The Cannabis Company never lost sight of the complex nature of each market. While each state instituted its own unique set of challenges and regulations, the company never lost focus of commanding full control over its supply chain. It was a steadfast belief that maintaining the highest quality and cost effectiveness would win consumers over in time. The dedication to this philosophy made their company a standout in the industry.
Fast forward today, The Cannabis Company has continued to expand in what is now among the largest ex-Florida footprints in the United States. With licenses in 16 U.S. jurisdictions. the company operates 125 facilities including 94 dispensaries and 31 cultivation and manufacturing facilities, including those under development.
This includes 14 operational dispensaries in Florida, where the company has ample room to expand with the Florida adult-use question likely being put to voters on the 2024 ballot.
A Steadfast Dedication To The Consumer
Speaking of the advantages of effectively managing a supply chain, brands have always been an integral focus of The Cannabist Company's retail strategy. The company boasts complimentary product categories across its house brands, accounting for approximately 58% of all flower sold at Cannabist-owned dispensaries in the second quarter of 2023. This resulted in adjusted gross margin registering north of 40% in Q2, with additional gains expected in subsequent quarters.
With the company successfully navigating its capital expenditure curve in established markets, The Cannabist Company anticipates an increase of approximately 500 basis points in gross margin over the next 12 to 18 months. Coupled with the rollout of a proprietary technology platform, the standardization of its product offerings should be poised for substantial expansion.
While traditional marketing and advertising techniques have played important roles in the company's successful brand implementation, it is the understanding of consumer segmentation that separates The Cannabis Company from its peers.
The strategic mindset isn't just focused on moving products; it's about connecting with communities and consumers. Thus, its distribution channels became not only a means of sales, but also a source of valuable data. This data plays a vital role in forecasting and understanding how markets are evolving.
Furthermore, the way The Cannabis Company thinks about brands extends to the granular. Owning to the vertical-integration of each market, its product offerings are nuanced to the dynamics of each region; and is some cases, micro-region.
So while many competitors cater to the East Coast/West Coast consumer paradigm, The Cannabis Company breaks down consumer preferences by city or micro region. Understanding these hyperlocal aspects of its consumer base allows the company to strategically position itself as leaders in both wholesale and retail markets. Ultimately, it allows The Cannabis Company to establish enterprise-level wholesale relationships and leverage a national presence—even in the absence of interstate commerce.
In this ever-evolving journey which began eleven years ago, Nicolas Vita's resilience and strategic vision has been the guiding factor to his company's success in the burgeoning cannabis industry. A living testament to the dynamic nature of the cannabis industry and the pioneering spirit of those who dared to dream big.