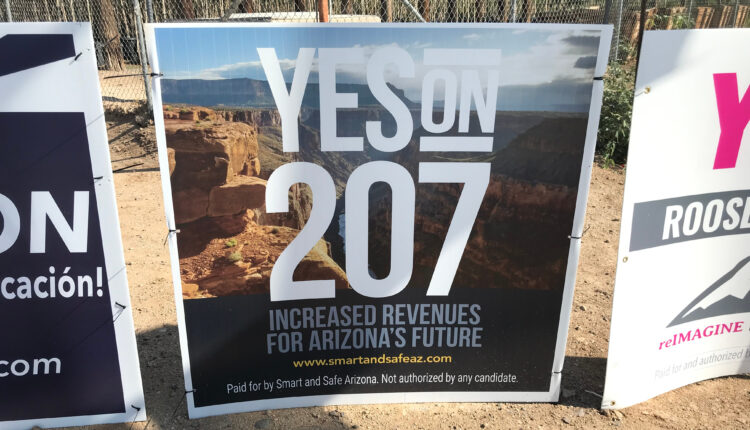 As election day looms, cannabis retailers in Arizona are hopeful that citizens will vote 'yes' on Proposition 207, the ballot initiative to legalize recreational possession, consumption, and at-home cultivation of the plant.
In 2019, Arizona became America's largest market for medical cannabis. With nearly three percent of the population registered as medical marijuana patients and statewide sales of more than $730 million, an increase of 34 percent from the year previous, it was a big year for retailers in the state. While medical cannabis has been legal in Arizona since 2010, injections of capital from multi-state operators over the last several years have prompted a second wave of retailers that are positioned to cash in if the ballot initiative passes.
Harvest Health And Recreation Inc. (CNSX:HARV) (OTCMKTS:HRVSF), a vertically integrated company and multi-state operator is one such retailer, and stands to benefit greatly if the market for recreational cannabis is legalized in Arizona. To date, Harvest is the largest supporter of Smart and Safe Arizona, the committee supporting Proposition 207, and has donated a total of $1.42 million to support the campaign.
The firm is headquartered in Tempe and has been in business since 2011. Currently operating 15 of Arizona's 131 medical marijuana dispensaries, it opened its latest in Phoenix on September 21. In addition to its 15 retail stores, the company operates five growing and processing facilities across the state of Arizona, plus more than 20 additional locations in California, Florida, Maryland, North Dakota, and Pennsylvania.
If the measure passes, Harvest and other multi-state operators in Arizona such as Massachusetts-based Curaleaf Holdings, California-based MedMen Enterprises, and Arizona-based 4Front Holdings would be entitled to participate in the recreational market, as the proposed legislation only allows existing retailers to do so. (A total of 26 social equity businesses will also be entitled to take part.)
Since the last vote on recreational cannabis took place in Arizona in 2016, financial support in favour of legalization has grown significantly, with almost $5.5 million raised in support of the initiative this year and just $833,000 in opposition. (The last initiative to legalize was narrowly defeated, with 51.3 percent voting 'no'.) 
Polling for the updated proposition, however, has been inconsistent. A Monmouth University poll conducted in September found that 51 percent of registered voters supported the initiative, while 41 percent were opposed and nine percent said they would abstain or they weren't sure. Another separated supporters from those opposed by just one percentage point.
However, the most recent polling conducted by Monmouth in October indicates the "Yes" faction pulling away. Voters supporting the ballot now outnumber dissenters around 14:9 in the latest sign that legalization sentiment is gaining momentum down the home stretch.
If passed, Proposition 207 would force the state to establish regulations for the recreational industry no later than April 5, 2021, while the Arizona Department of Health Services would be required to provide dispensaries with the appropriate updated licenses. Some are estimating that Arizona could become home to a $2 billion market for recreational cannabis.