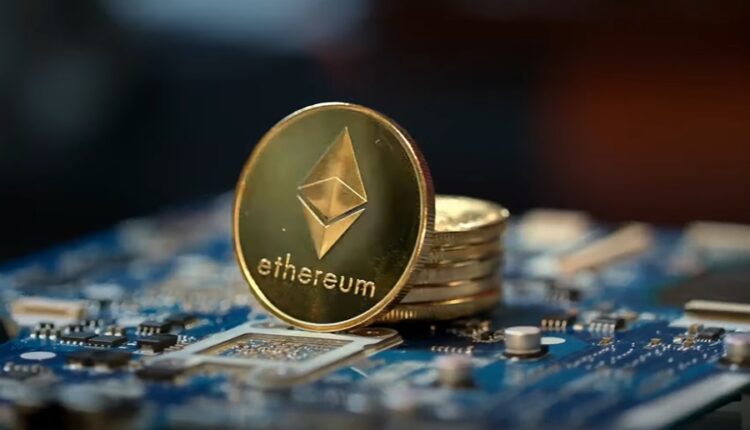 DeFi TVL Holds Up Well During The Recent Crypto Downturn
The crypto market may be down, but Decentralized finance (DeFi)—as judged by DeFi TVL—is holding up well, relatively speaking. This industry's relative strength is a testament to DeFi's growing popularity and utility. as crypto's insatiable rise meets increasing public willingness to engage in alternative financial systems. With banks offering virtually no yields on cash deposits, it's easy to understand why.
The aggregate adoption of a variety of DeFi applications is well apace. It operates in a variety of different categories, including decentralized exchanges, stable coins, insurance, wrapped bitcoin, yield farming, liquidity mining and more. In particular, liquidity mining stands out as an attractive way to generate yields in a zero-yield environment. While it is not "risk-free" like some traditional banking products such as GICs, risk can be greatly mitigated with the right hedging strategies.
One way of measuring aggregate consumer adoption is through Total Value Locked (TVL), which is the nominal value of crypto assets deposited within defined DeFi protocols. It includes all coins deposited in all of the functions (staking, lending, liquidity pools) that DeFi protocols have to offer. While there are different metrics to quantify just how large the market is worth, DeFi TVL has emerged as the de facto reference point for industry growth.
A great place to track DeFi TVL values is at The Block, which gives a detailed view of TVL based on category. The chart below displays Value Locked as an indicator to evaluate the adoption scale of a DeFi project by calculating the total value (USD) of all assets locked in the corresponding smart contracts. Ethereum, BSC, Solana, Terra, and Polygon together make up the bulk of TVL in 2022.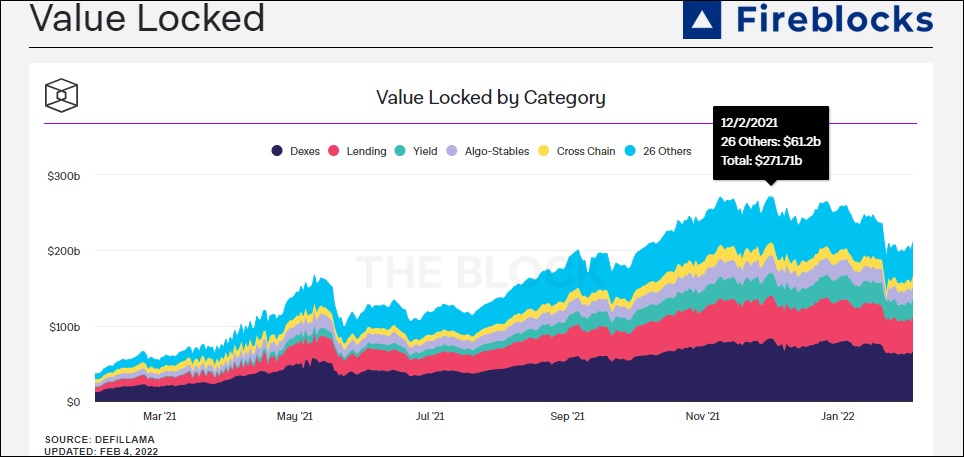 Since reaching an all-time high of $271.71 billion on December 2, DeFi TVL by category has held up relatively well, dropping only dropped approximately 22.39% from today's price (210.87 billion), while the spot price of Bitcoin and Ethereum have declined 26.25% and 36.42%, respectively (as of February 11, 2022). Through this lens, it becomes clear how well the market has held relative value versus the cryptocurrency majors.
However, not all data platforms are showing the same loss metrics. For example, DappRadar is currently reporting a TVL figure of $117.96 billion, which is down approximately 35% from the November 2021 high. A significant portion of the drop could be attributed to the fall in crypto prices, rather than customers pulling their money out of DeFi protocols.
A Weak Start For Risk Assets In 2022
Trying to ascribe reasons for a market's decline is a fool's errand. The media often creates headlines which either generalize the reasons for a market's movement, or pigeon-hole narratives which are too simplistic or unrefined. However, to start 2022, it's abundantly clear that fears of rising interest rates provided a natural jump-off point for investors looking to protect bonanza gains accrued in risk asset markets in 2021.
Specifically, we attribute the primary culprits of the broad-based fall downturn as twofold. First, increasing expectations that the Federal Reserve could initiate more rate hikes in 2022 than anticipated had investors front-running Fed action. Second, a steep rise in bond yields sucked capital out of the market as higher costs of margin and relative attractiveness of risk-free cash investments weighed on risk assets. On January 5, the 10-year Treasury Note registered a near 2-year high yield of 1.706%.
This week, it traded over two percent for the first time since 2019, before closing Friday's session at 1.943%. The market tanked. CNBC did its usual thing to whip up a frenzy.
With bond yields mitigating and a Federal Reserve signaling dovish platitudes at its January 26 meeting, asset prices staged an oversold bounce off the January lows. Roughly speaking, the NASDAQ—a technology-laden index most sensitive to the rise in interest rates—had pared about half of its losses in 2022. Bitcoin and Ethereum have followed suit, although the rebound has been considerably more modest.
But with inflation reaching new 40-year highs, yields again rising and Fed Funds signaling multiple rate hikes this year, the market has become skittish again. Threats of an impending U.S. war with Russia and soaring energy prices haven't helped. But DeFi remains resilient, despite being a hyper early-stage market that tends not to perform well in periods of extreme corrective price action..
Liquidity Mining Operations Remain Robust For Some
Despite elevated volatility in most asset classes, liquidity mining operations for some public companies have seen little impact. It's proof positive that despite the extreme market dislocations, DeFi participants can navigate through rough waters with the right hedging strategies in place.
In a recent interview with liquidity mining operator Liquid Meta Holdings (NEO:LIQD), CEO Jonathan Wiesblatt proclaimed that business had never been better. When asked about how his model was performing in current conditions, Mr. Wiesblatt explained, "when the price of BTC and ETH declined by 10 and 12%, respectively, we had a record revenue period in that 24 hours… Revenues have been incredibly strong in the month of January, just given the volatility that we're experiencing."
This comes a couple of weeks after Liquid Meta Holdings released some take-notice highlights from their Q2 2022 financial report. The company reported quarterly revenue of US$188,229 on a gross profit margin of 96%. Even including the loss on digital currency inventory and digital assets sold short, Liquid Meta earned a 76% gross profit margin. These metrics show the incredible amount of operating leverage available to streamlined liquidity mining operators.
The next round of quarterly financial reports will give additional clues on how peer reporting issuers are performing. But with the number of DeFi wallets reaching an all-time high of 4.3 million unique addresses in January and institutional participation on the upswing, TVL should continue growing at a steady pace in 2022.