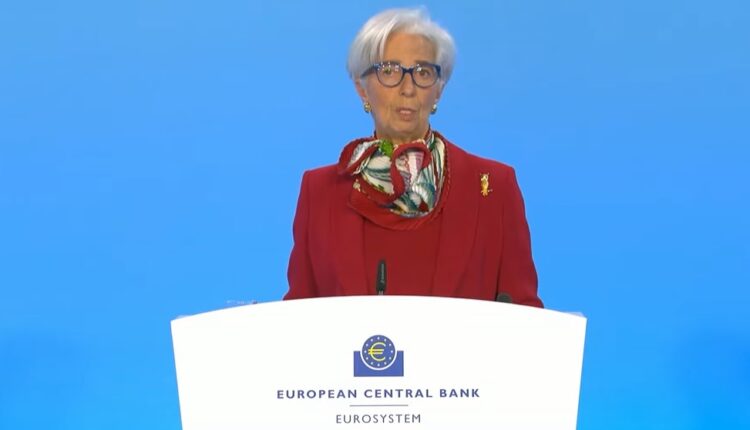 ECB President Christine Lagarde Reveals Plan To Launch Digital Euro (CBDC) In October
The tacit agenda to advance Central Bank Digital Currencies—otherwise known as CBDCs—to a decisive twist today, as video of European Central Bank president Christine Lagarde surfaced declaring a digital euro "will be decided in October." Should it come to pass, the existing paradigm of cash money spending and transfers will likely become even more restricted, as the continent transforms into a hard digital fiat system.
Ms. Lagarde justifies the move into the digital euro by saying she doesn't want the European Union "dependent on a unfriendly country's currency" or "dependent on a friendly currency, but is activated by a private corporate entity," citing Facebook (parent Meta Platforms Inc.) and Google as an example. Ms. Lagarde did not say how the digital Euro CBDC would circumvent the legacy payment systems already in place, but we can infer that as a closed loop system, all transactions will flow through a ECB-controlled ledger.
Interestingly, the interviewer followed up on her statements above by asking about the future role of Bitcoin, revealing that he "bought it (Bitcoin) when it started—I hope that it… also will work." To which, Ms. Lagarde simply offers up a wry smile.
Furthermore, Ms. Lagarde addressed the rioting in France approximately ten years ago, which she blamed on "very small anonymous credit cards" funding the "terrorism". While she acknowledges the digital euro "might not have a mechanism" to thwart small scale funding (i.e. 300-400€), she nonetheless lays blame on fiat money supporting terrorism, creating justification for the ECB to tighten control.
Recently, EU lawmakers voted in favor of imposing a €1,000 limit on crypto transactions where the customer cannot be identified. This is on top of a €1,000 euro cash spending limit for taxpayers resident in France, which restricts ATM withdrawal amounts.
Regardless of what happens next, the narrative and justifications have been disclosed. The countdown towards a digital euro is officially on the clock. European nations could be looking at mere months before the current fiat money paradigm shifts substantially.
Heavy Rioting Continues In France
Widespread protests continued against a proposed increase of the retirement age from 62 to 64. Union sources claimed that around 400,000 people protested in Paris today, with demonstrations taking place in other cities as well. The au0thorities had anticipated that up to 800,000 people would take part across the country. While images of fireworks and projectiles thrown by rioters and burned-out vehicles flooded social media threads.
The protests turned next-level violent in several areas, with vandalism and injuries reported. A group of more than 300 individuals briefly entered the La Rotonde restaurant in Paris, where President Emmanuel Macron had celebrated his election victory in 2017, as fire broke out on the canopy. Protesters also entered the office of US asset manager BlackRock in the capital and activated flares in the lobby.
The protests led to the closure of roads, universities, and access to Charles de Gaulle airport. Riots broke out in several cities, including Paris, Lyon, and Nantes, with demonstrators and police officers being injured. Protests were also held in other cities such as Bordeaux, Rennes, Brest, Nice, Marseille, Perpignan, and Clermont-Ferrand, though with fewer participants than the previous big protest day at the end of March.
The day before the protests, the government and trade unions held talks about measures that could make the pension system more affordable, but no agreement was reached. The so-called Constitutional Council can still partially reverse the proposed reform. Since the law was passed in mid-March, over 1,850 arrests have been made in connection with the protests, according to the government.