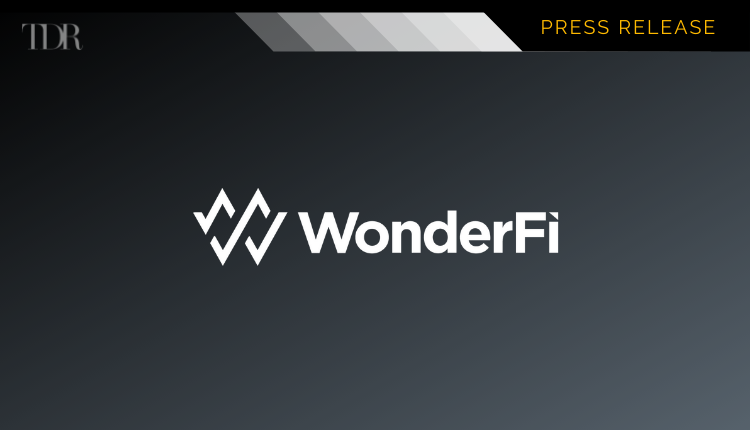 WonderFi Announces Closing of Landmark Bitbuy Acquisition
WonderFi Technologies Inc.(NEO: WNDR) (OTCMKTS: WONDF)  today announced that it has closed the previously announced acquisition (the "Acquisition") of First Ledger Corp., ("FLC") the parent company of Bitbuy Technologies Inc. ("Bitbuy"), a leading cryptocurrency platform and the first approved crypto marketplace in Canada.
On Friday, March 25 at 11:00AM Eastern Time, the NEO Exchange will host a live event with Ben Samaroo, CEO of WonderFi, Michael Arbus, CEO of Bitbuy and Kevin O'Leary, strategic investor in WonderFi, to discuss the landmark acquisition and future plans of WonderFi. To register for the event, please visit: https://bit.ly/3wjKXIj.
Michael Arbus, CEO of Bitbuy commented: "The combination of Bitbuy, Canada's largest approved crypto trading marketplace, and WonderFi's decentralized product line-up creates an innovative experience for our Clients, and a globally competitive platform, positioned to enter new markets."
The integration of WonderFi and Bitbuy is a huge step forward in our mission of democratizing finance through easy and secure access to DeFi and crypto. A licensed marketplace serves as a crucial gateway to the digital asset economy, and facilitates a robust end-to-end, unified client experience.

Ben Samaroo, CEO of WonderFi
Kevin O'Leary, globally renowned investor, ambassador and strategic advisor to WonderFi commented: "This is a combination of two management teams with excellent executional skills that now have the bandwidth, assets and licenses to provide an institutional grade compliant crypto platform to investors interested in exposure to centralized and decentralized financial services."
Key Transaction Benefits
WonderFi now owns Canada's largest approved crypto marketplace, and one of fastest growing crypto platforms.
This transaction diversifies WonderFi's business lines to now including a regulated crypto marketplace, OTC business and liquidity provider which services retail, corporate and institutional clients.
WonderFi has now further vertically integrated its business, introducing a strong front-end business line and enabling licensed fiat on-ramp and other features amidst growing market demand.
Bitbuy's over 400,000 registered users are now a part of the growing WonderFi ecosystem, bringing over $455 million of assets under custody as at December 31, 2021.
The combined company, with over 120 on staff, will be exclusively focused on introducing new features, offerings and functionality, creating Canada's largest talent pool of crypto tech professionals.
The combination of two experienced Canadian teams will bring material revenue and cost synergies through user base integration, cross-selling services and a combined global offering with new innovative products.
With the capital markets expertise of seasoned advisors such as Kevin O'Leary, the company is positioned to expand beyond the Canadian borders and is targeting expansions into other high growth markets.
Transaction Details
Under the terms of the Acquisition, among other things, the Company acquired all of the issued and outstanding shares of FLC. The consideration paid to former shareholders of FLC consisted of 70 million newly issued common shares of WonderFi, most of which were subject to certain lock-up requirements, $20 million in upfront cash and $30 million in deferred cash via a vendor-takeback note due in 12 months, which is subject to a working capital adjustment. A portion of the deferred cash was included in the upfront cash payment pursuant to the terms of the definitive agreement with respect to the Acquisition, available on the Company's SEDAR profile at www.sedar.com.
Other Matters
The Company will issue 450,000 Common Shares to each of LDL Corp. and O'Leary Productions Ltd. for strategic growth, merger and acquisition and capital market advisory services provided to the Company and 100,000 Common Shares to Nancy Cheung for public relations and media advisory services, through the period ending July 31, 2022.
In a press release dated February 4, 2022, the Company announced that certain officers and directors of the Company intended to sell an aggregate of 500,000 Common Shares, on a block trade, prospectus-exempt basis, for total gross proceeds to the Selling Shareholders of $1.2 million. The officers and directors decided not to proceed with such sale, and accordingly no sale of shares occurred.
About Bitbuy
Bitbuy is a Canadian owned and operated digital asset marketplace, and the first licensed crypto marketplace in Canada. Bitbuy's mission is to provide its clients the best global prices, the deepest liquidity, and the most digital asset products in Canada with a convenient, dependable, and secure platform. Bitbuy is proudly registered as a restricted dealer and is Canada's first registered digital asset marketplace in Canada. Bitbuy's head office is in downtown Toronto, with over 85 employees. In addition to its registration as a Marketplace and Restricted Dealer, Bitbuy is also registered with FINTRAC as a Money Services Business under the Virtual Asset Service Provider category. Bitbuy was founded in 2016 and is currently one of Canada's largest cryptocurrency platforms by trading volume. Bitbuy offers crypto trading services to beginners, advanced traders, and corporations making it The crypto destination of investors.TM
To view the original press release in its entirety click here