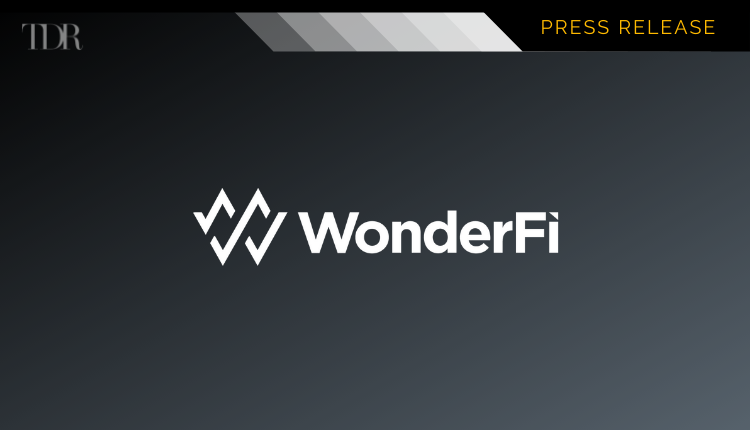 WonderFi To Acquire Additional $6.8m CAD Of Crypto And DeFi Assets
WonderFi Technologies Inc.(NEO: WNDR) (OTCMKTS: WONDF) today announced that it has received approval from its Board of Directors to purchase up to $6.8 million CAD in digital assets weighted across key assets that drive value in the decentralized finance ("DeFi") sector, adding to its existing balance of long-term holdings.
The acquisition of these assets is supportive of WonderFi's mission of providing better access to DeFi, which at this time is difficult to achieve in a simple and secure way.

Ben Samaroo, CEO of WonderFi
WonderFi's crypto and DeFi asset allocation is driven by research and data insights from the sector, and the Company targets assets that provide long-term value. All assets are screened for technology risk, market risk and governance risk prior to acquisition and are monitored on an ongoing basis.
WonderFi's purchases will be executed using a dollar cost averaging strategy in order to mitigate short-term price volatility in the assets. The first tranche of these purchases was completed on September 6, 2021 and included $1.8 million CAD of Bitcoin, Ethereum, Uniswap, Compound, Aave, Maker and Yearn.These recent purchases bring WonderFi's digital asset treasury to approximately $5.0 million CAD as of September 6, 2021.
The Company intends to generate yield on certain assets held in its treasury through staking and other DeFi mechanisms, in circumstances where the Company deems it to be sufficiently secure to do so.
The Company has also entered into a master services agreement with Native Ads, Inc. ("Native Ads"). Under the terms of the agreement, Native Ads will provide a combination of content development, web development, media buying and distribution, and reporting and optimization to the Company at a total cost of $250,000 USD over an expected twelve-month period. Native Ads is a full-service advertising agency based in Vancouver, BC, that owns and operates a proprietary ad exchange with over 80 integrated supply side platforms.
WonderFi is also pleased to announce that its common shares have begun trading on the OTC Pink Market in the United States under the symbol "WONDF". The Company is in the process of applying to uplist to the OTCQB Venture Market ("OTCQB"). The Company's common shares will continue to trade on the NEO Exchange in Canada under the symbol "WNDR". The OTCQB application remains subject to the approval of the OTCQB and the satisfaction of certain listing requirements.
To view the original press release in its entirety click here