atai Life Sciences Portfolio Diversity And Cash Position Is Unmatched In The Sector
When atai Life Sciences (NASDAQ: ATAI) filed its Form S-1 back on April 20, 2021, the company became best known for its associations with COMPASS Pathways. Ever so gradually, its identity has morphed into something more exclusive. Now two months into its public listing, atai has firmly established its own credentials as investors become increasingly attuned to its industry-leading pipeline portfolio diversity and cash-rich balance sheet. That's a great place to be in the capital-intensive world of research drug development.
In terms of pipeline portfolio diversity, no company can match atai Life Sciences—not even industry darling MindMed. Currently, the company has 10 therapeutic programs—researching five different psychedelic compounds—in their pipeline, complemented by six enabling technologies in development. Some of this research involves compounds that no other public company is engaging in right now, such as Salvinorin A, a novel and highly-selective kappa opioid agonist.
Atai owns a majority stake in most of their research partner subsidiaries, except for DemeRx NB (6.3%). They include:
DemeRx IB: DMX-1002 /

Ibogaine

/ Opioid Use Disorder
DemeRx NB: DMX-1001/

Noribogaine

/ Opioid Use Disorder
EmpathBio: EMP-01 / MDMA derivative / Post Traumatic Stress Disorder
GABA Therapeutics: GRX-917 /Deuterated etifoxine / Generalized Anxiety Disorder
Kures: KUR-101 / Deuterated Mitragynine / Opioid Use Disorder
Neuronasal: NN-101 / N-acetylcysteine / Mild Traumatic Brain Injury /
Perception Neuroscience: PCN-101 / R-ketamine / Treatment-Resistant Depression
Recognify Life Sciences: RL-007 / Compound / Cognitive Impairment Associated with Schizophrenia
Revixia Life Sciences: RLS-01 / Salvinorin A / Treatment-Resistant Depression
Viridia Life Sciences: VLS-01 / DMT / Treatment-Resistant Depression
On the balance sheet side of the equation, no other company is as well capitalized. According to its latest financial results, atai Life Sciences has a cash position of US$453.6 million to advance its current programs and incubate, acquire and invest in new programs. In comparison, closest peers COMPASS Pathways and Mind Medicine have US$316.3 million and US$157 million, respectively. All figures provided are as of June 30, 2021.
The advantages of an overabundance of balance sheet cash become apparent in the biotech sector when we consider the prodigious costs of executing a clinical trial program from its infancy. According to the Office of the Assistant Secretary For Planning and Evaluation (ASPE), the average costs of executing a Phase 1 through the NDA/BLA Submission process was almost US$60 million in pre-2015 dollars. Obviously, those figures have only increased since.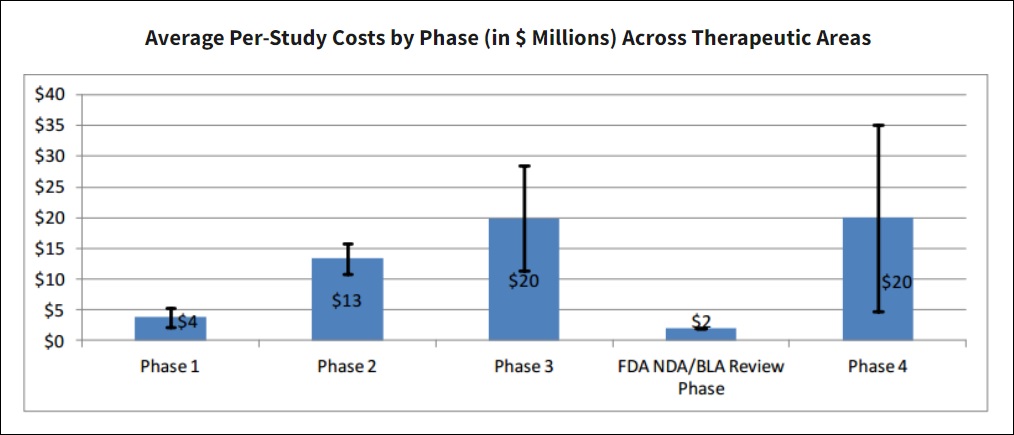 The table below gives a comprehensive breakdown of individual component costs for each study domain by clinical phase. The table provides a visual insight into how many components are incorporated into a trial process. Trial costs are highly variable to therapeutic area and number/types of clinical procedures.
Ultimately, it takes plenty of dollars to bring one clinical trial through the phased process, let alone several. Biotech companies which are under-capitalized face the risk of having to raise capital in suboptimal market conditions, leading to undue risk of dilution. With a war chest of nearly half a billion dollars, atai Life Sciences does not face such pressures.
On balance, the combination of a diverse pipeline portfolio—combined with a strong balance sheet—creates a coveted operating position for the company. First, atai has diversified clinical trial risk like no other—an important consideration since investors cannot know which compound will go the distance with the FDA. Second, atai has enough capital to advance multiple trials through Phase 2 and beyond, gradually revealing which therapeutic compounds have the best therapeutic potential.
Put another way, investors can sleep better at night knowing they're not tethered to one particular compound—such as psilocybin or DMT—to beat the odds. Investors have diversified into a basket of therapeutic prospects, thereby tilting the chances of a successful investment outcome.
The Odds Of Research Success Favor The Diversified
Statistically, full-cycle Phased clinical trials face formidable odds of gaining commercial approval from the FDA.
The following chart shows the odds of therapeutics advancing through an entire clinical trial process. Although the chart does not include the odds of psychiatric drug development specifically, the inferred conclusions are obvious: Non-oncology therapeutics have only about a 1 in 5 chance of coming to market. This is precisely why pipeline diversity matters.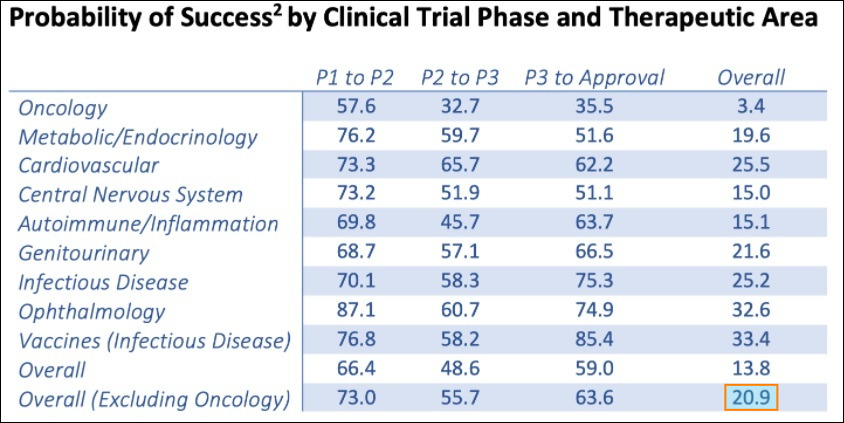 This means that, statistically, investors can expect 2 of atai's therapeutic prospects (of the current 10 programs) to become approved pharmaceutical drugs—some of which could have blockbuster potential as the need for next generation depression treatments is substantial. Companies researching single or duo therapeutic compounds face substantially lower odds of obtaining commercial success, statistically speaking.
Obviously, atai Life Sciences CEO Florian Brand is attuned to these approximate trial odds, emphasizing in our inaugural interview how paramount pipeline diversity was for the company:
So, to your point we have a well, well diversified pipeline. Also part of our unique approach—taking multiple shots on goal, to really avoid this—the risk that a one or two asset biotech company faces.
We couldn't agree more.
Click on the embedded link for more of our inaugural interview with atai Life Sciences Co-founder and Chief Executive Officer Florian Brand, in his own words.