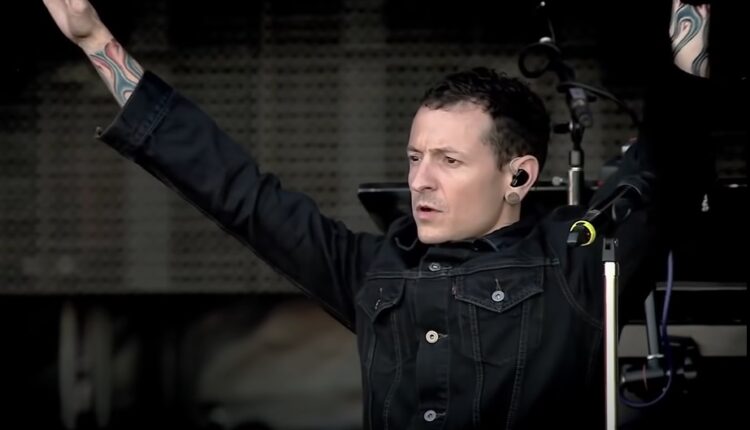 5-Year Anniversary Of Chester Bennington's Death—How The Linkin Park Vocalist Brought Mental Health Into The Mainstream
Chester Bennington wasn't just the lead singer of uber-popular rock band Linkin Park. In many respects, he was the voice of a young generation. Alternating between banshee-like screams and delicate nuanced tones within the same track, Chester was known as an incredible diverse and talented vocalist. But as talented as we knew him to be, Chester Bennington carried immense underlying trauma that manifested itself through depressive episodes and addiction. Sadly, this lead to his ultimate demise five years ago today. We look into the life that helped shift the conversation about mental health from the shadows and into the mainstream.
Chester's Traumatic Upbringing
Born on March 20, 1976 in Phoenix, Arizona, Chester's childhood took a negative turn around the age of seven, when he was sexually abused as a child by a family acquaintance. This reportedly continued until the age of thirteen, which according to Metal Hammer, destroyed by self-confidence. "Like most people, I was too afraid to say anything. I didn't want people to think I was gay or that I was lying. It was a horrible experience."
According to The Guardian, Bennington eventually revealed the identity of his abuser to his father. However, he realized his abuser had also been a victim of abuse and chose not to pursue charges. It is an open question how long—and to what extent—the lack of closure of this pain festered within Chester's soul.
While the window of abuse was ongoing, Chester faced another childhood trauma when his parents divorced at the age of eleven, resulting in a move-in with his father. While living with his father, things weren't necessarily normal, whom Bennington once described as "not very emotionally stable" to Kerrang! in 2008.
As an attempt to numb his pain and loneliness, Bennington turned to substance abuse. He started abusing alcohol , marijuana, opium and LSD. By the time he reached his teenage years, Chester Bennington had developed a heavy methamphetamine and cocaine habit.
On the move once more, Bennington moved back in with his mother when he turned seventeen. At one point, Bennington recalls how his mother caught him using drugs and forbade him to leave the house: "my mom said I looked like I stepped out of Auschwitz. So I used pot to get off drugs. Every time I'd get a craving, I'd smoke my pot."
Despite all the childhood addiction and trauma, Chester Bennington was interested in music and aspired to join a band. At age fifteen, he successfully auditioned and joined his first band, Grey Dayz (originally named Sean Dowdell and His Friends?), domiciled in Phoenix, Arizona. According to drummer Sean Dowdell, a "90 pounds soaking wet" Chester displayed stunning lyrical talent, which Dowdell recalled in 2020: "as soon as he opened his mouth, my jaw hit the floor… he was amazing, even at age fifteen."
Bennington counted the likes of iconic British electronic band Depeche Mode and popular alternative/grunge band Stone Temple Pilots as his creative influences.
Bennington's Most Popular Songs Filled With Emotional Pain
After leaving Grey Dayz in 1998 and eventually landing a lead vocalist role with Xero (which eventually became Linkin Park), it didn't take long for Chester Bennington to find success. After the band faced repeated initial failures landing a record deal, an intervention by Jeff Blue, the former vice president of Artists and Repertoire at Zomba Music in Los Angeles, helped Linkin Park land a deal with Warner Bros. Records. Stardom followed in quick succession.
On October 24, 2000, Linkin Park released their debut album, Hybrid Theory, through Warner Bros. Records. Hybrid Theory debuted at number 16 on the US Billboard 200 and was certified gold by the Recording Industry Association of America (RIAA) five weeks after its release. The album remained popular throughout 2001, having sold 4.8 million copies in the United States, making it the best-selling album of the year. In 2001, the album was the second best-selling album globally, selling 8.5 million copies.
To date, the album has sold at least 27 million copies worldwide, making it the best selling debut album of the 21st century. And the rest, as we say, is history.
But driving the near-instant commercial success was a devilish side to Chester Bennington's creative genius. Linkin Park was wildly popular in large part because the lyrics underlying the music were forlorn and emotionally charged, yet supremely relatable. It was apparent from the very first album that the malignant influence hounding Bennington's psyche was manifesting itself into the lyrics that were so well received by the public.
The fifth track on Hybrid Theory named 'Crawling'—released on March 1, 2001 and reaching as high as #3 on Billboard's Mainstream Rock Chart—is a perfect example of how Bennington's deep emotional distress embedded itself into the music. Although other bandmembers aided in the songwriting, Chester wielded the biggest influence on the final outcome. Reflecting on the meaning of Crawling, Bennington recalled:
You don't have to be a behavioral psychologist to gather that Crawling oozes a distinct spine-tingling melancholic inflection that could only be performed by someone who had personally experienced such emotional desperation. Yet, it also displays an amazing vocal range that only a select few vocalists could apply: angelic and soothing one minute—pulsing and chaotic the next. From a lyrical context, like walking in a garden oasis one minute, then descending into an abyss of rage the next.
'In the End'—the eighth track from their debut album Hybrid Theory—is another example of how malevolent undertones compete with occasional celestial interludes. Originally written as a poem by the lead vocalist Chester with the help of Christian Petersen, the song was later established as a sufficient song for the album.
Again, we note the unmistakably sadistic undercurrents—filled with ghoulish imagery and set in a barren, post-apocalyptic landscape. According to Linkin Park Wiki, this song is mainly based on one person's failure and considered symbolic of an ending relationship. As as usual, the lyrics hit like a sledgehammer of unrestrained furor.
In the End is arguably Linkin Park's most popular song, reaching the top ten on numerous worldwide music charts and number two on the US Billboard Hot 100. It currently ranks second in terms of individual band streams on YouTube, with over 1.396 billion views at publishing time.
These are but two of the many examples why Chester Bennington resonated with audiences so deeply. Unlike the soulless pop bands which dominate the charts of today, Chester was a master of channeling his pain in a manner that helps fans deal with their own feelings of loneliness in depression. He didn't blame others for his own distress. He used songwriting as the conduit to project his inner-turmoil in a way that was relatable and transparent to the listener.
Few vocalists in Bennington's time—or in the five years thereafter—have matched his intensity or emotional range.
A Classic Case Of Major Depressive Disorder—Could Psychedelic Medicine Pave The Way For A Better Future?
There's no question that Chester Bennington suffered from some form of major depression. You need not be a psychologist to glean the clear signs that prodigious drug use, erratic behavioral episodes, melancholic disposition and subsequent suicide were obvious manifestations of intense psychological trauma. While it is unknown whether Chester was ever officially diagnosed with depression in a clinical sense, or the type he may have been inflicted with (officially or unofficially), his extensive public record clearly indicates Chester had been suffering from classic symptoms of Major Depressive Disorder (MDD).
One of the big indications that MDD was omnipresent were the persistent reports of self-rumination. A simple Google search reveals dozens of such reports dating back to the late 1990's. Given his public willingness to discuss his feelings on the record, including the torments he faced daily, self-rumination was the clearly the primary bane of his existence.
According to Healthline, the process of continuously thinking about the same thoughts, which tend to be sad or dark, is called rumination. A habit of rumination can be dangerous to one's mental health, as it can prolong or intensify depression as well as impair one's ability to think and process emotions. It may also cause one to feel isolated and emotionally distant from others.
In one of his last interviews before his death, Chester Bennington describes how self-rumination dogged him up until his last days, stating how regulating his mind was a constant challenge. Below, a heartbreaking foreshadowing of the battle he would eventually lose to his inner demons:
According to a 2015 paper title Rumination in major depressive disorder is associated with impaired neural activation during conflict monitoring, individuals with MDD often ruminate about past experiences—especially those with negative content. The paper describes rumination as one of the most "problematic cognitive symptoms associated with depression", where "negative thought processes heighten negative affect and interfere with an individual's ability to engage in effective problem-solving and adaptive behaviors."
As of 2015, MDD was one of the most common mental health disorders in the United States, with a lifetime prevalence of approximately 16.6%. It is an affliction that is more pervasive than most people know, and one that many suffer through in silence given the lack of efficacious treatment options.
The hopelessness. The change of behavior. Isolation. That was all part of our daily lives. Sometimes, some signs were there more than others. Some signs, they weren't there at all, as [was] the case right before he passed. He was at his best right before he passed.

Wife Talinda Bennington, describing Chester's disposition in the weeks before his suicide (Source)
Whether MDD was the primary or co-morbid cause of Chester's distress remains unclear. But we can say with absolute certainty that self-ruminating was a major factor of anguish throughout his life—one that ended all too unexpectedly five years ago today on July 20, 2017.
__________
Ever since the first antidepressants were introduced 65 years ago, doctors have known that a significant percentage of patients don't respond to them. About 30% of all people with depression who use mainline pharmaceutical drugs such as Prozac, Cipralex or Zoloft experience little to no benefit from their administration. The dismal failure rate and extensive side effect profile has lead to the rise of psychedelic drugs and psychedelic-assisted therapy (PAT).
While the industry is nascent and unproven, preliminary results are providing hope that psychedelic drugs along with PAT could eventually lead to FDA approval following full-phase studies. While there's still plenty of patients to dose and data to analyze, the current trajectory appears promising. Especially in the area of major depression, where Phase 2b trials have already shown encouraging results.
On November 8, 2021, COMPASS Pathways announced topline results in its Phase 2b trial of its proprietary psilocybin formulation, COMP360, for treatment-resistant depression (TRD) in conjunction with PAT. The results of the 233 person trial were positive, finding that a 25mg dose of COMP360 demonstrated a statistically significant and clinically relevant reduction in depression symptom severity. In fact, at least twice the number of patients in the 25mg group demonstrated response to the therapy and remission from their TRD at weeks 3 and 12 compared with the 1mg group.
And on April 14, 2021, a New England Journal of Medicine randomized and double-blind study comparing psilocybin against escitalopram for moderate-to-severe major depressive disorder showed superior results for the former. Patients in the psilocybin arm demonstrated lower QIDS-SR-16 scores from baseline, greater response rates and generally more favorable secondary outcomes versus escitalopram, a commonly prescribed serotonin-reuptake inhibitor (SSRI) for depression.
Although the Phase 2 study lacked statistical power (only 59 participants segregated into two control groups), it set the groundwork for study repeatability, which COMPASS obtained nearly seven months later.
Fast forward to the present, additional psychedelic drug makers have entered the arena. Clinilabs has recently announced that enrollment has begun in a Phase 1/2a clinical trial of CYB003, Cybin Inc.'s psilocybin analog to be evaluated for the treatment of major depressive disorder. Perception Neuroscience reached an agreement with the FDA to expand its PCN-101 Phase 2a clinical study for TRD into the United States. Awakn Life Sciences (ketamine) is planning the initiation of a Phase III trial in the United Kingdom in 2022 for Alcohol Use Disorder—the same affliction that almost killed the Linkin Park frontman 11 years prior to his passing.
__________
Whether psychedelic medicine and corresponding therapy will eventually supplant existing methods of treatment are unclear. We will never know whether psychedelic therapy could have made a difference in Chester Bennington's quality of life and allowed him to choose a different path. But today is a day of hope. Chester's music will forever live and inspire many depression sufferers to confront the same inner-demons that befall them. With powerful new therapeutic options oncoming, it's only a matter of time before the depressed will have the tools to better cope with the trauma that Chester Bennington ultimately succumbed to.
It's through the openness and vulnerability and reach of people like Chester who've helped mental health get the just attention it deserves as major societal issue. We will never forget!
May you rest in peace Chester. Your legacy will forever live on. 🕊️