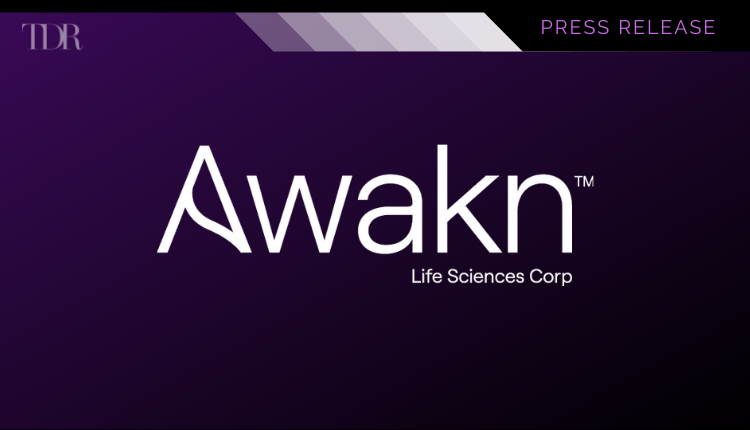 Awakn Life Sciences Appoints Biotech and Investment Veteran Dennis Purcell as a Special Advisor to the CEO
Awakn Life Sciences Corp. (NEO: AWKN)(OTCMKTS: AWKNF), a biotechnology company, researching, developing, and commercializing therapeutics to treat addiction with a near-term focus on Alcohol Use Disorder (AUD), announced today that Dennis Purcell has joined Awakn as a Special Advisor to the CEO.
Mr. Purcell brings a wealth of life science and investment experience to Awakn. Mr. Purcell is the Founder of Aisling Capital LLC, a major life sciences venture capital firm based in New York City and has previously served as the Fund's Senior Managing Partner and Advisor. Prior to the formation of Aisling Capital, Mr. Purcell served on the Executive Committee and as Managing Director of the Life Sciences Investment Banking Group at Chase H&Q, formerly Hambrecht and Quist. During his time in the industry, he has invested in, raised capital for, and advised hundreds of life sciences companies.
Mr. Purcell currently serves on the Board of Directors of Real Endpoints, Ichnos Pharmaceuticals, Summus Global, Shorla Oncology, and Embera Pharma. He is also an advisor to Better Health, Cellevolve and xCellerate. He has previously served on the Boards of many other public and private Life Sciences companies. In addition, Mr. Purcell serves as an Executive-in-Residence at Columbia University and as an Endowment Committee member at the University of Delaware, where he also serves on the Pharmaceutical Innovation Board.
Mr. Purcell is also very involved with industry organizations, serving on the Executive Committee of the Board of Directors of New York Bio as well as the Investor Advisory Board of the Biotechnology Innovation Organization (BIO), where he serves as Co-Chairman helping BIO develop policy positions that affect the industry. Other industry affiliations include the Health Care Board for the Partnership for New York City, New York State Bio Defense Initiative, and the Alliance for Regenerative Medicine Foundation.
To have someone of Dennis' experience, quality and calibre is excellent for our company, but also a sign of where Awakn is heading. He has worked with so many of the top-biotech companies globally and his input and counsel will have a very positive impact as we continue to grow our business, create value for shareholders and deliver effective treatments for clients.

Awakn CEO, Anthony Tennyson
Dennis Purcell commented, "It is a great pleasure to be appointed as Special Advisor to Awakn's CEO at this important time for the company and society. Addiction is a disease affecting hundreds of millions of people with a poor current standard of care. In just two years, the Awakn team has built a clinical stage company with a promising pipeline and an established presence in the UK. I look forward to helping them establish a similar presence and profile in the US as they continue to grow and scale."
To view the original press release in its entirety click here