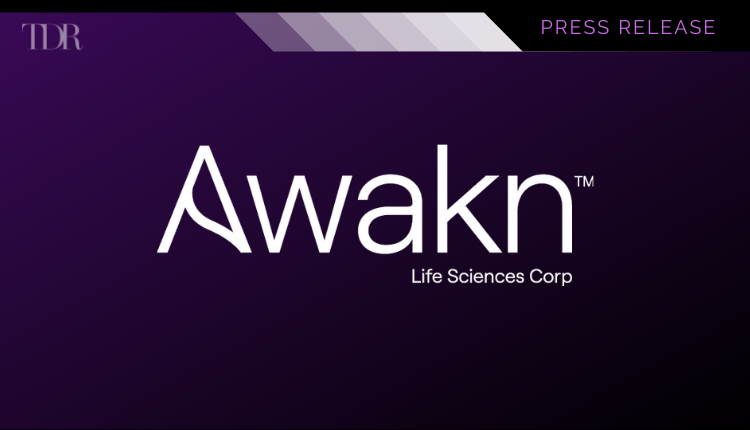 Awakn Life Sciences CEO, Anthony Tennyson, Joins Dustin Robinson of Iter Investments for 'The Investor Hotseat' via Live Stream on May 26th
Awakn Life Sciences Corp. (NEO: AWKN)(OTCMKTS: AWKNF), a biotechnology company, researching, developing, and commercializing therapeutics to treat addiction with a near-term focus on Alcohol Use Disorder (AUD), is pleased to announce that the company's CEO, Anthony Tennyson, will be attending The Investor Hotseat live stream event conducted by Psychedelic Invest. He will be joined in conversation with the host Dustin Robinson, Founder of Iter Investments. The company is inviting investors to join the conversation at The Investor Hotseat which will take place on May 26th 2022 at 4:30PM EST.
Ranked by Psychedelic Invest as one of the Top 100 Most Influential people in the Psychedelics industry, Dustin Robinson is a seasoned attorney, CPA and is also the founder of Iter Investments, a psychedelic fund that invests and holds a portfolio of psychedelic companies.
Date: May 26th 2022
Time: 4:30PM Eastern Time
1:30PM Pacific Time
RVSP: https://psychedelicinvest.com/register-for-the-investor-hot-seat/
About Awakn Life Sciences Corp.
Awakn Life Sciences is a biotechnology company researching, developing, and commercializing combined therapeutics to treat addiction, with a focus on Alcohol Use Disorder. Awakn's team consists of renowned research experts, world leading chemists, scientists, psychiatrists, and psychologists. Addiction is one of the biggest unmet medical needs of our time, affecting over 20% of the global population and is an industry valued at over $100bn per annum. Awakn is working to disrupt this underperforming industry by advancing the next generation of drugs and therapies to be used in combination, through preclinical research and clinical stage trials.
To view the original press release in its entirety click here