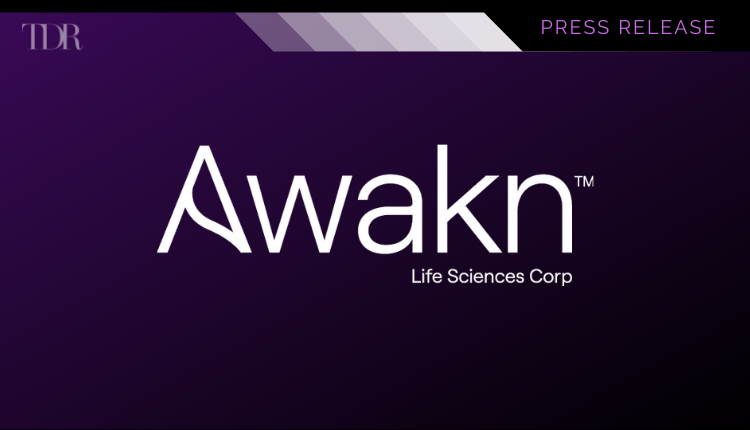 Awakn Life Sciences Completes World's First Ketamine Treatment Study for a Range of Behavioral Addictions
Promising Results Merit Larger Study Which Awakn is Initiating
Awakn Life Sciences Corp. (NEO: AWKN)(OTCMKTS: AWKNF), a biotechnology company, researching, developing, and commercializing therapeutics to treat addiction with a near-term focus on Alcohol Use Disorder (AUD), announced today the completion of the world's first ketamine treatment study for behavioral addictions. The behavioral addictions included in the study were Gambling Disorder, Internet Gaming Disorder, Binge Eating Disorder and Compulsive Sexual Behavior.
The study was led by Prof. Celia Morgan, Awakn's Head of Ketamine-Assisted Therapy, Professor of Psychopharmacology at the University of Exeter, U.K., and an internationally respected expert in the therapeutic use of ketamine. The study investigated ketamine as a new treatment approach for these behavioral addictions by opening a window in which the brain can make new connections to change behavior.
The results from the study indicate the desired effects via potentially novel mechanisms and these results merit a larger study and further exploration, which Awakn is now initiating. The study also supports Awakn's Intellectual Property (IP) strategy and existing filed patent applications, positioning Awakn as a leading company in the behavioral-addiction therapeutic research and development industry. The company expects to update investors further on its IP strategy in the coming weeks.
Prof. Celia Morgan, Awakn's Head of Ketamine-Assisted Therapy, commented, "These promising early findings may suggest a new treatment solution in behavioral addictions, which are growing rapidly across the globe, and as yet, are a completely unmet treatment need. The team are excited to be starting these new significant studies which promise to bring considerable innovation to the field".
This study is hugely encouraging and gave us all the data we could have hoped for. Critically, it also showed us that a larger study is merited, and we will now pursue this. For such a huge cohort of over a billion people to be suffering with no pharmacological treatment available to them, is unacceptable and we will strive to deliver therapies to patients who are in desperate need.

Awakn CEO, Anthony Tennyson
Gambling Disorder, Internet Gaming Disorder, and Binge Eating Order, all recognised in the DSM-5, affect up to 450 million[1], 235 million[2] and 100 million[3] people respectively, while Compulsive Sexual Behavior, which is included in the ICD-11, affects up to 350 million[4] people. Current standard of care for these conditions is poor.
To view the original press release in its entirety click here