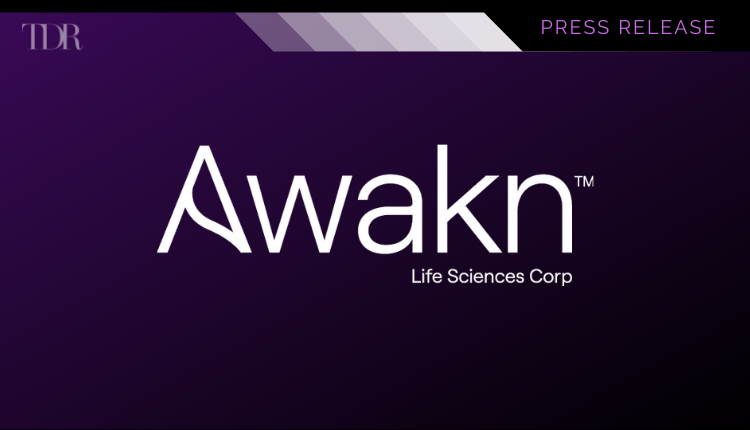 Awakn Life Sciences Expands World's First Ketamine Study Beyond Gambling Disorder to Include Additional Behavioral Addictions
Awakn Life Sciences Corp. (NEO: AWKN) (OTCMKTS: AWKNF), a biotechnology company developing and delivering psychedelic medicines to better treat addiction, announced today that it has received ethical committee approval to expand its existing ketamine study beyond Gambling Disorder to include three other behavioral addictions including Binge Eating Disorder, Compulsive Sexual Behaviour and Internet Gaming Disorder.
The basket study, which will be another world's first, is led by Prof. Celia Morgan, Awakn's Head of Ketamine-Assisted Therapy for Addiction, Professor of Psychopharmacology at the University of Exeter, U.K., and an internationally respected expert in the therapeutic use of ketamine. Professor Morgan's work will investigate a new treatment approach for these behavioral addictions, trying to harness a window in which the brain is able to make new connections. The study will explore and monitor whether the ketamine can increase neuroplasticity using EEG (Electroencephalogram).
We are delighted to expand this research and to make further inroads into a treatment area that has had no material pharmacological advancements in far too long, all the while the number of people suffering has steadily increased. We hope this will give us valuable insights to push our ketamine program forward and help these people as quickly as possible.

Prof. Celia Morgan, Awakn's Head of Ketamine-Assisted Therapy for Addiction
There are currently no licensed pharmacological treatments for behavioral addictions or disorders available, and the need to find new and effective treatment options has never been more important. Behavioural addictions have devastating consequences for individuals and their families, affecting physical and mental health, and increasing mortality from suicide. The global populations affected by behavioural addictions are massive with Binge Eating Disorder affecting up to 110 million people; Internet Gaming Disorder affecting 238 million; Sexual Compulsive Behaviour affecting up to 350 million; and Gambling Disorder up to 450 million people.
To view the original press release in its entirety click here