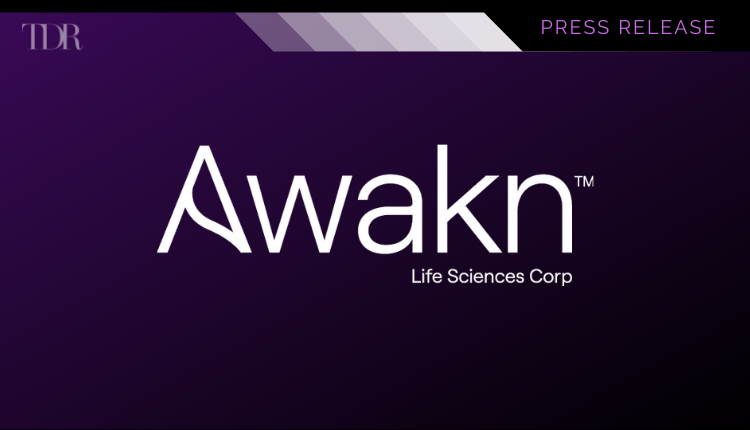 Awakn Life Sciences Files Patent Application for a New Class of Entactogen-Like Molecules to Treat a Broad Range of Addictions
Novel Entactogen NCE Series Enhances the Potential for Improved Treatment of Addiction
Awakn Life Sciences Corp.(NEO: AWKN)(OTCMKTS: AWKNF), a biotechnology company, researching, developing and delivering psychedelic therapeutics to treat addiction, announces the filing of a patent application for a new chemical series of entactogen-like molecules, further strengthening Awakn's intellectual property portfolio and pipeline for the treatment of a broad range of addictions including, but not limited to substance addictions such as Alcohol, and behavioural addictions, such as Gambling Disorder and Compulsive Sexual Behaviour.
The new chemical series patented by Awakn, delivers a significant step forward in the development of entactogens and provides a key milestone in Awakn's drug discovery R&D activities. Awakn's innovative pipeline of NCE's further adds to existing patent applications and active clinical development programmes (KARE: completed phase-IIa/b trial and BIMA: completed phase-IIa trial), strengthens Awakn's position as a global leader in the psychedelic-biotechnology industry.
Chief Scientific Officer at Awakn, Shaun McNulty, commented, "The new chemical series of entactogen-like molecules being developed at Awakn will deliver the best characteristics of existing entactogens, with a shorter duration of action. This can improve clinical utility in a research space and has significant potential for the delivery of the treatments. These improved entactogens will enable us to treat more patients and has the potential to increase the range of disorders we can treat. This will enable us to make rapid progress towards treating a broad range of addictions, a condition with huge unmet medical needs and significant negative impact on society."
Awakn announced in October they would progress the NCE program into lead optimization with their research partner Evotec. These novel entactogen-like molecules which the patent has been filed for will be an integral part of this research program, with the aim to develop one or more compounds and progress them into clinical development.
Our ambition is to fully integrate effective psychedelic-based treatment into mainstream healthcare to better treat addiction. We are fortunate to have many of the world's leading researchers and drug discovery experts supporting and delivering our vision at Awakn. Our clinical team has unparalleled experience in treating addiction, and now with the development of a new entactogen series and a world-class entactogen discovery pipeline, Awakn's place as a global leader in this space is strengthened.

Anthony Tennyson, Awakn's CEO commented
To view the original press release in its entirety click here