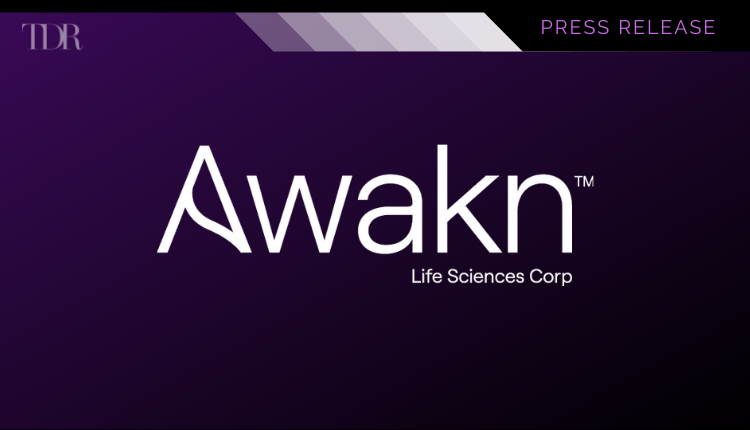 Awakn Life Sciences Initiates Follow-On Behavioral Study to Focus on Gambling Disorder
Awakn Life Sciences Corp. (NEO: AWKN)(OTCMKTS: AWKNF), a biotechnology company, researching, developing, and commercializing therapeutics to treat addiction with a near-term focus on Alcohol Use Disorder (AUD), announced today that they have initiated a larger behavioral addiction study investigating ketamine as a treatment for Gambling Disorder. Awakn announced on May 19, 2022, that the Company had completed a successful pilot study for a range of behavioral addictions. On May 26, 2022, Awakn announced the filing of a Patent Cooperation Treaty (PCT) for the treatment of behavioral addictions with ketamine and ketamine-assisted psychotherapy.
The larger study announced today will include 42 patients who are suffering from Gambling Disorder and will see participants undergo a memory reactivation procedure, which is designed to weaken the link between reward and addiction memories. The larger placebo-controlled study will be the first investigation globally to explore this technique to treat Gambling Disorder.
The study will use advanced brain imaging technology EEG (Electro Encephalography) and will index the synaptic plasticity post-ketamine administration with the aim of identifying the window of greatest neuroplastic change. This would potentially allow Awakn to predict when therapy will be at its most effective due to the neuroplasticity. The study will also collect detailed pharmacokinetic (PK) data and analyze metabolites as well as examining neurological biomarkers.
Awakn is dedicated to helping people who are suffering from addiction, and we are greatly enthused by the significant research & development milestones we have passed in recent weeks. None of this would be possible without the dedication of the Awakn team and I would like to formally thank them, and everyone involved, including patients, physicians, and carers.

Awakn CEO Anthony Tennyson
Gambling Disorder affects up to 450 million[1] people globally. In the US alone, it is estimated that more than 2.5% of the population suffer from Gambling Disorder, that is over 8 million people2. With no pharmacological treatments currently available, the need to find an effective treatment has never been more acute.
To view the original press release in its entirety click here