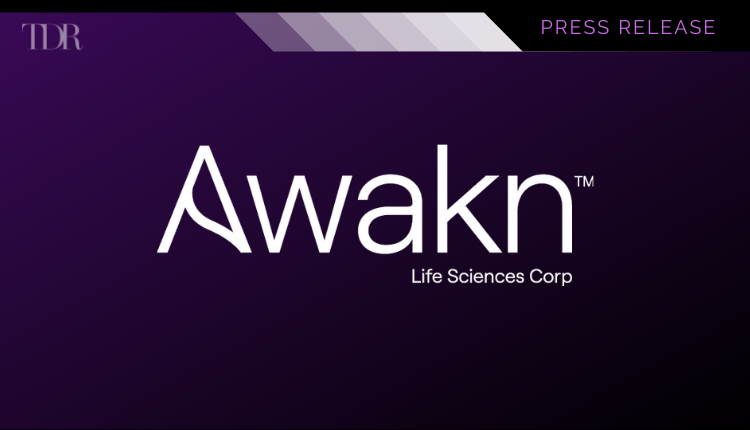 Awakn Successfully Completes Phase One of Its Drug Discovery Program
Awakn Life Sciences Corp. (NEO: AWKN)(OTCMKTS: AWKNF), a biotechnology company, researching, developing, and delivering revolutionary therapeutics to treat addiction, announced today the successful completion of phase one of its new chemical entity (NCE) development program, strengthening Awakn's pipeline for the treatment of a broad range of both substance and behavioural addictions.
Awakn has completed a hit to lead program which delivered its key goals of identifying and patenting novel chemistry scaffolds. It also established drug discovery assays with the potential to facilitate lead optimization activities. This is an essential first step on the pathway of developing new, faster-acting and safer entactogenic therapies for the market. A combination of computational screening and medicinal chemistry approaches was utilized to identify numerous chemical scaffolds via in vitro pharmacology and DMPK testing. Multiple patents have now been filed with several of these chemical scaffolds, demonstrating in vivo activity, providing an excellent starting point for lead optimisation activities.
I am so pleased that this unique and innovative program has progressed so quickly. We have patented two novel molecular series that so far replicate the in-vitro effects of MDMA and which are now ready to be optimised for the next step of in-vivo studies, which are needed before proceeding into humans.

Professor David Nutt, Awakn's Chief Research Officer
This announcement builds on Awakn's acquisition in March 2021 of a significant body of proprietary research from Prof. Nutt's Equasy Enterprises, which included details of newly discovered actions of MDMA and gave Awakn an advantageous starting point for this phase of development.
Awakn is building a strong and unique portfolio of targeted novel candidates to treat both substance and behavioural addictions. Behavioural addictions have no pharmacological treatment available globally and rates of addiction are increasing at an alarming rate, while success rates in substance addiction are very low.
To view the original press release in its entirety click here