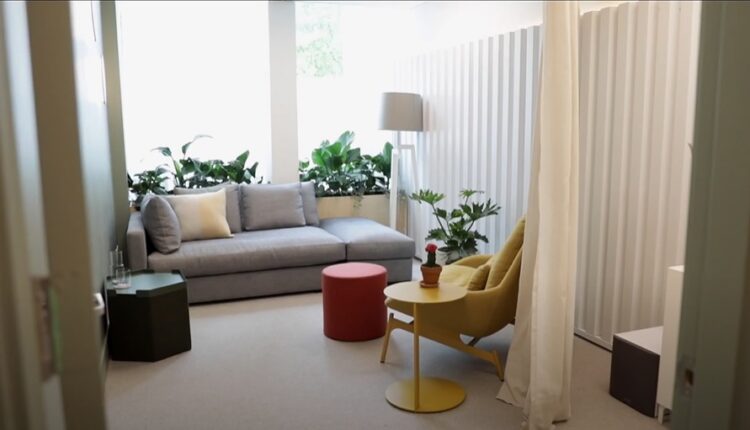 Can Field Trip Health & Wellness Re-Emerge From Creditor Protection? What The CCAA Data Shows
Potentially, a significant business casualty has befallen the psychedelic sector. Early industry leader, Field Trip Health & Wellness (CNSX: FTRW), has announced that it has obtained an Order for creditor protection from the Ontario Superior Court of Justice under the Companies' Creditors Arrangement Act (CCAA). TDR looked into the data to see how past companies entering CCAA proceedings have turned out.
An Order for creditor protection under the CCAA is a legal process available to insolvent Canadian companies to help them restructure and reorganize their affairs while protecting them from their creditors. Application for CCAA generally occurs when a company is unable to pay its debt due to financial difficulties, thus can allow them to continue operating while it restructures and attempts to again become financially viable.
If a restructuring plan is agreed upon, it must be approved by the court and the company's creditors before it can be implemented. The restructuring plan may involve a debt-for-equity swap, the sale of assets, or other measures designed to improve the company's financial position.
Field Trip Health is a mental wellness company focused on the development and delivery of psychedelic therapies for various conditions. Their approach combines traditional talk therapy with the use of psychedelic compounds like psilocybin, ketamine, and MDMA to promote healing and personal growth.
Their lead drug compound is
FT-104
,
a novel psychedelic compound derivative of psilocybin, the psychoactive compound found in "magic mushrooms." FT-104 is specifically designed to have a shorter duration of action and less intense effects compared to psilocybin, while still producing a therapeutic response.
Will Field Trip Health & Wellness Re-emerge?
While the CCAA does allow operational continuity in the near term, there are no assurances a corporate restructuring will be successful. At some point, a determination will be made about the company's ability to operate as a going concern. Possible CCAA outcomes range from termination due to solvency to plan of arrangement or compromise. The latter would be the best possible outcome for Field Trip Health & Wellness.
However, looking at the raw data provided by CanLII, the numbers don't appear to be in Field Trip's favor—although re-emergence remains a strong possibility.
According to the chart below, 'Liquidating CCAA' outnumbered 'CCAA Plan' by approximately 5:4 (36.6% vs. 29.9%, respectively) in recent times. CanLII evaluated all 415 plenary CCAA proceedings between October 2009-May 2021, with a focus on each CCAA proceeding's outcome. The firm considered an "outcome" to be the transaction employed by or imposed upon a debtor company to resolve, or attempt to resolve, its insolvency.
In a 'Liquidating CCAA', the debtor company sells or otherwise monetizes substantially all of its business during the course of the CCAA proceeding, effective ending the company.
Whereas a plan of arrangement ('CCAA Plan') or compromise involves some settling of the amounts owed to creditors, while an arrangement is broader and includes any plan for reorganizing the affairs of the company. It is from this state in which company re-emergence becomes possible.
Furthermore, additional outcomes in the data were not supportive of the continuity of business prospects. The firm lists receivership (6.7%), bankruptcy (1.9%) and termination due to insolvency (0.7%) in percentage terms to describe other outcomes that have emanated out of the 415 plenary CCAA proceedings. Pending or other outcomes formed the highest percentage of arrangements outside of 'Liquidating CCAA' or 'CCAA Plan'.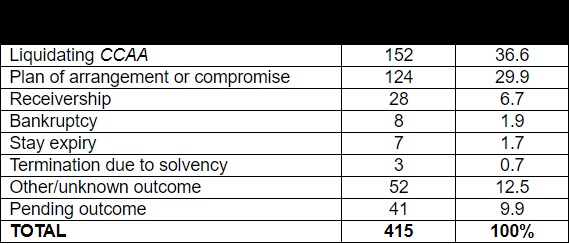 Field Trip Runs Out Of Capital Despite Raising Over $200 Million
The potential demise of Field Trip Health may occur despite a prodigious amounts of capital raised dating back to the company's pre-public Series A financing dating back to March 2020. In all, Field Trip raised over $200 million dollars—a total which has dwindled down to approximately $6.72 million as of December 31, 2022.
| | | |
| --- | --- | --- |
| Date | Raise | Proceeds |
| March 2020 | Series A | $8.5 million |
| August 2020 | Series B | $11 million |
| January 2021 | Pre-IPO round | $20 million |
| February 2021 | Bought deal | $50 million |
| March 2021 | IPO (TSX) | *$95 million |
| August 2022 | Private Placement | 19.9 million |
*including exercised over-allotment option
Of course, the company has seen material and consistent net losses partly due to heavy capital expenditure (depreciation expense) for clinic origination in at least six major cities (Toronto, New York, Los Angeles, Chicago, Oregon, and Amsterdam); and associated operating expenses (general & administration) to staff these clinics and the corporate office.
The company had previously laid out an aggressive strategy to open 75 clinics by 2023, which obviously won't come to fruition.
In the near term, the grandiose dreams of clinics in every major North American and European city are a thing of the past. Right now, the name of the game is survival as Field Trip intends to conduct an expedited sale and investment solicitation process with the goal of facilitating a transaction that enables the company to emerge from CCAA protection as a going concern.
TDR will have additional coverage on Field Trip Health's prospects in CCAA proceedings as warranted.