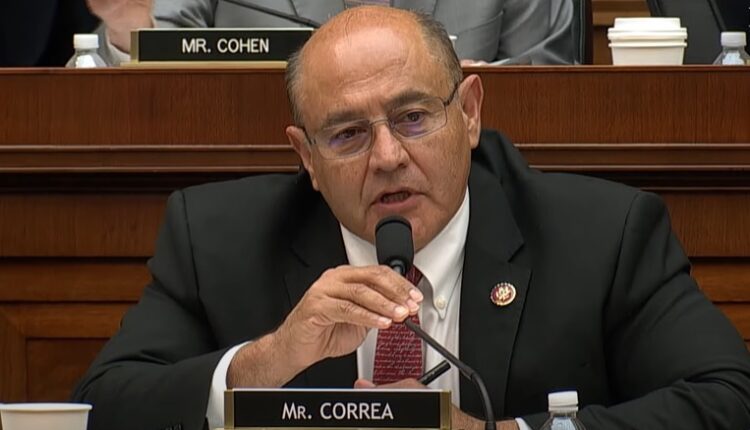 Congress Creates Bipartisan Psychedelics Caucus To Advance Clinical Treatments
Psychedelics have made it to Capitol Hill. On Thursday, Congress announced the creation of a Congressional Psychedelics Advancing Clinical Treatments (PACT) Caucus. Led by Representatives Lou Correa (D-CA) and Jack Bergman (R-MI), the caucus will consist of bipartisan members of Congress committed to "addressing ways to alleviate the national mental health crisis through psychedelic science and research." 
The caucus will not promote or offer recommendations on decriminalization or legalization measures but rather lead the congressional talks on psychedelics as potential therapeutics as well as establish itself as a public educational resource.
As such, the PACT Caucus' objectives include increasing awareness of psychedelic-assisted therapies (PAT) among members of Congress and their staffs and supporting further federal funding and examining regulatory barriers for psychedelic research and medicine.
The group will hold regular meetings and highlight priorities on behalf of interested members of Congress to external stakeholders and the Executive branch.
The caucus recognizes federal agencies, including those under the National Institutes of Health (NIH), have already put funding toward exploring the therapeutic potential of psychedelics and intends to support those efforts while promoting the generation of "enough safety and efficacy (clinical) data" for the FDA and DEA to decide on the future of PAT.
"Having served our nation as a member of the US military and in Congress, I've seen the destruction post-traumatic stress disorder can cause on my fellow veterans and their families," said Rep. Bergman, adding that it's Congress's job to find solutions to these problems. "And if psychedelic-assisted therapy can help treat or even fully cure someone of their PTSD, we need to take a closer look at these potential life-saving therapies."
Bergman is also part of the Congressional Veterans Caucus together with Rep. Dan Crenshaw (R-TX), who along with Alexandria Ocasio-Cortez (D-NY) filed separate bills for advancing psychedelic research studies for active service members earlier in 2022.  
Rep. Correa recently expressed support for AOC's National Defense Authorization Act (NDAA) amendment expanding the Defense Department's mandate for medical cannabis to include psychedelics for military members with specific health problems.
Correa stated that psychedelics have shown "incredible lasting potential to treat depression, substance use disorder and PTSD."
While admitting the need for further clinical research regarding what diseases and disorders psychedelics can and cannot treat, Correa posed the following question: "If these treatments can save the lives of my constituents and fellow Americans, and are safe to receive in clinical settings, why would we not want to research them?"
Ismail Ali, J.D., director of policy and advocacy at the Multidisciplinary Association for Psychedelic Studies (MAPS) commented on the news. "We are encouraged that Representatives Correa and Bergman are taking significant steps to bring the conversation about psychedelic research and therapy to Congress. This initiative will build upon the growing national interest in the potential for psychedelic care modalities to be incorporated into healthcare. We look forward to working with members of the caucus to educate their colleagues to replace drug war rhetoric with science, evidence, and compassion."
The idea of a congressional psychedelic caucus is, apparently, not new. The announcement is part of several successful reform efforts including Colorado's recently-passed statewide psychedelics legalization measure, Oregon's 2020 Measure 109 as well as San Francisco, Seattle and Denver's decriminalization efforts. 
The news comes one day after the Senate's passage of the Medical Marijuana and Cannabidiol Research Expansion Act, the first-ever standalone piece of cannabis reform legislation to be sent to President Biden's desk.
__________
This article was originally published on Benzinga and appears here with permission.