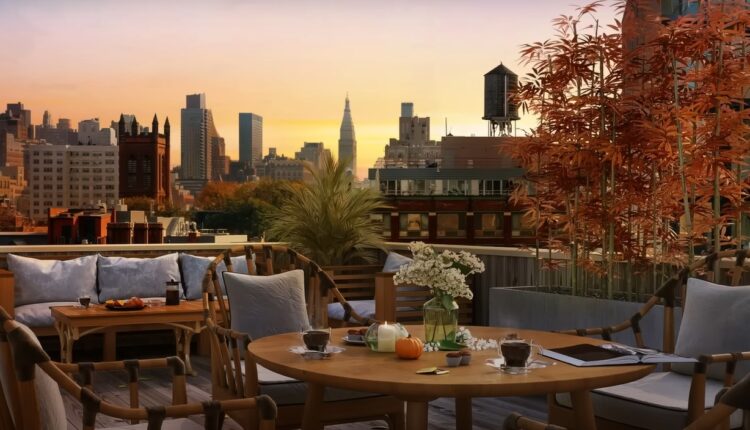 TDR's Top 5 Psychedelic Developments For The Week Of October 31
Welcome to TDR's review of the Top 5 Psychedelic Developments for the week of October 31. Aside from presenting a synopsis of events, we provide market commentary to summarize the week that was for publicly-listed companies.
5. MindMed Activist Investor Demands Federal Investigation To Probe Serious Allegations Of Misconduct
FCM MM HOLDINGS, LLC notified shareholders that it has formally filed a complaint with the Securities and Exchange Commission (SEC) and will file a referral to the Department of Justice regarding allegations against Mind Medicine Inc. The complaint focuses on the following allegations: self-dealing, lack of material disclosure, false statements/public statement fraud, and if the allegations are true, criminal activities by CEO Robert Barrow under Sarbanes-Oxley.
The complaint presents and analyses the allegations in the lawsuit Freeman v. Burbank et al. that MindMed's intellectual property was mishandled due to a one-sided deal negotiated by Mr. Stephen Hurst, then MindMed's CEO, and Mr. Carey Turnbull, CEO of Ceruvia Lifesciences LLC. It also lists Ceruvia executives who concurrently worked for MindMed during Messrs. Hurst and Barrow's tenure and the implications for MindMed's IP and trade secrets.
4. 90% Of U.S. Adults Say The Nation Is Experiencing Aa Mental Health Crisis, CNN/KFF Poll Finds
An overwhelming majority of people in the United States think the country is experiencing a mental health crisis, according to a new survey from CNN in partnership with the Kaiser Family Foundation.
Nine out of 10 adults said ​they believed that there's a mental health crisis in the US today. Asked to rate the severity of six specific mental health concerns, Americans put the opioid epidemic near the top, with more than two-thirds of people identifying it as a crisis rather than merely a problem. More than half identified mental health issues among children and teenagers as a crisis, as well as severe mental illness in adults.
The survey captured the perceptions of a nationally representative sample of about 2,000 adults over the summer – 2½ years into the Covid-19 pandemic and amid ongoing public health threats including racism and gun violence.
___________
Latest Mainstream Poll On Colorado Proposition 122 Shows Increased Support Headed Into The November 8 Midterm Elections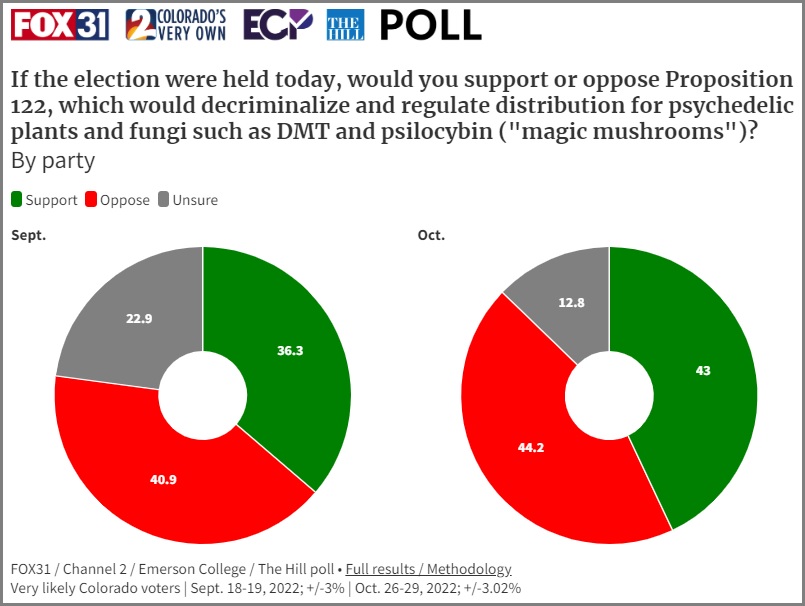 ___________
3. Psychedelic Stocks Decline To A Fresh Weekly All-Time Low
The psychedelic sector declines this past week, as reflected by the Horizon Psychedelic Stock Index (PSYK) ETF (↓4.94%) which made fresh all-time weekly lows. The ETF finished inline with the Nasdaq Junior Biotechnology Index (↓4.99%) and underperformed the Nasdaq Biotechnology Ishares ETF (↓1.03%). The NASDAQ 100 ↓6.11%and S&P 500 ↓3.46% as the Fed's 75bp rate hike put a damper on risk asset buying.
Here's how the Health Care (Biotechnology) sector performed:

In the news…
A clinic in Saskatoon is helping local residents access psychedelic drugs, joining groups across the country touting the therapeutic benefits of these once-prohibited substances.
Apex Labs Ltd. has received Health Canada's approval to conduct the first North American take-home clinical trial evaluating the safety and efficacy of multiple low doses of self-administered oral synthetic psilocybin compound APEX-52 for the treatment of depression in veterans with PTSD.
Biomind Labs just hit a landmark on a trip that it hopes will take it all the way to market, posting new data that shows its inhaled psychedelic candidate aimed at helping patients with depression is safe and tolerable.
Braxia Scientific announced the voting results from its Annual General and Special Meeting of Shareholders held on Monday, October 31 2022. A total of 16.55% of the issued and outstanding common shares of the company were represented either in person or by proxy at the meeting.
Ceruvia Lifesciences announced the appointment of Stephen Hurst and David Steinberg to its Board of Directors, effective immediately.
Colorado could become 2nd state to decriminalize psychedelic mushrooms when voters go to the polls on November 8.
COMPASS Pathways reported its financial results for the third quarter 2022 and gave an update on recent progress across its business.
Crypto billionaire Brock Pierce joins psychedelic venture fund and says 'potential reward is immeasurable'.
High Fusion has entered into a definitive arrangement agreement with Neural Therapeutics Inc. with respect to the distribution of a approximately one quarter of High Fusion's shareholdings in Neural to High Fusion shareholders.
Irwin Naturals entered into a binding agreement on October 30, 2022, to acquire the assets of Clare Clinic, Inc., which operates three healthcare clinics in Florida.
LOVE Pharma gave an update from its investment in Starton Therapeutics Inc. as the company strengthens its board.
Loop Capital initiates coverage on atai Life Sciences with Buy Rating and $18 per share price target.
Lusaris Therapeutics, a company focused on creating next-generation serotonergic neuroplastogen psychedelic compounds to treat severe neuropsychiatric and neurological conditions, launched with a $60 million Series A financing.
Meme Of The Week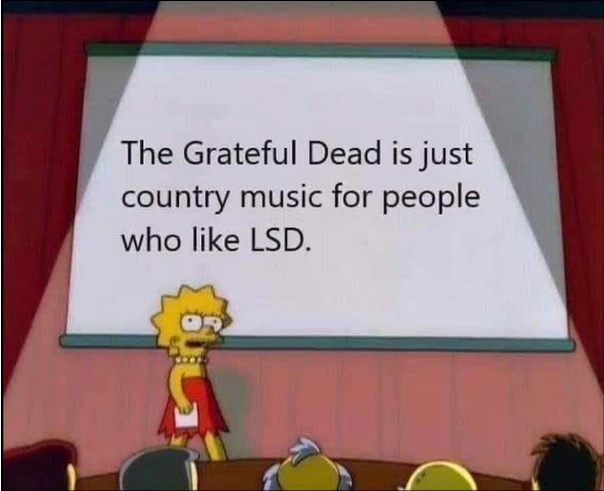 Mind Medicine will host its earnings call on Thursday, November 10, 2022, at 8:30 a.m. EDT to discuss its financial results for the quarter ended September 30, 2022 and provide a business update.
PharmaTher Holdings announced it has entered into an evaluation and exclusive option agreement with Case Western Reserve University in the development and commercialization for the intellectual property of ketamine in the treatment Rett Syndrome, a rare genetic neurological disorder.
Psyched Wellness announced the successful production and delivery of its pre-orders of Calm in October, 2022. Calm has now shipped to customers in 37 different States throughout America.
Revitalist Lifestyle & Wellness releases proprietary supplement lines to extend the results of psychedelic medicine outcomes.
Small Pharma has received approval from the U.K. Medicines and Healthcare products Regulatory Authority and the Research Ethics Committee to initiate a Phase I study of SPL028, its proprietary deuterated N, N-dimethyltryptamine (DMT) candidate, with supportive therapy in healthy volunteers.
2. Congressman Predicts Colorado Psychedelics Legalization Initiative Will Pass Next Week, And The Trend Will 'Continue'
A congressman says that he expects that Colorado voters will make history again next week by passing a ballot initiative to legalize the possession of certain psychedelics and create psilocybin therapy centers in the state.
Rep. Earl Blumenauer (D-OR) told Marijuana Moment late last month that he "absolutely" sees parallels between the movements to reform laws around psychedelics and marijuana. And in much the same way that Colorado was one of the first states to legalize cannabis for adult use in 2012, he predicts "you're going to see passage" of Proposition 122 this year.
The congressman is well known for his marijuana reform advocacy on Capitol Hill, serving as a co-chair of the Congressional Cannabis Caucus. But he's also become one of the most vocal members on psychedelics policy in recent years as his home state of Oregon has led the way in legalizing psilocybin services access and more broadly decriminalizing drug possession.
1. Severe Depression Eased By Single Dose Of Synthetic 'Magic Mushroom'
A single dose of a synthetic version of the mind-altering component of magic mushrooms, psilocybin, improved depression in people with a treatment-resistant form of the disease, a new study found.
The randomized, double-blind clinical trial, which authors called "the largest of its kind," compared results of a 25-milligram dose to a 10-milligram and 1-milligram dose of a synthetic psilocybin, COMP360, that was administered in the presence of trained therapists.
Results of the study, published Wednesday in The New England Journal of Medicine, found "an immediate, fast, rapid-acting, sustained response to 25 milligrams (of COMP360)," said study coauthor Dr. Guy Goodwin, a professor emeritus of psychiatry at the University of Oxford in the United Kingdom.