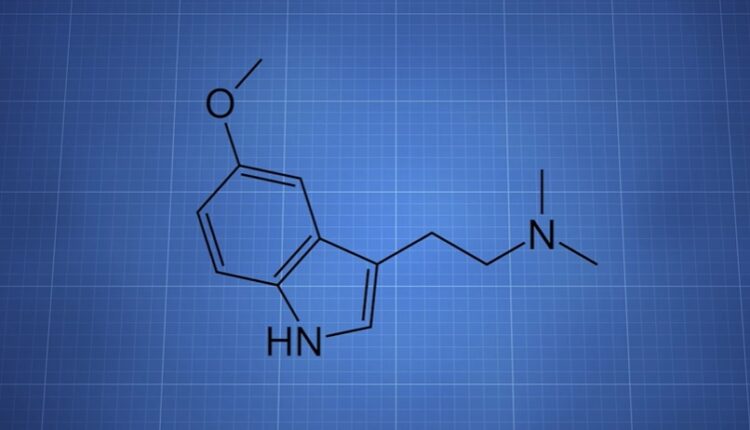 Mindset Pharma: Ending 2021 On A Strong Note
It's been a tough year for psychedelic companies from a capital markets perspective. After experiencing early-year strength on the exchanges, stocks have slumped decisively for most of 2021. Although this moribund price action continues, Mindset Pharma (CNSX: MSET) (OTCMKTS: MSSTF) has been a recent outlier, bucking the continuous bearish trend which has hounded the sector right into December's final days.
Since December 17, the company has risen 46.55%, while the Horizons Psychedelic Stock Index ETF—which has a 2.98% allocation in Mindset Pharma—has minted fresh year-to-date lows. It might be presumptuous to read into such a disparity, but in this sector, this type of outperformance stands out like a lighthouse beacon on a moonless ocean cove.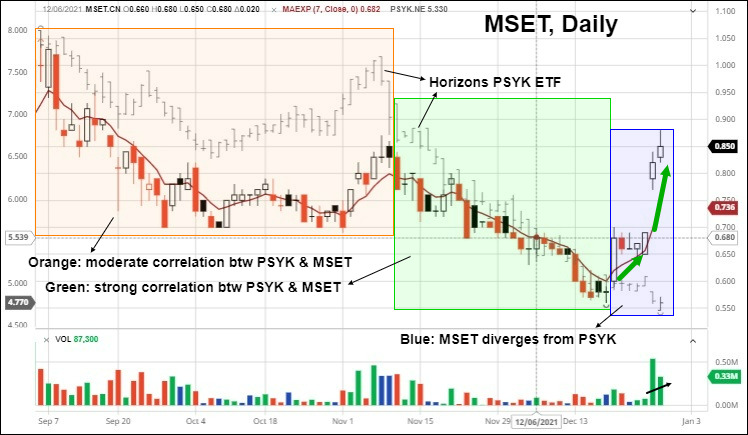 As it stands right now, Mindset Pharma has only declined 9.57% YTD. Not exactly stellar returns to date, but quite impressive when you consider the sector has cratered 3-fold that amount this year. Relative performance matters.
Clearly, the recent catalyst propelling the move was delivered on December 28, when Mindset Pharma announced that it has filed an international patent application covering its Family 3 novel psychedelic compounds. The company's "Family 3" consists of certain compounds that have demonstrated longer half-lives than comparable classical psychedelic drugs, yet still retain similar bunding affinity at the serotonin 5-HT2A receptor.
In order words, Mindset is patenting compounds with pro-cognitive benefits without hallucinogenic liability. This is a big deal because it would remove the main impediment to the widespread adoption of psychotropic medicine: the intense psychedelic high. While the medical community is currently split on whether correlation equals causation in regards to the healing process, all things being equal, efficacy with benign mental impairment is the holy grail of researchers. Still a long road ahead, but the company is skating towards that goal.
As well, Mindset Pharma disseminated a year-end update, which noted plenty of positive operational developments in 2021. The touchpoints included everything from executive leadership additions to portfolio milestones and everything in-between:
Expanded Patent Portfolio: Filed four provisional patent applications bringing the total to eight provisional applications filed to-date; various psychedelic drugs and PCT applications covered

Advanced First Lead Drug Candidate Toward Clinical Trials: Selected its first lead clinical candidate, MSP-1014 , a differentiated psilocybin-based analog, to move forward into investigational new drug (IND)-enabling studies

Growing Library of Novel Compounds : Synthesized over 100 novel compounds in more than 500 in-vitro and in-vivo studies

Developed First-in-Class Benchmarking: Under the Cooperative Psychedelics Evaluation Platform program, Mindset and its partner, InterVivo Solutions, continued to develop first-in-class benchmarking data across first-generation psychedelic drugs.

Effect Size & Safety Differentiation Driven by Technology Platform: Preclinical data generated across the four families of novel chemical entities resulted in the identification of a platform technology that enhances effect size and improves safety profiles of psychedelic drugs

Enhanced Leadership and Advisory Teams: Appointed Dr. Malik Slassi as Senior Vice President of Innovation, Mr. Ian Dean as Director of Preclinical Development, and Drs. Michael Rogawski, Guy Higgins, Joseph Gabriele and Ishrat Husain to its Scientific Advisory Board
With several important benchmarks achieved in 2021, and with price momentum currently at-hand, Mindset Pharma heads into the New Year in a relatively favorable position. Now, the question for investors in whether it expedite its initiatives and maintain outperformance versus its peers. If so, Mindset could be a mover in Q1 2022—especially if the psychedelic sector at-large is able to mount a sustainable rally.