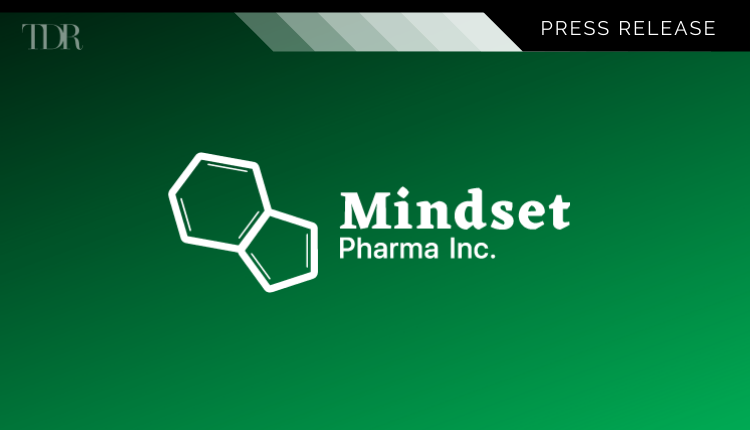 Mindset Pharma Agrees to Manufacture Large Quantity of Pharmaceutical Grade Psilocybin Using Patent-Pending Synthesis Process
Mindset Pharma Inc (CNSX:MSET) (OTCMKTS:MSSTF), a drug discovery and development company focused on developing next generation psilocybin-inspired medicines and related technologies, is pleased to announce that it has engaged a leading international contract development and manufacturing organization ("CDMO") to synthesize a 1.0 kg batch of cGMP (i.e. pharmaceutical grade) psilocybin utilizing Mindset's innovative and cost-effective patent-pending synthesis process. The large scale cGMP synthesis batch is expected to be released in the fall of 2021.
Mindset anticipates that there will be significant demand for its proprietary, high-quality psilocybin supply given the increasing number of trials and studies underway utilizing psilocybin. High-quality psilocybin for clinical research purposes is currently expensive and difficult to procure, however Mindset's cost-effective patent-pending synthesis process provides Mindset with a unique advantage to accelerate the commercialization of its portfolio of intellectual property. Several CDMOs that specialize in psilocybin synthesis have exclusive relationships with individual clients, further narrowing the range of psilocybin supply options.
James Lanthier, Chief Executive Officer of Mindset, commented, "We believe that Mindset's proprietary synthesis process can benefit the entire medical psychedelic market, from the drug design process stage to clinical treatment as it is scalable, efficient, and, to our knowledge, one of the most cost-effective methods available in the marketplace today for GMP grade psilocybin, with a non-optimized cost per gram substantially below current retail costs.
"Mindset's synthesis process strategically complements our next generation drug development programs and represents a significant potential market opportunity. Mindset's novel synthesis process meets an increasing need from the growing medical psychedelic space for a reliable source of affordable, pharmaceutical grade psilocybin. We anticipate even further refinements to our process that will enable us to significantly improve cost and efficiency."
The excitement and enthusiasm demonstrated by this world class CDMO has given us further confidence that this process is potentially game-changing for the industry and should enhance access to psychedelic-assisted treatments for people with the greatest needs. We already have had multiple supply enquiries, as has the CDMO, and we are confident that demand for our synthetic psilocybin will be robust

Joseph Araujo, Chief Scientific Officer, Founder and Director
Mindset is not aware of any existing psilocybin suppliers that have synthesized a commercial quantity at a scale exceeding 1.0kg.
To view the original press release, click here.