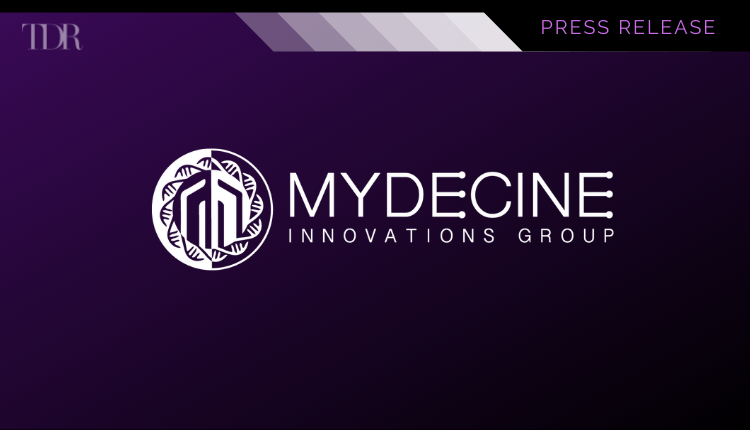 Mydecine Files Full Patent Application Covering MYCO-006 Family of Novel Short-Acting MDMA Analogs
Mydecine Innovations Group (NEO: MYCO)(OTCMKTS: MYCOF), a biotechnology company aiming to transform the treatment of mental health and addiction disorders, announced it has successfully synthesized multiple short-acting MDMA analogs. This family of analogs have been specifically designed by experts at Mydecine to have a shorter half life than traditional MDMA. The Company has named this family of novel molecules MYCO-006 and have applied for patent coverage with the World Intellectual Property Organization.
3,4-methylenedioxymethamphetamine (MDMA), commonly known as ecstasy, is a synthetic drug that acts as a stimulant and hallucinogen. In July 2021, Mydecine announced a provisional patent application for a family of MDMA-like compounds intended to reduce harm and improve safety compared to the traditional drug. Mydecine is targeting a 1-2 hour duration novel MDMA analog that will produce the same effects as traditional MDMA.
There is a growing body of research that shows MDMA has the potential to make therapy more effective. From Rick Ingrasc's early work in the early 70's and 80's with couples counseling, to MAPS more recent work with PTSD, MDMA has shown strong positive results removing interpersonal distrust and communication blocks without interfering with cognition. This effect allows therapy to be more effective. This is particularly important for patients suffering from conditions like post-traumatic stress disorder (PTSD), where patients focus on their traumas in order to identify, understand and change their thinking and behavior patterns.

Chief Scientific Officer Rob Roscow
Current recommended treatments for PTSD include trauma-focused psychotherapies, such as prolonged exposure, cognitive processing therapy, and eye movement desensitization and reprocessing. MDMA has been shown to increase feelings of well-being and interpersonal trust while decreasing feelings of fear and defensiveness. For these reasons, research has shown MDMA can increase the effectiveness of therapy.
Roscow goes on to say, "Although MDMA has shown great promise, the effects of the drug last 8 or more hours which is not ideal for a traditional medical setting. At Mydecine, we believe that in order to make treatments accessible to the majority of the population, we must make drug products that can be implemented into our existing healthcare infrastructure."
Chief Medical Officer Dr. Rakesh Jetly said, "We applaud MAPS for their work with MDMA assisted therapy and the impressive efficacy data they have published. MAPS has shown their model works, but there may be times and conditions where a shorter acting medicine could be just as safe and effective while more efficient."
"Psychedelic-assisted psychotherapy utilizing classic MDMA can take upwards of 12 hours to complete one session and a large amount of resources. By the time you've completed the pre-session preparation, the mystical experience, patient post-experience monitoring and post-therapy paperwork, both the patient and doctor are exhausted. Under this model, therapists would only be able to treat 2-4 patients per month. Our hope is by decreasing the half-life of MDMA, we can create treatments that can be easily repeated at your typical healthcare facility in order to make accessible and affordable treatments for patients," added Dr. Jetly.
"For these treatment modalities to be adopted and accepted by the general medical community, there must be a drug product that can be administered at existing clinics and hospitals in less time, and that will be reimbursed by insurance providers. We believe shortening the half life of MDMA is an important necessary step to making this possible," said CEO Josh Bartch. "Considering the incredible efficacy data being published on MDMA, and the frequent effect of boosting trust and well-being, we are incredibly excited about the potential to increase health equity for the large population in need with our MYCO-006 family of novel molecules."
Mydecine's mission is to become a trusted source of safe and effective medication-based treatments to address the unmet needs for mental health and addiction disorders.
Learn more about Mydecine's drug development process by visiting their YouTube channel here.
To view the original press release in its entirety click here